New Energy at the PBG
]
by Steve Desroches
The previous two Junes were very telling as to where Provincetown stands in terms of not only the LGBT community itself, but also nationally in regards to LGBT issues. On June 26, 2015 the town erupted in celebration in front of Town Hall to celebrate the Supreme Court's marriage equality ruling. Then, on June 12, 2016, people gathered to mourn those killed at the Pulse nightclub in Orlando.  In both cases, the events received national media coverage, and it was apparent that some sort of response was expected from Provincetown.
It's a challenge that Provincetown has faced for a long time now. Some visit for a complete escape from the "real world"; others come to be a part of a sense of activism and political engagement.  Either way, Provincetown has achieved such an important role in LGBT culture that it's become one of the largest attractions for visitors, along with the art colony and the Cape Cod National Seashore. In short, gay culture is a major draw for tourism, and it's been the Provincetown Business Guild's job to market Provincetown to the LGBT community since 1978.
These are indeed interesting times in many ways, but especially for the LGBT community with both recent advancements and a strident backlash underway. With a growing alphabet soup of identities regarding sexual orientation and gender and generational differences, it's both a thrilling time of change and, at times, a disorienting recalibration. It all adds to the challenge of how to communicate what the LGBT community has to offer. All of this and more face the PBG and its new executive director Robin Lapidus.
"We have several questions to answer," says Lapidus at the PBG's Freeman Street office. "There are people in town who say we are living in a post-gay world, that gay people can go anywhere they want now. There are those that are very concerned about what the election of Trump means.  And that, more than ever, people want places like Provincetown to come to. How does that affect our mission? Some want us to specifically use the word gay. Some want the G before the LBT; others want the L to go first. Did gay marriage change the way we do business? At the end of the day, it's about the experience people have when they come here."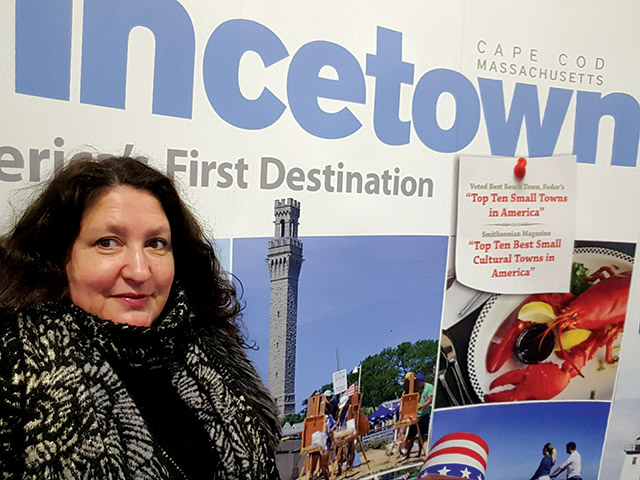 Over the past decade the PBG has gone through peaks and valleys, at time with a sharp focus, and at others, with discord and disarray. Lapidus smiles at the challenge of getting the nearly 40-year-old organization to a new level of vibrancy and relevance, starting with shedding the notion of thinking "season to season, or event to event." It requires longer range strategic planning and strong leadership, she says. With her background in nonprofit management, marketing, and event production, as well as having lead both the Central Square and Harvard Square business associations, Lapidus brings a fun, yet focused energy to the job, along with a long love for Provincetown, as a place she has visited since her childhood in New Jersey.
Currently, the PBG is known for its marketing efforts and producing events, especially Carnival, which has become Provincetown's signature event, bringing thousands from around the world to town each third week of August.  It's undeniable, however, the pressure has increased on the PBG over the years to be a bigger force in the cultural life of the town, and more specifically, the role the town plays in the larger concept of LGBT culture and keeping Provincetown a place for the outsider, regardless of sexual orientation or gender identity. There are also the desires to counteract the effects of gentrification, concerns about a dilution of the historic eccentricity of the Cape tip, and the need to attract younger visitors, which have reached a level of near non-existence.
First things first, however. Since taking the helm of the PGB in November Lapidus has been engaged in a complete transformation of the office, its practices, its communication tools, rebranding initiatives, and more, as well as looking for permanent housing, the persistent hobgoblin of life in Provincetown.  The new website will go live in May, and a new promotional publication will go out, too, featuring a new logo – Long Point Lighthouse emitting a rainbow beacon. And she's created a new slogan for the PBG to use when marketing Provincetown – "As Far Out As You Can Get" – a nod to both the geographic location of the town and its wild and quirky ways, which has long been one of its beloved aspects.
"We are a place for everyone," says Lapidus. "We are a place where everyone can be 'out,' whatever that means to them. It's very important for us to include everybody in that."
In addition to attracting new members to its current 300, Lapidus also works to market the vagaries of what makes Provincetown so special to the LGBT visitor. It's not just the events, but also those "unique experiences that don't have a rack card," which a new marketing campaign titled Camp OUT will do, she says. All of this can't be done alone, Lapidus acknowledges, and requires constant community building, but also a faith in leadership, as those things that are designed by committee tend to fail.
This season new events will be unveiled—like the GayAtholon Games, an LGBT sports event, the last week of July, that will also revive the Esther Williams Water Ballets of the 1990s—and the longstanding events like Carnival and Holly Folly will receive renewed energy. But change doesn't come over night, or in Provincetown's case, in one season. Lapidus points to 2018 when the PBG celebrates its 40th anniversary, as a year with bigger and better events, as well as a sharper vision as she, her board, and the organization will have a year together under their belt.
"If you do something to improve people's lives and their businesses then you've really done something," says Lapidus. "If we can work together to build community. If we can harness the energy of those in town with real pioneering spirits we can really come up with a long-range plan. If we can work together on a revisioning period we can produce something that is 100% fabulous."