15 Commercial St. • 508.487.7334 • theredinn.com
]
FOOD: NEW AMERICAN • EAT IN/TABLE SERVICE • AMEX/MC/VS • $$$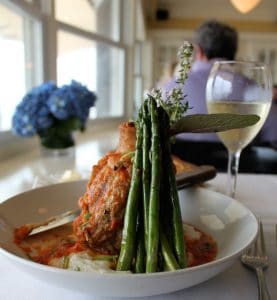 Now in his 17th year at the culinary helm, owner and executive chef Philip Mossy has honed his menu, marrying the
flavors and textures to the ambiance of this venerable restaurant and inn. Mossy has perfectly articulated the sumptuous
flavors of the new American kitchen. The pan-roasted local cod with lemon garlic confit and applewood bacon, served on
a bed of rosemary potatoes, combines Provençe with Cape Cod to a tee. The herb-crusted American lamb chop – dijon and fresh herb crusted chops served with a red wine demi-glaze–is unique, and as many a Provincetonian would say, "to
die for." The harbor side deck is a popular spot to enjoy a signature cocktail or one of the many fine choices from the Inn's wine list. Raw bar happy hour starts at 2:30 p.m. and live jazz brunch on Sundays. Reservations strongly suggested.