Stephen Pace in Provincetown
]
by Rebecca M. Alvin
TOP IMAGE: Four Lobstermen (1998, oil on canvas, 42×60")
The boxing in of artists into genres, styles, schools, movements—this is what witnesses to the work do, the interpreters, not the creators themselves. It can be argued that there is a certain purpose to what Surrealism founder André Breton called humanity's "incurable mania of wanting to make the unknown known, classifiable." It helps to organize exhibitions, draw conclusions about the creative zeitgeist of a time period, and draws parallels between artists and different aspects of our world. But if we are interested in comprehending an artist's growth, we have to let go of the desire for convenient labels.
Walking into the Hans Hofmann Gallery at the Provincetown Art Association and Museum (PAAM), one is struck by the diversity of work on display, from large, dark abstract works in oil on huge canvases to light, almost whimsical figures on the opposite wall. All of the works are by Stephen Pace, an artist who began in abstract expressionism and then gradually introduced the figure into his work, something that at the time, in the late 1950s, early 1960s was definitely crossing a line.
"It was controversial… He was considered a fine abstract painter," says Cathy Claman, curator of the PAAM exhibition Stephen Pace in Provincetown and president of the Stephen and Palmina Pace Foundation. "I think it really affected his progress in terms of his financial success, and it took many years for him to get recognized again."
Pace is an artist more associated with his home base in New York and the work he did in Maine, however, Claman says Provincetown was instrumental in his development. While Pace met and studied with Hans Hofmann first in New York, when he came to Provincetown to continue his studies with Hofmann in 1952, she says, "It was his first encounter with the coastline of New England [being from Missouri and Indiana]."
The exhibition includes a display of several of Pace's sketchbooks, which Claman says demonstrate his transition to figurative work. "I think Provincetown had a lot to do with that," she posits.
Of course, Hofmann's influence was instrumental, but primarily in directing what was already there. "He really connected with [Hofmann's] vision of abstraction, and I think [Hofmann] validated the direction he had already been going in," she says. "We have earlier works here and you can see he's already moving toward merging abstract presentation with figurative. And then when he was in New York he immediately connected with Hofmann."
The work in this exhibition, as its name indicates, is focused on Provincetown, a place he came in the summers throughout the 1950s and 60s. The show is comprised of works from his abstract expressionist years on one wall, figurative oil paintings on another wall, and his bright, representational watercolors, as well as those sketchbooks. Claman says there are many other works that demonstrate the transition between these developments, which were simply beyond the scope of this particular exhibit, the first solo show for Pace in Provincetown.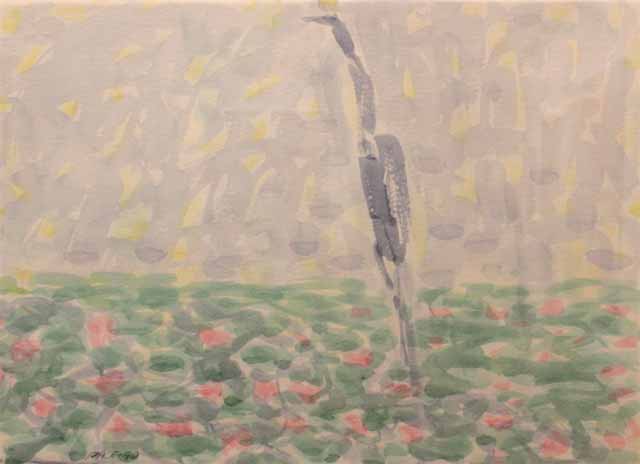 Claman knew Pace and his wife Pam, both of whom lived in the same building in New York as Claman and her husband. She describes the couple as "an old world art couple," where "Stephen painted all the time and she acted as kind of a buffer for him against the world… They really were opposite personalities. Stephen was quite shy and Pam was the most gregarious person I've ever known."
Claman says she does believe there are connections between these vastly different works, things that make them Stephen Pace paintings. "As it got later into the 50s and 60s he started to see these shapes emerge [in his work]. He had started when he was young doing figurative work," she says, adding that in all of the works you still see this focus on shapes and also brushwork and color.
Ultimately, an exhibition is about the work actually presented, whether or not you can confidently draw connections between an artist's various creative influences and interests or to events and circumstances of that artist's life. Stephen Pace's works are bold and conscientious about color, whether they are the darker abstracts or the vibrant Matisse-like oils of later years. It is yet another example of the significance of Provincetown to artists, particularly of the mid-20th century, but also evidence of the uniqueness of one artist across a span of 47 years of growth.
Stephen Pace in Provincetown is on view at PAAM, 460 Commercial St., Provincetown, through September 1. For more information call 508.487.1750 or visit paam.org.