]
by Steve Desroches
Top Image: Photo: Joey Carman
Fran Drescher and her gay ex-husband are role models for how to maintain a successful divorce. Drescher and the ex in question, famed television producer Peter Marc Jacobson, met when they were both 15, married in 1978, separated in 1996, and then divorced in 1999. The marriage dissolved right during the height of The Nanny, the television sitcom produced by Jacobson and starring Drescher that catapulted her to superstardom. It was after the divorce that he came out to her. The whole experience led to another sitcom, Happily Divorced, produced by him and starring her. Their close friendship ever since their marriage ended is the stuff of reality-based fairy tales, where people live happily ever after, even after divorce.
The beloved actress lets out a signature, authentic laugh native to her home borough of Queens when talking about her upcoming show at Provincetown Town Hall. She'll be doing "about 45 minutes of stand-up comedy," followed by a conversation portion with her "gay ex-husband Peter," and then a question and answer period with the audience. She's had an incredible life, full of varied roles on TV, in film, and on stage, as well as personal anguish that she's used to inspire others. As they say, laughter is the best medicine, and she's prepared to write a lot of prescriptions when she hits the stage at Town Hall.
"I've never been to Provincetown, can you believe it?," says Drescher. "Peter, my gay ex-husband, goes annually. Peter always sends me photos of all the lobster rolls he's eating and his bike ride to the beach. I can't wait to go. I love New England."
Drescher is one of those actors who, even when she lands a small role, makes a big impression. Her very first role was as Connie in the 1977 smash hit Saturday Night Fever, where she delivered just one line, aimed at John Travolta's character Tony Manero: "So, are you as good in bed as you are on the dance floor?" And then again she steals the scene as Bobbi Flekman in the cult classic This Is Spinal Tap, the publicist for the over-the-top band in the hilarious mockumentary. She worked steadily from the late 1970s up until she struck comedy gold with The Nanny, recognized not just for her nasal, New York accent, but her top shop comedic chops, so much so she was already ingrained in the nation's consciousness before she hit it big.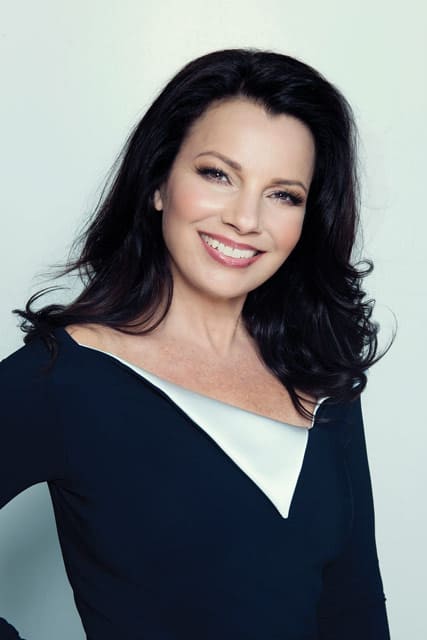 She's been in so many projects over the years sometimes she has to stop and think to remember she was in it. American Hot Wax, Ragtime, Cadillac Man, Hotel Transylvania on film, with guest appearances on everything from ALF to Fame to Who's the Boss? giving her a dizzying resume and the stories to boot. She became lifelong friends with Dan Akroyd and Donna Dixon while filming Doctor Detroit and she adds, the couple became engaged on her doorstep. Despite what anyone says, she loves the movie The Beautician and the Beast. She's done so many roles it's a bit like a game of Whac-A-Mole how they pop up in her life, like the horror film Stranger in Our House. Directed by now horror legend Wes Craven and starring scream queen Linda Blair, the film premiered on NBC Halloween night in 1978. The young women in the film formed a tight knit group, and Drescher formed a quick friendship with set photographer Lauren Bromley. But shooting ended and everyone parted ways. Recently, though, the film has come back to haunt Drescher in the best possible way. At a fundraiser for cancer research that coincided with Pride Week in New York, Drescher was a celebrity guest seated at the head table, and who should be seated next to her, but Bromley. Then not long after, she and Jacobsen were at the opening of an exhibit at the Hollywood Museum about the portrayal of gays and lesbians in cinema and television, and she bumped into her co-star Lee Purcell. Just a few weeks ago she received fan mail specifically about her role in Stranger in Our House, and now it comes up again in an interview with Provincetown Magazine.
"Oh. My. God. If I tell you how often that movie has come up on my radar in the recent past," says Drescher. "I did that movie 40 years ago. I was just 21. I haven't thought about it in years! And now it keeps coming up. I keep waiting for the universe to show me why that movie keeps coming up in my life!"
As much as Drescher has entertained, she's also inspired. She's been a longtime women's health advocate, serving as Public Diplomacy Envoy for Women's Health Issues in 2008 under a program by the State Department. She's been active in Democratic Party politics and volunteers her time for organizations like the ACLU and a long list of LGBT rights organizations. She's been open about a horrific home invasion that happened in 1985, hoping to give voice to other survivors of rape, and she wrote a best-selling book, Cancer Schmancer, about overcoming uterine cancer and how women can become better advocates for their own health. She turned that experience into a movement encouraging people to embrace an eco-friendly and organic lifestyle and to move away from "sick" care to actual health care, focusing on prevention and a healthy lifestyle. Despite trauma, she sees joy everyday and seeks to spread it as she believes all change for the better in the world starts within each individual realizing they have the power to change themselves and how they interact with what's around them.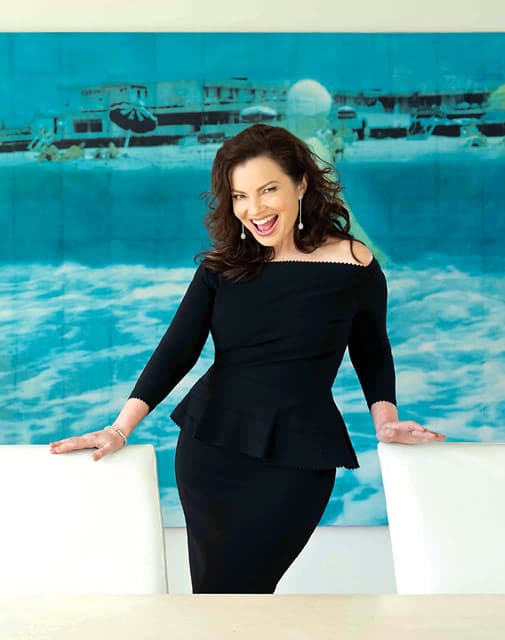 "Look, no one leaves this planet unscathed," says Drescher. "Bad things happen to good people. What we do with it makes all the difference. At some point you're going to have to choose whether to be bitter, or to play the hand that's been dealt to you in the best possible way. And I chose the latter. It's deepened my life in meaningful ways. I turned pain into purpose. That's healing. I see small miracles all around me everyday. Take the time to maintain a journey to happiness. Don't hang on to fear. Think about how you are impacting the world. If we all do that, the world can be a very different place."
Schmoozing with Fran Drescher is on Saturday, August 10 at 8 p.m. at Provincetown Town Hall, 260 Commercial St. Tickets ($50-$120) are available at the Crown and Anchor box office, 247 Commercial St. and online at onlyatthecrown.com. For more information call 508.487.1430.