by Lee Roscoe
Diehard fans of Alvin Ailey will love the 2021 documentary, Ailey (which is showing in the Film Art series this week), despite its flaws. The audio is sometimes hard to hear. A poorly done section on Ailey's nervous breakdown is unwatchable. Gorgeous music which accompanies the dances such as "Cry" and fantastic dancers who light up creations like The Woman in the Black Dress, one of the


most gripping dances perhaps ever made to underscore Black rage and sorrow, are not credited onscreen. (Also omitted, Geoffrey Holder's collaborations with Ailey, and Ailey's alleged surveillance
by federal agents.)
The best parts are clips of Ailey's groundbreaking dances, including Revelations, and those of Rennie Harris' original dance piece, which frames the film as he vivifies Ailey's life—and the insanely talented dancers. We see in full documentary cliché, Ailey's story, from his Texas childhood where he felt like being Black was being nothing, yet he was sustained and saved by his childhood friend; his love for his beautiful, supportive mother, a field worker; his first dance lessons, encouragement by Carmen De Lavallade
and dance innovator Lester Horton after he and his mother moved
to L.A.; his love affair with dance.
Inheritor of anthropologist/choreographer Katherine Dunham's dance portraits of Black life, as he begins to choreograph himself, founding the American Dance Theater, he wants to show his own experience of Black life real and true, its indigenous movements and the music those motions partner with, its celebrations and rituals from church to death and resurrection. Ailey developed a vocabulary of movement which still influences modern dance today. Beloved by audiences, his pioneering multi-racial troupe toured the world.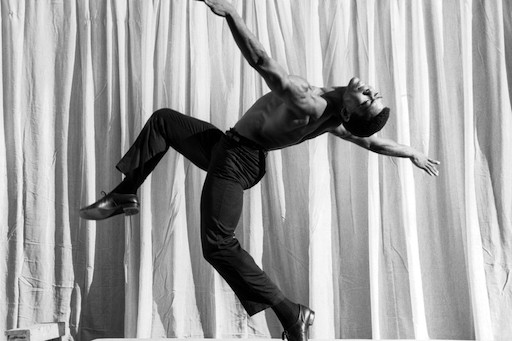 As we continue with Ailey's biography, choreographer Bill T. Jones, (one of many interviewees), comments that he lived between two polarities— was used as an exemplar (albeit falsely, Jones says) of race progress, and that he may have felt unworthy. Ailey was part of the Civil Rights movement through his dances, whether expressing angst at oppression or illuminating Black life through more quotidian themes, always striving by his own admission for a universal expression of the human soul. We see his love life briefly as he is disappointed by one lover who disappears, and then his demise from an illness related to AIDS, which he had hidden from the world as shameful.  The man remains somewhat a mystery, and although we can understand how his life affected and created his art, more information on the works themselves would have made the film stronger, for that is what Ailey, a private person, might have preferred –as it is what he created as his lasting legacy.
Ailey (2021) is showing as part of the Film Art series at Waters Edge Cinema, 237 Commercial St., 2nd Fl. in the Whalers Wharf Mall, Wednesday, May 4, 7 p.m. For tickets and information visit provincetownfilm.org/cinema.
]