by Steve Desroches
Henry David Thoreau ends his 1865 book Cape Cod, which chronicled his travels on the peninsula, in Provincetown and finishes his now classic travelogue with imagery of him standing on the outermost beach of the Cape tip with these now immortal words: "A man may stand there and put all America behind him." And for decades many people of all genders did just that, coming to Provincetown to find refuge, safety, and community and seeking safe harbor in a town that has long welcomed the outsider and invited them to become part of the work that makes Provincetown what it is.
Anyone who lives here will tell you how often they hear visitors say Provincetown is "their happy place" or "this place is magical." Indeed it is, but that doesn't just happen on its own. It's not innate, though it can feel as such. Rather it's a choice. And it quite literally takes a village to maintain our unique culture, community character, and commitment to striving for equality, freedom, and social justice. In these troubled times for our nation, with assaults on LGBTQ equality, reproductive and women's rights, racial justice, fair treatment of immigrants, and freedom of expression, Provincetown is already feeling the familiar expectation for the town to respond as well as be a beacon of hope in a grim landscape. It may be a slightly dramatic comparison, but when many see the Pilgrim Monument as they arrive by ferry or driving in on Route 6, it's, to scale, like seeing the Statue of Liberty. Both monuments carry the symbol of promise that here you can be who you are without the constraints placed on you by what you left behind. Remember the first document of democracy was drafted in what is now Provincetown. We may be at the end of the road, but America doesn't stop in Provincetown, it starts here with our contributions to imagination, creativity, and political thought and action.
In all its forms the art that's been created on our shores has changed the country, and continues to do so. And that's not limited to the visual arts, but performance, too. As we commemorate Memorial Day and celebrate the unofficial start of summer, Provincetown is preparing another season of diverse works on the stages that dot the town. While much of the entertainment options in Provincetown are campy or comedic in nature, they also pack a powerful cultural and political punch. After all, why are so many Republican-controlled states targeting drag if it's just a silly genre? It's out of fear that drag represents a people they can no longer control and overlord unearned privilege and authority. They are afraid of the power us. Otherwise, they would leave drag alone, not ban books, and stop limiting speech addressing LGBTQ and racial issues. Things may seem bleak, but to paraphrase an old joke by comedian Kate Clinton: As Che Guevara once said, optimism is the weapon of the true revolutionary…or was that Cher?
Either way, the joy, happiness, and celebration that Provincetown presents to tens of thousands of visitors each year is a powerful antidote for our nation's ills. So much of what happens creatively in Provincetown is under assault in much of the country. It's all the more reason why we can never take it for granted, no matter how frivolous it may seem on the surface. Whether it's a drag queen lampooning current events, a standup comic firing off jokes about politicians, a theater company presenting cutting-edge work by a new playwright, or a Broadway star belting out a song about the founding of the republic, it all makes Provincetown very, very powerful. And don't ever forget it.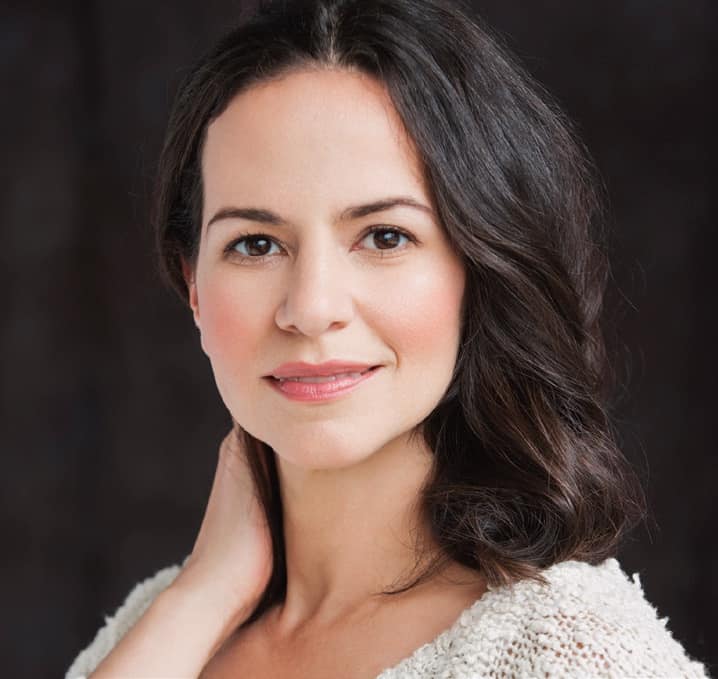 Make Your Own Kind of Music
As the great Mama Cass once sang, "make your own kind of music, sing your own special song… even if nobody else sings along." And indeed, Provincetown has for decades welcomed everyone to come to town and write their own symphony if they so choose. Throughout Provincetown's history all kinds of musical genres have flourished with everything from folk to rock and roll to jazz. The Outer Cape now offers a wide array of live music options with tastes and styles to please most everyone. Now in its 25th season, John Thomas' Great Music on Sundays @ 5 (June 25 – September 17) series at the Unitarian Universalist Meetinghouse presents a diverse program all summer long with everything from a cappella to Broadway to classical. Across the street at the Crown and Anchor Todd Alsup pulls double pop duty with his shows Freedom: The George Michael Experience (June 14 – September 13) and Elton Undressed (June 23 – September 15) a "stripped down" performance of the Elton John songbook. Also at the Crown is the vocal powerhouse Yoli Mayor (June 21 – September 20), the weekly musical revue Broadway on the Beach (June 21 – September 20), Unholy with João Santos (June 3 – September 19), a musical journey through the Seven Deadly Sins, Cry Baby with Hilarie Tamar (June 22 – September 21), in which she belts out hits by Janis Joplin, Stevie Nicks, and more, and the magnificent Qya Cristal with her Intergalactic Disco (June 16 – September 15).
Life is indeed a cabaret with the return of CabaretFest (June 6 – 11), which presents the best in cabaret from New York and New England with performers like Jeff Tagen, Jo Brisbane, and Ray DeForest. The sibling venues of Tin Pan Alley and the Post Office Café and Cabaret present live music nightly in their respective piano bars with the cabaret hosting shows like Mike Flanagan and Sheree Marcelle in P!nk (June 20 – October 20), singing the work of the pop star, the brassy and sassy Megan Murphy in Red Hot Diva (June 30 – July 8), Broadway star Todd Buonopane in the comedic concert Single and…Loving It? (July 14 – 15), fellow Great White Way star John Hill with Wellness Check (July 18), cabaret star Richard Skipper with The Magic of Believing (August 5), and the husband and husband singing-string duo Branden & James with You Had Me At Cello (August 11 – 12).
For over a decade now Mark Cortale and Seth Rudetsky (May 28 – September 9) have partnered to make the Art House the summer home for the best and brightest stars of Broadway. The 2023 lineup includes An American In Paris star Max von Essen (June 30 – July 1), Cindy Firing (July 7) with her tribute to Barbara Cook, singer/songwriter Anne Steele (July 8), Company star Claybourne Elder (July 14 – 15), Nicolas King and Seth Sikes together with Billy Stritch (July 21 – 22) on piano, Hamilton star Mandy Gonzalez (July 28 – 29), sisters Liz Callaway and Ann Hampton Callaway (August 2-5), Tony nominated star of Fun Home Beth Malone (August 10 – 11), cabaret legend Marilyn Maye (August 23 – September 2), and Little Shop of Horrors star Matt Doyle (September 8 – 9). The Art House moves to Town Hall for a series of megawatt star power with Audra McDonald (July 9), Jeremy Jordan (August 6), LaChanze (August 20), and Samara Joy (August 31).
Another musical force of nature in Provincetown is Lea DeLaria's jazz hot spot The Club. This summer the swinging joint by the sea hosts Nadia Washington (June 21 and 28, August 16, 23,30), Sugarcane Duquesne Redieux (July 21, 26 and August 9), with summer-long runs by Zoe Lewis and the Souvenirs, Qya Cristal and the Ken Field Quartet, and Lisa Bello and Mike Flanagan. And since the waning of the pandemic new musical venues have popped up like the Underground which is hosting the Hip Hop Music Festival (July 28-29) and Chris Wilcox and the Old Reliable Alley Rat Orchestra every Thursday this summer at the Old Colony Tap, the heart and soul of old Provincetown. This summer townie favorites Billy Hough and Sue Goldberg return with the classic Scream Along With Billy at Enzo's and Hough will return to piano man duties up at the Gifford House while Jon Richardson returns to the tickling the ivories at the Crown.Rolling down Route 6 to North Truro the Payomet Performing Arts Center has an amazing season planned for the tent with a diverse bill including Rickie Lee Jones (June 18), Tom Rush (June 25), Martin Sexton (July 20), Aimee Mann (July 26), The Wallflowers (July 30), Beres Hammond (August 1), Susan Werner and Vance Gilbert (August 16), and Robert Cray Band (August 29). And back in Provincetown, Bart Weisman's Provincetown Jazz Festival welcomes Zahili Gonzalez Zamora & Steve Hambleton (August 8) for their first time performing in the festival at the Provincetown Art Association & Museum.
Nothing builds community better than getting together to dance. The Town of Truro presents free summer concerts outside by the Truro Public Library with the Chandler Travis Philharmonette (July 6), The Rip-It-Ups (July 20), Sarah Swain and the Oh Boys (July 27), Donnelly and Richardson with the Helltown Cats (August 10), the Grab Brothers (August 17), and more! And the incredibly popular Summer Sunset Beach Concert Series presented by Far Land at Herring Cove Beach is set for every Wednesday featuring bands like Johnny & The Washashores (June 28), The Value Leaders (July 12), The Sarah Burrill Band (July 26), and Digney Fignus (August 9).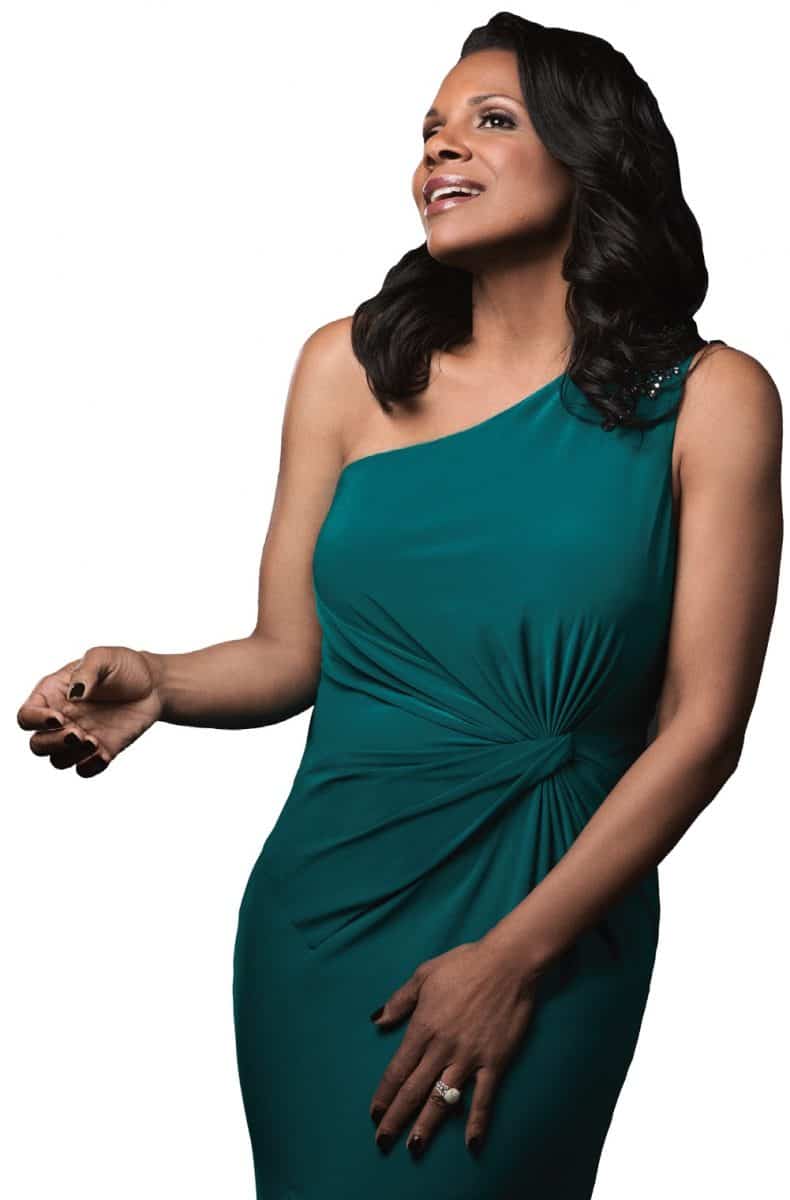 One Nation Under Drag
According to the American Civil Liberties Union (ACLU) 21 states have passed or are considering some form of legislation limiting or effectively banning drag performance. And the Gay and Lesbian Alliance Against Defamation (GLAAD) is documenting acts of anti-drag protests, threats, vandalism, and violence, which as of May 1 totaled 166 nationwide, many committed by white supremacist and Christian nationalist organizations like the Proud Boys, the Nationalist Socialist Club 131 (NCS-131), and the Oath Keepers. Provincetown has been home to a large and robust drag scene that has its roots going back about 100 years ago. It's as much a part of the town's artistic heritage as oil paintings, theatrical performances, and literature. Provincetown is home to great drag talents as well as an annual flow of some of the best drag artists the country has to offer. And many of them express fear and anxiety over what they are seeing and experiencing as conservative politicians and leaders demonize them for political gain. Some have lost work and income, others perform with armed guards at the door, and most have dealt with some form of harassment or intimidation. And all express a gratitude for Provincetown, the one place they say they feel safe and free. It is perhaps no coincidence that there are a record number of drag performers coming for the season, an annual influx that is driven in the best of times by Provincetown's reputation for being the most supportive locale for drag in the country.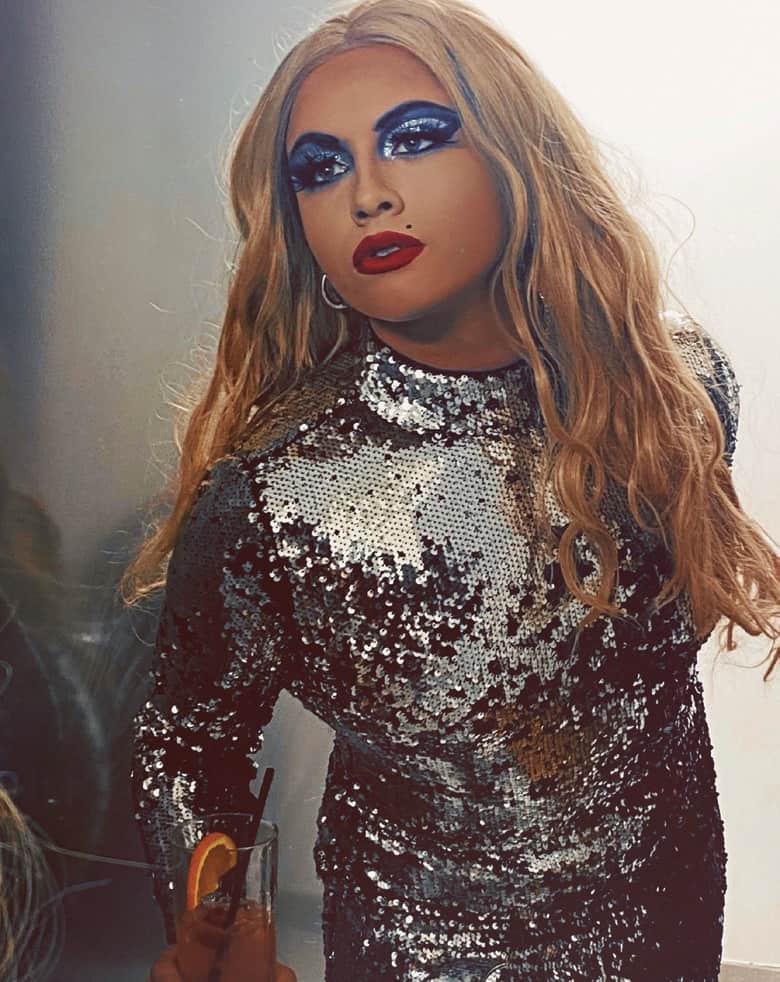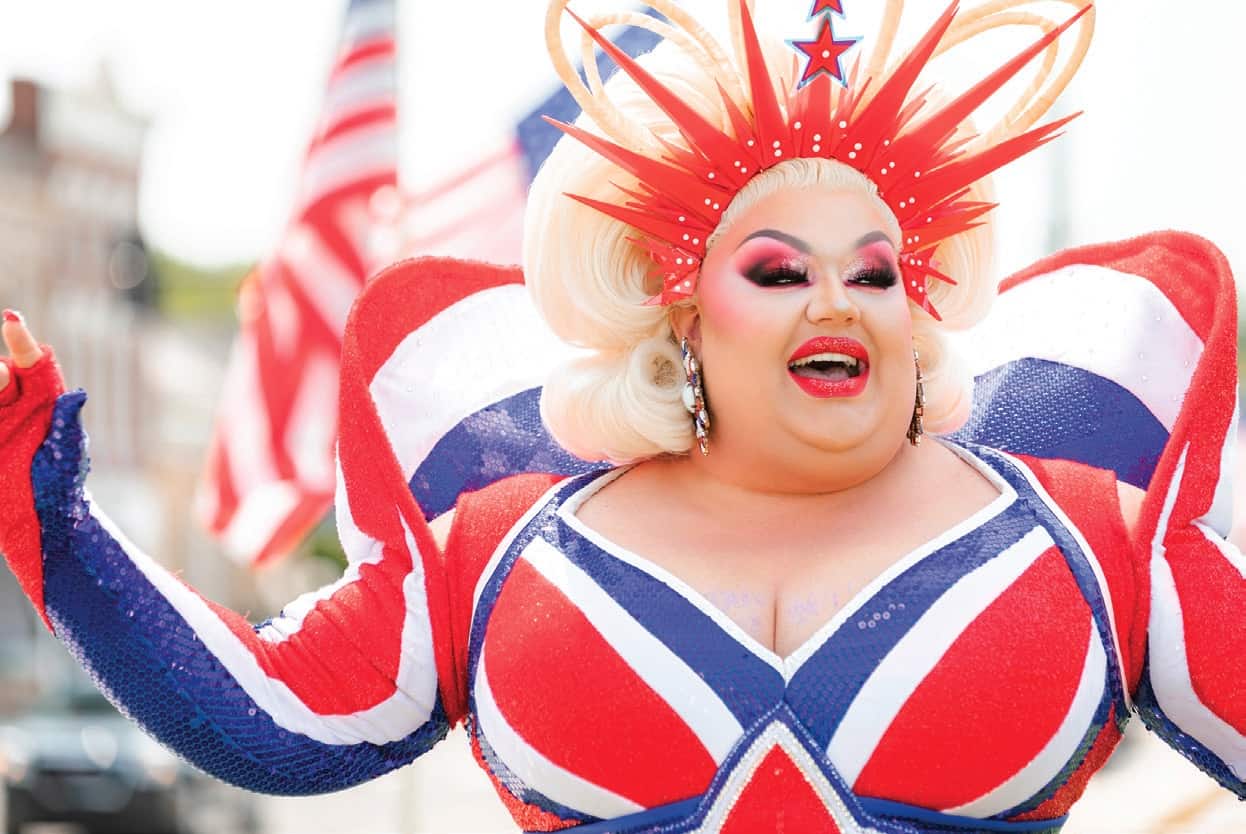 The queens have no plans to stay quiet about what is going on and will use every sequin, wig, and high heel to stand up for themselves with fierce wit, camp, and sass. One of the big wigs of the Provincetown drag scene, Varla Jean Merman (June 16 – September 9) is taking anti-drag hate head on with her brand new show Stand By Your Drag at the Crown and Anchor. Standing up means more than one might think to Varla after her "Tic-Taccident" where she fell on stage after slipping on the popular breath mint. How it got there is anyone's guess, a real mystery, just like how the hell is someone like Ron DeSantis the governor of a major state, but nevertheless, here we are. Also, at the Crown, the ineffable Dina Martina (June 2 – September 16) returns with not just her solo show, but the occasional co-hosting duties at Ryan Landry's Showgirls (June 5 – September 18) the weekly wild variety show and Provincetown institution. Thirsty Burlington (June 13 – September 12)channels pop music's queen with Cher 1987, an homage to Cher's music and looks of the 1980s. The Crown is also welcoming RuPaul's Drag Race star Tina Burner (opening June 17), the debut of Diva! (June 3 – September 19), an all-live, singing drag revue starring Delta Miles, Qya Cristal, and Roxy Pops. And the spectacularly unique Anne Hutchinson (June 22 – September 21) is usually known for her hilarious and informative street tour of Provincetown, but this summer she takes to the stage with American Jesabel.
Down Commercial Street, the Pilgrim House welcomes back headliners Miss Richfield 1981 (June 2 – September 16), with her new show Bad Advice, and Miss Conception (now through September 23) with Tooned Out, where she works out her obsession with cartoons. The iconic Post Office Cabaret presents the crowd favorite Anita Cocktail Variety Hour (now through October 28), featuring the show's namesake as well as Abby Cummings and Raquel Blake with revolving guest spots for some of New England's best drag performers. And the P.O. is also the new home for Illusions (now through September 5), Provincetown's longest-running drag revue, starring Billie Jean, Lakia Mondale, and Payton St. James. Also gracing the small stage that packs a big punch are drag dance phenomenon Edie (June 4 – September 4), Paige Turner (now through September 4), with her totally awesome show Drag Me to the 80s, and drag legend Randy Roberts (June 22 – September 1) in Aging Dis-Gracefully.
The Provincetown Business Guild is bringing in RuPaul's Drag Race superstars Eureka O'Hara (July 13) for Bear Week and Alyssa Edwards (August 16) for Carnival with one-night-only shows, both at Provincetown Town Hall. The Art House takes over Town Hall as well with their own Drag Race stars with the fabulous Monét X Change (July 2), the decadent Alaska Thunderfuck (August 13), and the sweet-as-can-be Nina West (August 27), while back at the two-stage venue they'll host summer runs with the hilarious Miz Cracker (July 5 – September 2) and the spicy and southern Ginger Minj (July 5 – September 2). And returning from exile in Eggs Isle is the exquisite creature that is Saltine (June 5 – August 25), the mystically beautiful creation of artist Cody Sullivan. Saltine lives on Eggs Isle, an island off the coast of Provincetown for those "too ugly and poor" to live in what has become "an Airbnb, second home-owned wasteland." Saltine performs live episodes of her podcast Eggs Isle the last Friday of every month at WOMR and will perform at the Gifford House every Monday with Cody Plays, a weekly experiment where a play is created in one day in collaboration with a guest artist. And the Red Room next to Town Hall features The Golden Gays (July 11 – 13) with Hot Flashbacks, a drag musical romp where the girls search for a missing Sophia, followed by the wickedly funny Jackie Beat (July 19 – 21), the master of the satirical song Sherry Vine (July 25 – 28), the Broadway-infused belter Sutton Lee Seymour (July 30 – August 4), and Vancie Vega who, with an uncanny resemblance to and impersonation of Dolly Parton, presents The Not Dolly Show (August 20 – September 1).
Laughter Is The Best Medicine…and Revenge
While drag is taking a hit from the right wing, it's seems comedy is taking a beating from all sides. What is and isn't funny is of course up to the individual. When the late, great film producer and director Roger Corman received the Filmmaker on the Edge award at the 2012 Provincetown International Film Festival he told John Waters in conversation on stage at Town Hall that if you want to make money in the movies make horror films because what's scary tends to be universal, as from Canada to Japan to South Africa people tend to be afraid of the same things: ghosts, monsters, serial killers. But if you want to lose money, make a comedy because the person sitting next to you might totally disagree as to what is funny. It seems now that there are forces that want to shut down what they don't find humorous, our culture can often seem like it lacks a sense of context and nuance. Taking center stage in this cultural debate is Provincetown's own Judy Gold (June 25 – September 3), who is at the top of her game and performing at the Post Office Cabaret. Gold is still appearing on television and radio talking about her 2019 book Yes, I Can Say That: When They Come for the Comedians, We Are All in Trouble, which is not only a full-throated defense of the First Amendment, but an important reminder of how vital comedy is to a culture, allowing us to process difficult issues and concepts by taking the air out of them and bringing them down to a digestible size. And her shows are full of gut-busting evidence proving her thesis.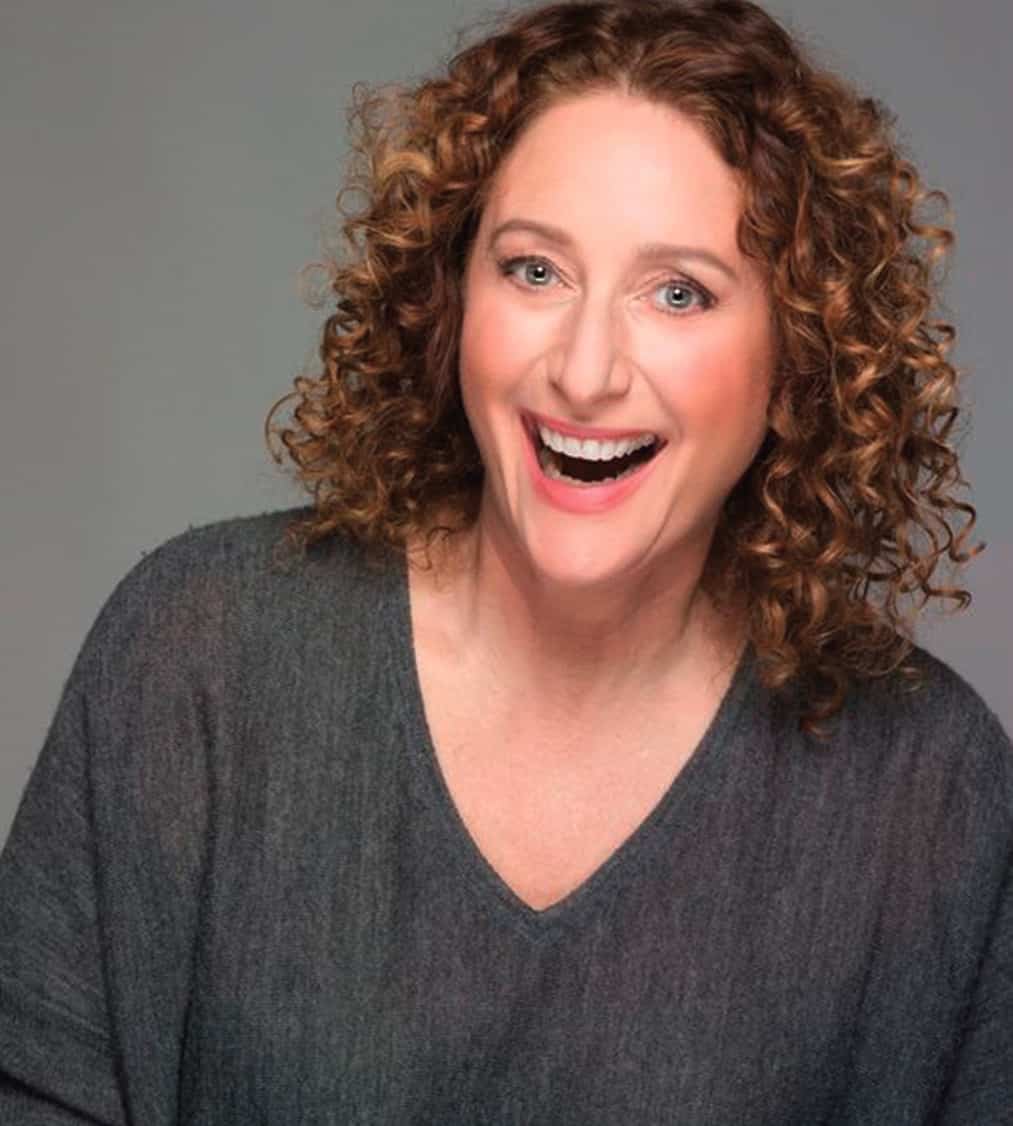 Also at the Post Office is Bob Keary with his live talk show Good Night Provincetown (monthly through October). As co-host of the weekly Internet-based show Wake Up in Provincetown with Harrison Fish, Keary goes solo with this evening show that, while not classic stand-up, can't help but be hilarious with Keary's easy wit. Another local and a Provincetown favorite is Kristen Becker who along with Anddy Egan-Thorpe presents the weekly show Fruit Basket (June 3 – September 2), a night of queer comedy featuring LGBTQ comics from all over the Northeast.
Red Room is also presenting Lovefool, a comedy show by Michael John Ciszewski (August 6 and 8) that offers a very gay hour of the perils of love and lust. And in a special Provincetown Pride event Provincetown's Austin Tyler is hosting the Queer Comedy Showcase (June 3) at Town Hall featuring Sureni Weerasekera, Jared Goldstein, and Maddie Wiener.
Over at the Crown and Anchor they're hosting UMPO (June 24 – September 23), which is an acronym for the Unauthorized Musical Parody of…., a musical series created by Kate Pazakis. They'll be bringing their production of Jaws at the White Lotus, exploring what would happen if Jennifer Coolidge visited Provincetown during a spate of shark attacks. The Art House is bringing back the always right on Unitard (August 9), the comedy trio featuring Mike Albo, Nora Burns, and David Ilku with their new show Tard Core: Refreshed. And over in North Truro at the Payomet Center for the Performing Arts presents Sandra Bernhard (July 28), at Town Hall with her show Spring Affair, a comedic musical romp in the fashion that only she can deliver. Then, back at the Payomet tent they'll welcome that hysterical humorist David Sedaris (July 31) who will be sure to delight with his irresistible stories.
Peek-a-Boo!
For the past 25 years the art of burlesque has been a mainstay of entertainment in Provincetown, a tradition that continues with the return of Mack'nifique (June 22 – September 21) at the Crown and Anchor, an "all local, queer, body positive" burlesque show featuring drag darling Mackenzie and her dolls. The Crown is also hosting a brand-new extravaganza with Spookey's Helltown Burlesque (June 24 – September 16), featuring Provincetown's own burlesque star Spookey, famous for his acts of strength and balance, along with a rotating cast of guest stars in this vaudevillianesque show with a "sexy, modern twist."
All The World's A Stage
The spirit of 1915 is alive and well on the Outer Cape. That's the year the Provincetown Players were formed here with the leadership of George Cram "Jig" Cook and Susan Glaspell. Historians note it as the moment that brought American theatre into the modern era, giving the young country an independent voice, breaking away from European traditions. And ever since, the Cape tip has been home to compelling cutting-edge theater of every genre, from searing dramas to sweeping musicals to comedic absurdity. The Provincetown Theater got off to a fabulous 2023 season with their smash hit production of Casa Valentina (closing this Memorial Day weekend). Come June the theater is reviving its 4-Star Solo Show Festival, which invites rising stars to perform work they've written themselves starting with The Dorothy Parker (June 7 – 9) by Carol Lempert, On Broadway…& More (June 14 –16) by James Jackson, Jr., Banana (June 21 – 23) by Sam Hamashima, and St. Kilda by Jody Christopherson. A newly re-imagined adaptation of the landmark musical The Fantasticks (July 10 – August 31), in which the young lovers are two men, is the summer offering before the theater takes September to prepare for their late autumn productions.
Theatrical offerings abound in Wellfleet where the Wellfleet Harbor Actors Theater (WHAT) present an intriguing summer production of Jesus Hopped the 'A' Train (now through June 17) by Pulitzer-Prize-winning playwright Stephen Adly Guirgis, followed by the comedy The Complete Works of William Shakespeare (abridged) (June 28 – July 29) which mashes up 37 of the Bard's plays, and Kevin Rice's new and timely comedy The Pickleball Wars (August 9 – September 9). And once again, the always captivating Harbor Stage Company presents a summer season including Bread & Butter (June 15 – July 8) a loose adaptation of work by George S. Kaufman by Brenda Withers, the world premiere of Liv at Sea by Robert Kropf (July 13 – August 5), and the otherworldly The Thin Place by Lucas Hnath (August 10 – September 3) and directed by Jeff Zinn.
]