by Steve Desroches
On a breezy and bright day in May the Progressive Pride Flag outside the Provincetown Business Guild's new home waves against a cerulean sky, a shade of blue made famous by Meryl Streep as Miranda Priestly in The Devil Wears Prada. If that weather report seemed gay as hell, well then good, as it's apropos of what is going on at 115 Bradford Street, just across the street from the Bas Relief Park and the incline elevator going up to the Pilgrim Monument. After spending many years in a small, dark, and cramped office on Freeman Street, the Provincetown Business Guild made a move over the winter to this bright and expansive space, thanks to the Palette Fund, the foundation that owns the building and that works to improve the lives of marginalized communities, LGBTQ issues, and the Provincetown community. PBG executive director Stephan Hengst settles onto a stool in the airy space on the first floor with a smile, giving a wave to a friend passing by outside, already proving the point that the PBG's new offices are a better locale just by the fact it's easier to find.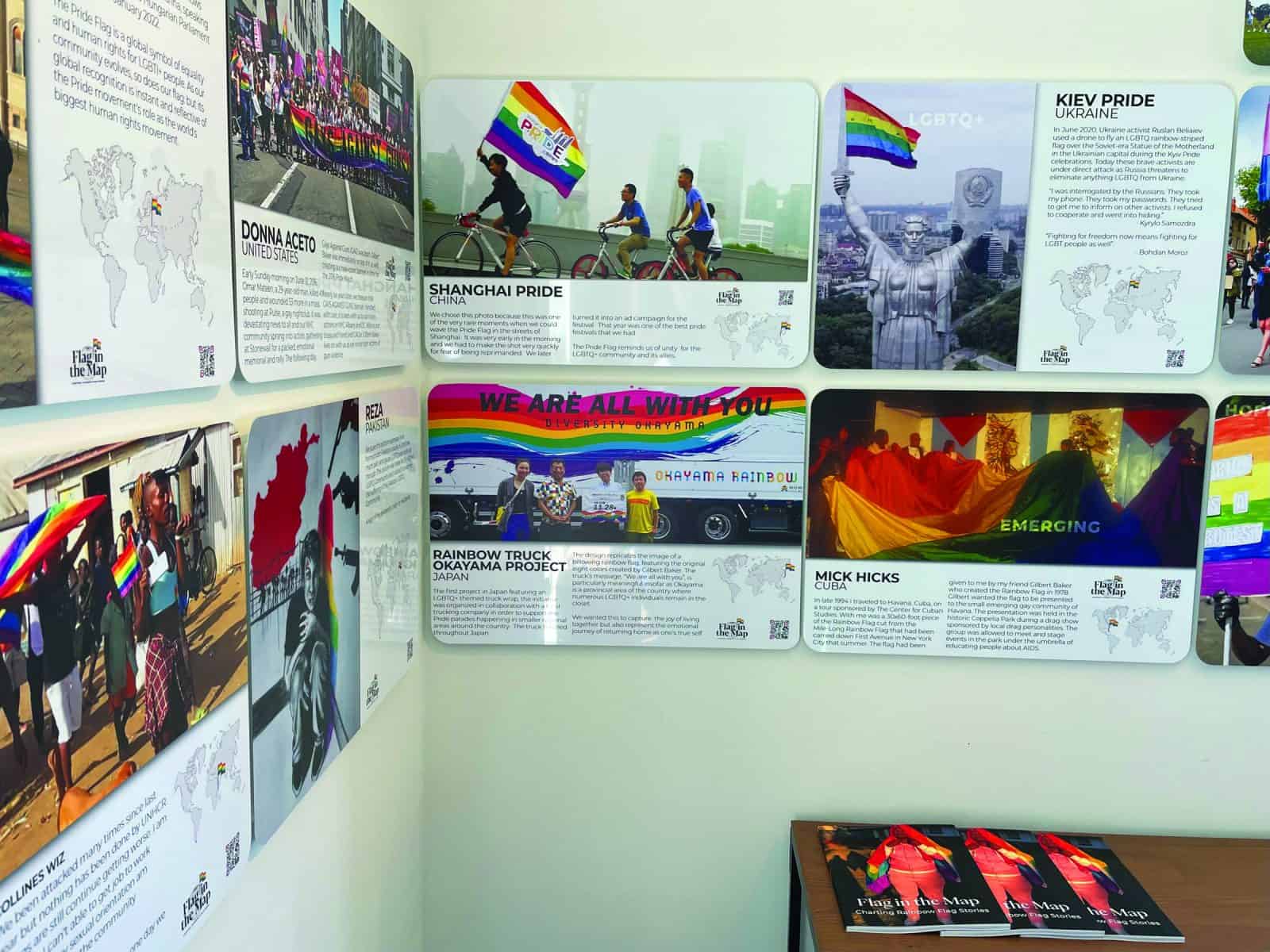 The move will make a huge difference in assisting townies and tourists alike. With a mission to market the town to the LGBTQ community, as well as to produce events like Carnival, Holly Folly, First Light, and this weekend's Pride celebrations, Hengst sees another opportunity in the town's rich history. In addition to their traditional work, the PBG has opened the Provincetown Pride Center, an exhibition and event space to interpret the town's LGBTQ history as well as present the work of queer artists and other relevant events.
About to celebrate its grand opening this Provincetown Pride Weekend, on this particular date the main gallery is still a work in progress, with a couple of ladders dominating the room as well as several framed Carnival posters from years past, including the highly collectible metallic works by artist Ron Fowler, who created the glittery masterpieces in the early 1980s. A 1979 issue of After Dark magazine, with a cover story on Provincetown, sits on a table next to a storage file box marked "PBG archive." That's all that exists of the 45-year-old organization's history, Hengst says with a slight frown and a shrug. Indeed, Provincetown's LGBTQ history in its totality has long been neglected, and important collections and archives have scattered to the winds lost to history. Only recently did the Provincetown Museum begin to feature any LGBTQ exhibits beginning with a cabinet on the Hat Sisters and a partnership with the Generation's Project, an oral history organization documenting LGBTQ elder's stories. But there is much, much more work to be done, and the PBG is energized to take on this task.
"It doesn't do anyone any good to keep all of this in a box somewhere," says Hengst. "This is really exciting for us and I hope for the town. Our history is a resource. The LGBTQ history of Provincetown has become an orphaned story. This center captures that slice of the town's history."
Nature hates a vacuum, but it's taken decades to fill the void left by the lack of any functional historical society in town, never mind the lack of an institution that interprets, presents, and actively collects LGBTQ artifacts and stories relating specifically to Provincetown, in Provincetown. The town is arguably home to one of the most compelling and important LGBTQ narratives in American history, if not globally. And yet for too long how Provincetown became what it is today feels a bit like a mystery. That's why the electric current coming out of the new Provincetown Pride Center is generating so much buzz all around town. The inaugural exhibit, open now through most of June, is titled "A Flag in the Map" in partnership with the Gilbert Baker Foundation, featuring photographs and the stories of LGBTQ people from around the world with a focus on those from particularly homophobic and transphobic countries.
"It's the greatest hits of many of the places we're not welcome," says Hengst. "It's what makes Provincetown so important. To come into a space like this it's make you realize how easy it is to take Provincetown for granted."
Future exhibits planned for this year include art shows of work by Jeremy Novy and a group exhibition presented in partnership with the Provincetown Art Gallery Association, as well as a special exhibit celebrating 45 years of Carnival, Provincetown's queer history, and the town's lesbian leaders throughout the years, done in cooperation with local retailer, Womencrafts. In addition, the Pride Center, which is organized as a separate not-for-profit from the PBG, will begin to work with the community at large to collect relevant artifacts and ephemera relating to the town's LGBTQ history to create a digital archive as well as future shows.
"The Pride Center will give those that visit a sense of where they are and how they are part of a much larger legacy," says Hengst. "Our history matters. Provincetown's LGBTQ history matters. Getting the story out not only out there, but preserved for the future is a really, really exciting moment in the PBG's history."
The Provincetown Pride Center is located at 115 Bradford St. and is open Fridays through September 15, noon to 8 p.m. and Saturdays through September 16 10 a.m. to 6 p.m. as well as select Sundays 10 a.m. to 6 p.m. during Pride, the Fourth of July weekend, Bear Week, and Carnival. For more information call 508.487.2313 or visit ptown.org.
]