]
by Steve Desroches
The new Miss Gay Massachusetts USofA and Bette Davis have a lot in common. They're both originally from Lowell and both of them came to Provincetown when they were ingйnues, albeit close to a hundred years apart, attracted by the town's creative legacy and seeking inspiration. And after winning the pageant over Patriots' Day weekend, Christopher Kosiavelon, who goes by the drag name Bang, smiles and chuckles with a sigh as he thinks about what a whirlwind his life has been since he moved to Provincetown just four years ago.
When he arrived in town he had yet to hear the sequined siren call of drag, often seen as a rite of passage by young gay men in Provincetown. With a background in theater, Kosiavelon spent that first summer immersed in the town's unique performance scene, particularly at the show Audition, which ran at the Crown and Anchor for just that year. The variety show hosted by Kevin Aviance and Marti Gould Cummings provided a platform for experimentation, which Kosiavelon and his friends took full advantage. But it took him until mid summer to hit the stage, and when he did it wasn't in drag, but as a man performing a monologue from A Chorus Line. He won the night and ended up coming in  third in the show's finale that September.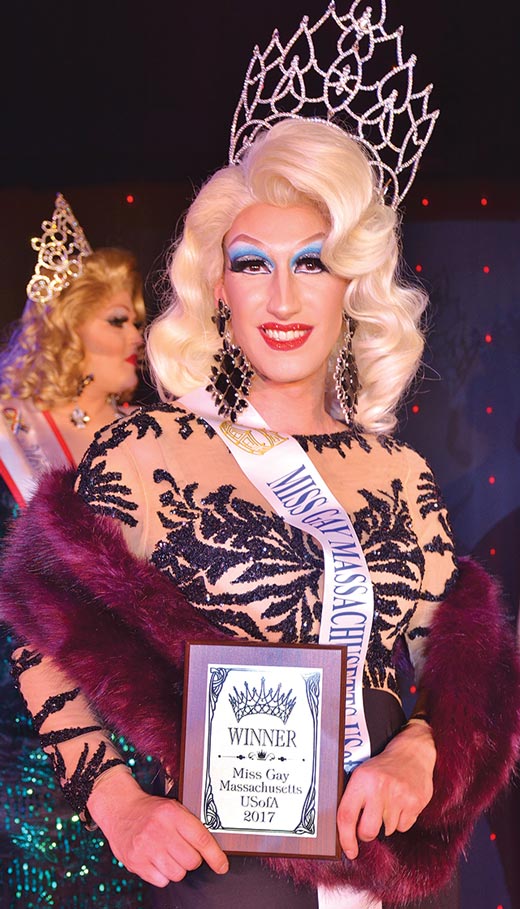 "By the end of the season I thought 'I can do that', " says Kosiavelon about watching drag queens throughout the summer. "I had about seven months to prepare. And Bang was born."
While it wasn't necessarily his theatrical background that drove him to do drag, it's what drives the character of Bang. A self-described "control freak," doing drag allows Kosiavelon to be in charge of every aspect. It's very much a case of the stars aligning, as he felt for so much of his young life he was never really sure what he wanted to do. He'd always been interested in makeup and hair, as well as performance and fashion design, but, again, he felt unsure as to what to pursue and even if he did decide, how to pursue it. Drag encapsulates all his fields of interests.
As with any creative field, it is not so easy to just go out and do it. One has to learn the craft. But drag isn't something you can major in in college or get an internship in. You must learn by doing and find those that are willing to be mentors to offer guidance and practical tips. That can be hard to find in big cities, as even the most seasoned, accomplished queen still needs to hustle to stay fresh and relevant in a very competitive field, made all the more so with the success of RuPaul's Drag Race.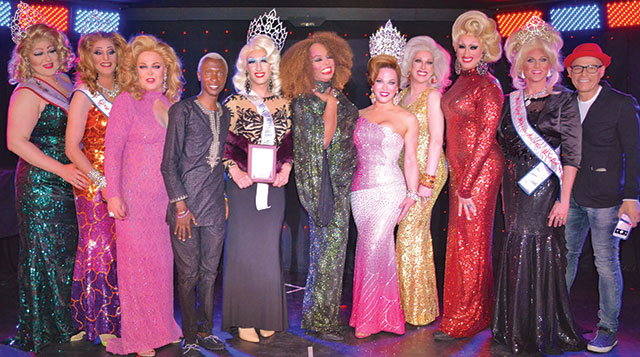 "Everyone asks, 'Who's your drag mother?' and I say, 'YouTube,'" says Kosiavelon.  "But Provincetown is great for help. Everyone is so open and helpful. Ryan Landry will really push any drag queen to be the best they can be. Thirsty Burlington is really my favorite drag queen ever, and she's been a huge, huge help. Elle Emenope has helped me with my wigs. Electra is a legend who's been a huge help. That's what makes this community different. They really want everyone to grow."
Only two years into his adventure in drag, Kosiavelon's ambition and work ethic shows as he's progressed in both the art of drag and in paying close attention to its legacy and ability to create change when done well. He continually seeks to push himself as well as those around him to expand the boundaries of what drag is capable of and to be part of a new generation with their own distinct voice and point of view. Bang is still evolving, says Kosiavelon, and always will be. While rooted in the juxtaposition of old Hollywood and comic books, Bang acts as a cultural sponge for Kosiavelon to put all he observes and interprets for himself into.
Bang has also given Kosiavelon a vehicle to explore, to approach his creative life with a bit more bravado, to take risks. He's always studying wig and makeup design, learning to sew his own costumes, studying drag history and performance styles, and continually looking to be something new, something no one has ever seen before. He puts himself out there. He makes no secret of his desire to be cast on RuPaul's Drag Race, as he is in the process of completing his audition tape in a quest to be on season ten of the hit show.  And in part, entering the Miss Gay Massachusetts USofA Pageant was another attempt at trying something new to see where it took him, and Bang. In the short term, it's taking Bang to the Miss Gay USofA Pageant in Dallas this Memorial Day Weekend. In the long term, he's not sure, but he can't wait to find out.
"I really believe in putting yourself out of your comfort zone," says Kosiavelon. "You'll learn from every experience you have. I'm not a pageant queen, but I thought I could challenge myself and really learn from it. And I did. And I took a crown."