]
by Steve Desroches
Billy Hough was born to play the role of Amadeus. Upon the news that Hough had been cast as Mozart in the upcoming production of Amadeus at the Provincetown Theater, faces around town lit up with a smile of recognition that this was indeed the perfect part for the punk piano man and that this would certainly be a performance for the ages in the town's lengthy theatrical history.
For just over a decade, Hough, accompanied by Sue Goldberg on bass, has become a sensation on the piano with their weekly summer performances of Scream Along With Billy every Friday night at the Grotta Bar. The no holds barred night of music taps into the very essence of Mozart, if not in music than in style. A rebellious rock star of his day, Mozart thrilled the royal courts of Europe with his wild ways both on and off the piano, much the same way Hough thrills with his stream of consciousness Beat-meets-the Bowery infused energy. So when this opportunity came his way it became clear he was hanging up his signature Iggy Pop style wig for the powdered 18th century variety, reuniting him with director James P. Byrne.
"As an actor, which is what I kind of started out as, there are five roles that if you aren't born to play them you want to play them before you die, and this is one of them," says Hough. "I thought I was too old, as I'm about ten years older than Mozart. Jim said to me, 'You can do it, but this would be your last chance to do it.' So I said 'F**k it. Let's do it."
The gravel-voiced Hough is no stranger to the stage or to audiences in Provincetown. The Mississippi native got his first big break in 1997 when the Boston Rock Opera staged a production of The Rocky Horror Show, in which Ryan Landry had already been cast as Dr. Frank-N-Furter. Hough, at the advice of Boston rock musician Rick Berlin, came to audition for Riff Raff. Landry and Byrne sat in the front row and instantly fell for Hough as he sang "Pills" by the New York Dolls, though it took longer for the producers to see both the light and the resemblance.
"It was love at first sight with all three of us," says Hough. "They really had to go to bat for me as they wanted a more traditional theater person. But they just kept saying, 'He IS Riff Raff.'"
Shortly after, Landry asked Hough if he would be interested in being in a Christmas play he had in mind. The duo, along with Scott "Penny Champagne" Martino and Andre "Afrodite" Shoals, founded the Gold Dust Orphans and presented their first stage show, How Mrs. Grinchley Swiped Christmas, and began what is now a legendary theatrical troupe both here in Provincetown and across the Bay in Boston, with all due credit to Stevie Nicks. That night of conception involved the then newly released Enchanted, a three-CD compilation chronicling her solo career to date, and a whole lot of cocaine. And while the song "Gold Dust Woman" dates back to Fleetwood Mac's Rumours, nevertheless both she and the dust left an indelible impression as the theatrical troupe's namesake and Earth mother.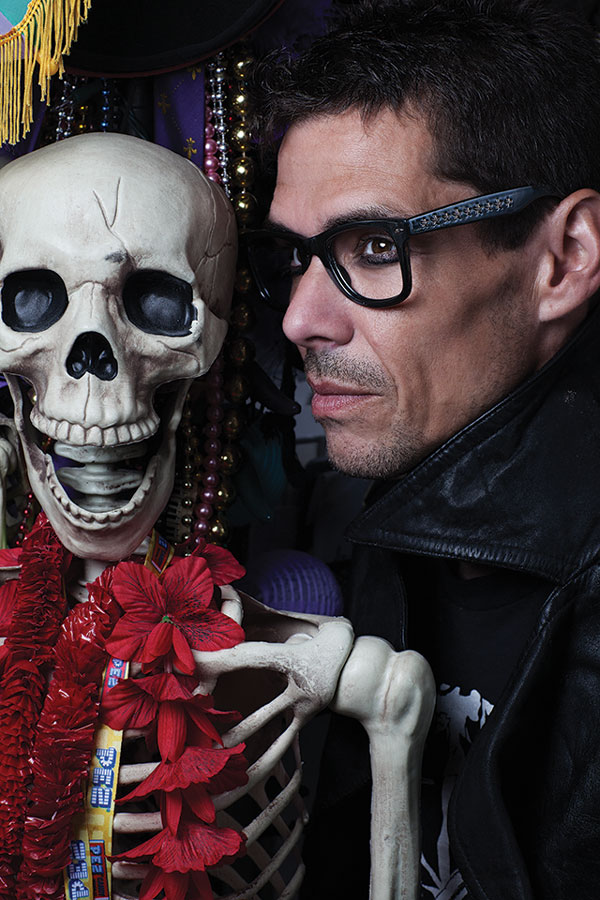 "The Stevie Nicks box set, if you listen to it your lips go numb," says Hough. "Someone said to me that Scream Along With Billy is like Cheech and Chong for people who do coke."
Since those heady days, Hough has been in over 20 Gold Dust Orphan productions, many directed by Byrne, as well as writing the music for the Landry productions Joan of Arkansas and Cinderella Rocks. Shortly after composing the music for the glam rock fairy tale, Hough moved to Provincetown after several years in Los Angeles. He was 36 years old, but both the culture of L.A. and a second battle with drugs made him feel 86.
When you first fall to addiction, Hough says there is support and understanding. When it's your second go, friends and family begin to think this is permanent, causing some to disappear. The success he had had with his band The Garage Dogs felt long ago. Upon his arrival in Provincetown he met Goldberg for the first time, who herself was in a period of transition with musical opportunities drying up and the death of her partner of 18 years. Life, it seemed, had taken away everything that they both loved, and it felt as if their careers were over. That's when Scream Along With Billy was born.
"If that's the case let's go down singing Courtney Love covers," says Hough explaining the reaction to their shared despair. "The success of it was kind of like when people say you find somebody when you aren't looking for someone. It blew up. And it blew up in an amazing way."
Indeed it did, becoming a cult sensation and garnering attention far beyond the shores of Provincetown. Both Scream Along With Billy and his work at the Porch Bar at the Gifford House are testament that you never know who is in the audience. Based on seeing him perform in Provincetown, writer and director Stephen Winter offered him a role in the 2011 short film Death is Lame, followed by director Oren Moverman who cast him in the 2012 film Rampart, also using three original songs by Hough in the soundtrack. Come 2014 Hough appeared in the film Time Out of Mind, starring Richard Gere, and his song "Radical Days" is the title track.
As Hough prepares to take to the stage as one of the original bad boys of music, the movie The Dinner is hitting theaters starring Gere, Laura Linney, Steve Coogan, and Chloë Sevigny and featuring his song "Rocket Science." These experiences have allowed him to move beyond being star struck, and also to swap stories about being young and starting out in Provincetown with Gere, as he got his start here performing in several productions between 1969 and 1971 at the old Provincetown Playhouse, which was lost to an arson fire in 1977. The two chatted dressed as their homeless characters for the film Time Out of Mind. And much like Amadeus, Hough says with a laugh that indeed he may have been born to play the role of a "homeless junkie musician."
"I met the makeup person and she said, 'You must be Billy.'," says Hough. "I stood up to shake her hand and she looked at me and said, 'Oh, that's perfect.' She didn't change a thing."
Amadeus runs at the Provincetown Theater, 238 Bradford St., May 25 through June 11, Thursdays through Saturdays at 7:30 p.m. and Sunday at 2 p.m.. There is a preview performance on Wednesday, May 24 at 7:30 p.m. For tickets ($38.50/$27.50 for students and seniors/ $28.50 Preview night only) and information, got to the box office or visit provincetowntheater.org.