93 Commercial St. • 508.487.8077 • ptownrelish.com
]
FOOD: SANDWICHES, SALADS, BAKED GOODS, & PASTRIES • TAKE OUT/COUNTER SERVICE • MC/VS • $-$$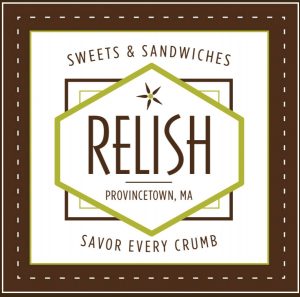 Now in its 18th season snuggled in Provincetown's far West End, Relish has become a mainstay for beachgoers and
landlubbers alike. Start your day with a breakfast sandwich and cappuccino, or a fresh baked muffin, scone, or slice of
coffee cake. Pick up lunch: homemade chicken salad with gorgonzola and pear, or turkey, cucumber, and dijon vinaigrette;
or try the quinoa and chickpea wrap with Asian-ginger veggies. And of course, Relish offers desserts and baked goods
that rival anything you'd find in a major city – fresh baked pies, brownies, cookies, and panna cotta are some of their
rotating selections.