]
by Steve Desroches
Suzanne Westenhoefer is not a political comedian, but she is a political person. She's also had way too much caffeine and she's been up since 4:30 a.m. for an appearance on The Stephanie Miller Show, a Los Angeles based progressive radio show that mixes comedy and politics.  So she admits she's a bit slap happy as she pours herself another cup of coffee and chuckles when she thinks about the news of the day, which now uses words like special prosecutor, Russia investigation, and impeachment so casually you'd think it was a run of the mill day at CNN.
These are spooky times. A time to focus and be aware of the stress our democracy is under for sure. But we're human, and there is rarely a time where humor, joy, and laughter aren't appropriate. Comedy can heal and rejuvenate. Westenhoefer knows that better than most. She's been out as a lesbian on the comedy circuit since she began in 1990. She's made audiences laugh through good times and bad, all the while walking a tight rope to make her gay fans feel empowered and tackling homophobia from hecklers and comedy club owners. But when something like this past November's election happens, Westenhoefer says you can just feel the somber energy in the room as soon as you walk out on stage.
"Everyone is looking to you as this comic to heal what just happened," says Westenhoefer. "And I'm feeling just as shitty as you. I'm human. But I have to deliver some dark comedy that fixes that, that fixes all of that."
Ever since the election, Westenhoefer says she takes the temperature of the room to see what the audience is in the mood for and to gauge how quickly she can move them out of any collective funk they are in. Politics is not her comedic focus, though she admits she can't resist a few jabs and jokes about the current dumpster fire of a presidency. Her job all these years has been to make people laugh. Sounds simple enough, but of course, in reality it is one of the hardest forms of live performance there is.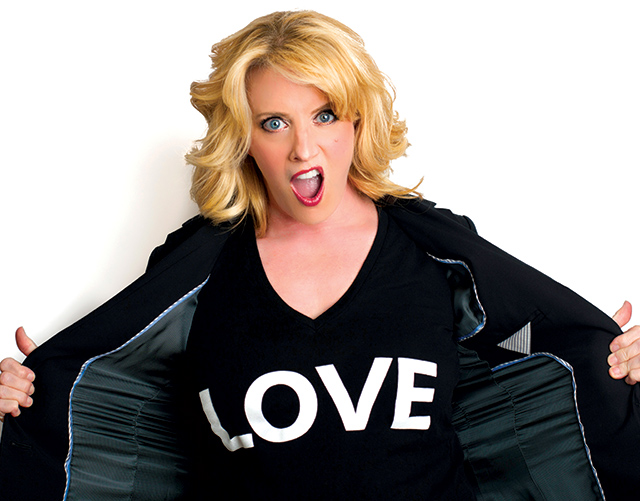 As Westenhoefer comes to Provincetown this Memorial Day weekend, a place she's been performing for over 25 years, she credits the crowds on Commercial Street for keeping her on her toes. A Provincetown audience is the most fickle and unpredictable of any other place she performs, a sentiment frequently echoed by other Provincetown veteran performers. From night to night you never know who your audience will be and where they will come from. One night it can be a mostly gay audience from New York, the next night mostly straight people from the suburbs. One show you can kill with jokes about lesbian hair stereotypes and the next night nothing but crickets. The biggest challenge however, she says, can be the weather.
"If it's been rainy, you have a lot more work to make people laugh," says Westenhoefer. "In Provincetown most of the people in the audience are on vacation, so if it's raining, they are not happy. If they don't like their guesthouse or they didn't like their fried clams, they bring that mood in with them, and you have to turn it around very quickly. They are on vacation and they want to get away from it all, and they expect you to help them do that. You need to be able to read the room and do that in no less than five minutes, or you're in trouble. You can be up against so much in Provincetown. It's weird."
Westenhoefer has developed an accurate internal barometer over the years, definitely adjusted for a Provincetown audience and especially for LGBT fans. As one of the first out comedians on the national stage Westenhoefer has long been able to translate the political into comedy with subtlety and grace. And oh how things have changed. In 1991 she appeared on The Sally Jessy Raphael Show in an episode titled "Breaking the Lesbian Stereotype…Lesbians That Don't Look Like Lesbians." She can't get through talking about that without laughing. Over the past 25 years she has felt both the homophobia that can be in the audience chill out as well as the tension from gay fans who worried she'd tread on territory that anti-gay forces of the day would use against them somehow.
Now she notices that, in particular, lesbians under 40 fear they are being absorbed into LGBT culture to the point they are losing their identity and that they don't feel a kinship with older lesbians. There is a big generation gap in the lesbian community, says Westenhoefer, as all of the changes of the past 25 years have created a dizzying recalibration that is still in motion, with different reactions based on life experience.  All that being said Westenhoefer revels in building that bridge and having everyone meet half way for a laugh. She's an important fixture in comedy and LGBT culture. While she is a recognizable icon, she wants you to know that while familiar, she's changed, too.
"People stop me and I say, 'Hey, I saw you 12 years ago and you were great!'" says Westenhoefer. "And I say, 'well come see me tonight,' and the response is, 'Well, we already saw you.' My show is different every night! Everything is always changing. The audience is always changing. What they want from comedy is always changing, just like me. I'm always changing."
Suzanne Westenhoefer plays at the Post Office Cabaret, 303 Commercial St., Provincetown, Friday, May 26 through Sunday, May 28 at 8:30 p.m. and Monday, May 29 at 4 p.m. For tickets($22) and information, go to the box office, call 508.487.0006, or visit postofficecabaret.com.