]
by Steve Desroches
Ernest Hemingway said, "There is nothing to writing. All you do is sit down at a typewriter and bleed." It should be amended to say "good writing."  The passion for writing is central to the story told in Sex With Strangers the Laura Epson play now onstage at Wellfleet Harbor Actors Theater (WHAT) that explores the devotion to craft in the digital age through the lens of lust and ambition. A nom de plume is one thing, but in the Internet age truth matters little when it comes to collecting likes, clicks, and followers. The complexity and vagaries of the public persona and private life collide like a rough surf on a rocky shore in this tempestuous exploration of identity in a world where the direct power given by a screen in the hand can be an agent of both creation and destruction.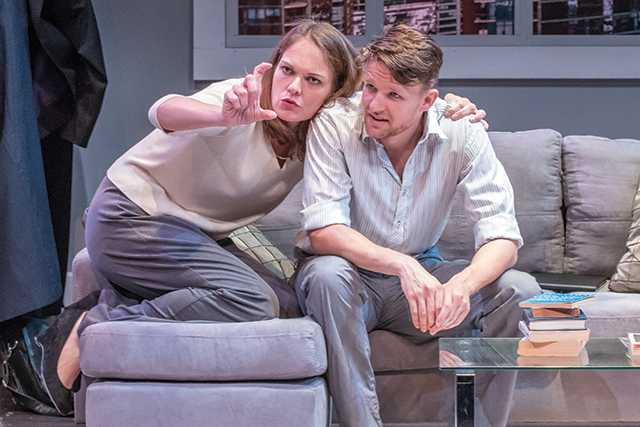 The two-act, two-character play introduces us to Olivia (Nichole Hamilton), an almost-40 university writing teacher and author of an obscure novel now about a decade old and out of print. She's holed up in a rural Michigan bed and breakfast that has grown to become a writer's retreat during an intense blizzard when Ethan (Jon Kovach), an Internet celebrity and blogger in his late twenties appears to work on a screenplay based on his bestselling book Sex With Strangers, which chronicles his crass sexual exploits from his college days. Each has what the other wants. Olivia is exasperated by his seemingly easy success, albeit with what she considers to be offensive drivel, and he by her ability to write meaningful work, an opportunity he may never have considering who he is known to be, or at least who he presents himself to be via his constant social media presence.
The relationship that quickly develops between the two isn't so much a seduction, as it is an explosion, one that doesn't provide any easy answers as to motivations, never mind emotions. Olivia and Ethan cling to each other in the same sexual frenzy as mating eagles plummeting to Earth, too engrossed in bodily pleasures to see what is speeding towards them.
Hamilton portrays Olivia with a braid of girlish insecurity and wild abandon in a tango with Kovach's Ethan, who is as arrogant as he is unnerved by having to traverse the same gauntlet Olivia did as a young writer, but without the benefit of being able to hide youthful indiscretions from a life played out online.
This is a play with multiple edges that relies on the actors to bring it to full realization, and Kovach and Hamilton breathe life into these two very complicated, yet fully relatable characters. The set design by Michael Steers is of particular note, as is direction by Jeffry George in presenting this story that feels like The Graduate in the era of JT LeRoy and Perez Hilton.
Sex With Strangers runs Thursdays through Saturdays at
8 p.m. and Sundays at 3 p.m. through June 10 at Wellfleet Harbor Actors Theater (WHAT), 2357 Rte. 6. For tickets ($12 – $35) and information, go to the box office, call 508.349.9428, or visit what.org.