]
by Steve Desroches
Marilyn Maye first performed in Provincetown back in August of 2010. The legendary cabaret singer by then had crisscrossed the country so many times she lost count, playing dates at large concert halls and intimate clubs from New York City to Palm Springs, and countless spots in between, driven by her love of live performance. She's played most everywhere there is, so Provincetown was a delightful surprise, especially considering her dates coincided with Carnival that first time here.
In the wonderful madness of parade day of Carnival Week that year Maye positioned herself not far from Spiritus Pizza fitting in with the bedazzled crowd quite well with her sequined sense of style. It was the happiness and joy she felt from the town that first visit that enchanted her, and it's why when she was booked at the Art House for four shows the first weekend in August she made sure her calendar was clear so she can stay for Carnival.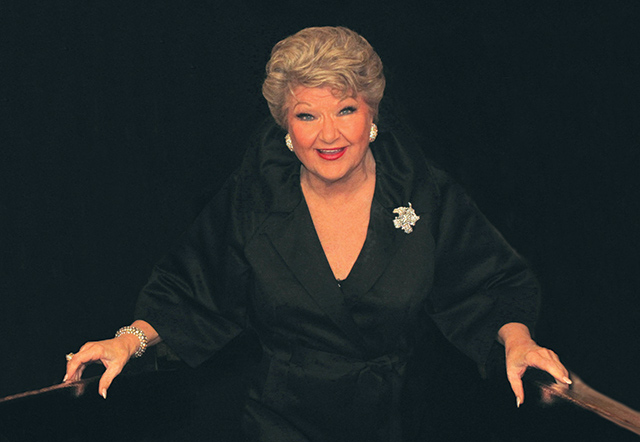 "I would always get out on the street and take pictures," says Maye. "I saw this one man who just looked incredible, and I asked if I could take his picture, but before I could finish he said, 'Oh, wait you're Marilyn Maye! I want your picture!' I said, 'well, yes honey, but first let me have yours and then you can have mine.' Oh, that was a great time. I'm looking forward to it this year."
At 89 years old Maye is as vibrant as ever. She comes to Provincetown this weekend for CabaretFest, where she will receive the Lifetime Achievement Award for her contributions to the art of cabaret and for being one of the most respected interpreters of the Great American Songbook. Born in Wichita, Kansas, Maye began singing as a child, winning a talent contest in Topeka at 9 and being featured on the radio station WIBW. Steve Allen discovered her as a young woman while performing at the Colony in Kansas City, and he put her on his hit television show, giving her her first taste of national exposure. It was something she would become quite familiar with as she later appeared on The Tonight Show with Johnny Carson 76 times, a record for a singer.
It is her love for performing in front of an audience however that is the hallmark of her amazing career. To this day she maintains an indefatigable schedule of touring. Her New York City shows at the Metropolitan Room, Birdland, 54 Below, and Feinstein's continue to maintain her status as the toast of the town. But she adds with sincere affection and appreciation that Provincetown continually presents her with a "hip" and "smart" audience that "just gets it." It's that kind of response that keeps her going.
"I was meant to do this," says Maye. "I don't know how to do anything else, really. You don't look at the hard parts. There is so much love that comes from the audience and I think they can feel the love from me in return. It's quite a lovely exchange."
The music of great composers and songwriters of the 20th century in particular exhilarates her. For a work to really resonate the lyrics must tell a story, Maye says, and it's up to the singer to fully interpret the song, to inhabit the essence of the message. To be a great singer of this genre of music, one must be in touch with one's own emotions as well as have a good self-awareness. As much as some may not want to admit it, Maye says that you do have to consider the appropriateness of a song choice based on age. Once when teaching a master class she had a teenage student who chose to sing "Maybe This Time," written by John Kander and Fred Ebb, the song about desperation and hope made famous by Liza Minnelli in the 1972 film Cabaret as the hard living, down on her luck Sally Bowles. When the young girl got to the line "Not a loser anymore, Like the last time, And the time before," Maye had to interject.
"I just rushed up to the stage and said 'Stop! Stop! Stop!'" says Maye. "She was only 15 years old. How many times before could there have been?!"
Marilyn Maye will receive the Lifetime Achievement Award from CabaretFest at a special dinner on Saturday, June 3 at 7 p.m. at the Crown and Anchor, 247 Commercial St., Provincetown. The evening includes a buffet dinner by celebrity chef Michele Ragussis, music by the Brian Patton Trio and host MC Warren Schein. Tickets are $75 and are available at the box office and online at onlyatthecrown.com. For more information call 508.487.1430.