The Cinema of Sofia Coppola
]
by Rebecca M. Alvin
A man drives his car in circles. Then he goes to a party at his house and is entertained by twin strippers who methodically go about their pole dance routine while he watches from the bed in Somewhere. Images of a suburban Michigan neighborhood culminate in a shot of an ambulance taking away a young girl who has attempted suicide, as neighbors watch and then hypothesize about the reasons in The Virgin Suicides. An obviously jet-lagged actor arrives in Tokyo and is greeted by a group of Japanese businessmen and women offering gifts and their cards, which he awkwardly accepts before making his way to the hotel bar where he is immediately recognized and has to leave in Lost in Translation. Sofia Coppola's films begin with people who are out of their element, even if they are doing things they've been doing all their lives. Characters are introduced to us in moments of doubt, boredom, and even crises.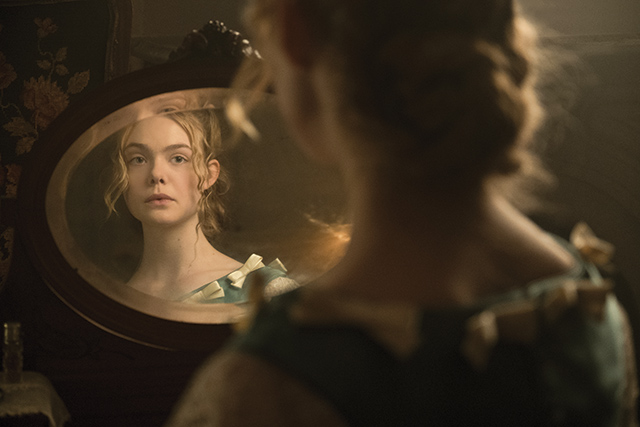 "I do write in order and start with imagining the world I want the audience to enter and the head space of the characters," says Coppola in an e-mail interview from Paris. The director, who writes and directs her work, and usually produces it as well, will be in town this weekend to accept the Filmmaker on the Edge Award at this year's Provincetown International Film Festival.
In her latest film The Beguiled, we are immediately brought into the world of its Civil War era characters and the darkness that surrounds them as a child, Amy (Ooona Laurence) sings to herself, accompanied by the chirping insects around her, wandering alone in the woods collecting mushrooms, only to come across a wounded Union soldier, Corporal McBurney (Colin Farrell). The sense of danger and mystery are brought home not only by the dark woods that dwarf the little girl, but by her echoing song.
"It's half the film ," says Coppola of her sound design. "I work with Richard Beggs who has taught me a lot. I wanted tension and restraint, so the sound helps a lot at conveying this."
It's this kind of attention to cinematic language that sets Sofia Coppola apart from many of her contemporaries. This knowledge of sound and image as equally vital components of her art seems ingrained in her, perhaps because she grew up the child of two filmmakers, her father a wildly successful independent filmmaker Francis Ford Coppola and her mother, documentarian Eleanor Coppola. Raised in a world steeped in cinema, she and brother Roman were destined to continue the family business. But her vision is distinct from her father's, identifiable not only by her aesthetic choices, but by the attention to character, and more importantly, to the relationships between her characters, who are often introduced to us at moments of their lives where they are experiencing a deep malaise, a sense of regret, and a desire to step out of the roles they inhabit.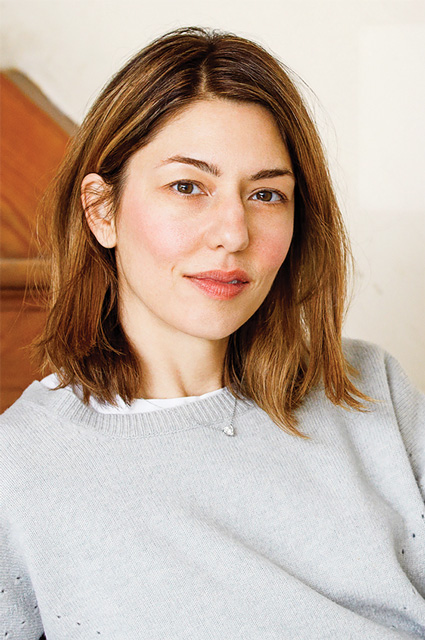 Coppola has accomplished a great deal. Four of her films have premiered at the prestigious Cannes Film Festival, including her first feature The Virgin Suicides (1999). Her third film Somewhere (2010) won the Golden Lion at Venice, and Lost in Translation (2003)  won her an Academy Award for best original screenplay. She was also nominated for best director and best film that year.
Most recently, of course, Coppola received the top director's prize at Cannes. Certainly an honor for any filmmaker, much has been made of the fact that Coppola is only the second woman ever, in the 71-year history of Cannes, to win this prize. Coppola says she was "surprised and thrilled" to win the award for The Beguiled. The film is a remake of one made the year she was born, in 1971, by Don Siegel and starring Clint Eastwood and Geraldine Page. Based on a southern gothic book of the same name, it tells the story of a Union soldier taken in by an all girls' school in Virginia towards the end of the American Civil War. He becomes the object of affection for several of the women and girls there, leading to a turn of events that culminate in the amputation of his leg. The 1971 version did not do well in America, although it was praised overseas, but Coppola's version turns the story completely on its head, looking at it from the perspective of the women and girls, rather than that of the soldier.
"I loved the premise; It's so loaded with the male/female power struggle," Coppola explains. "The film is a story about a group of women told through a macho male point of view, so I thought it would be interesting to tell it from the female characters' point of view."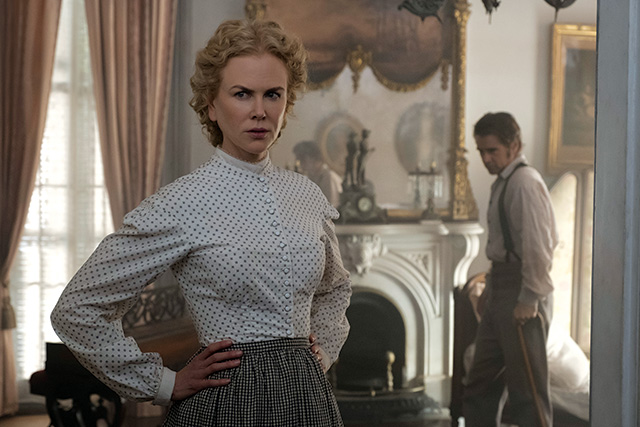 While the original is a classic fear of castration story told from a distinctly male perspective, Coppola's version, which stars Nicole Kidman, Collin Farrell, Kirsten Dunst, and Elle Fanning, is rife with sexual tension and moral ambiguity. It raises issues about the inherent power dynamic between men and women, but also recognizes the complexities of female desire, particularly in the time period it depicts. Coppola's trademark focus on the relationships between characters reveals their complexity in a way we don't usually see on the screen.
Although having the kind of access to power and talent that comes with being Francis Ford Coppola's child has certainly given her a leg up in the movie industry, Coppola recognizes the embarrassingly low representation of women directors and cinematographers in Hollywood today. "I haven't seen it change much since I started in '99," she says "It was even a struggle for me to make this film. I hope with more and more attention, there will be more different points of views out there."
Although she's never been to Provincetown, Coppola says she's heard a lot about it and is eager to come for her award. "It's the best. I'm happy to receive it from John Waters, and such a great award to be encouraged to push your work and the medium!" she says.
What's next for Coppola? She has acquired the rights to the book Fairyland, Alysia Abbott's memoir of growing up with her gay, single dad in San Francisco and losing him to AIDS at the height of the crisis. Coppola will adapt the book with Andrew Durham and also produce. She says she hopes to go into production this fall. The book depicts a wonderfully complex relationship, something Coppola is likely to handle beautifully in the adaptation.
Sofia Coppola will receive the Filmmaker on the Edge Award on Saturday, June 17, 5 p.m. at Fishermen Hall, 12 Winslow St., Provincetown, where she will be interviewed by John Waters. Her film The Beguiled screens on Friday, June 16 at 7 p.m. also at Fishermen Hall. For tickets and information go to the Provincetown International Film Festival box office at Whalers Wharf Mall, 237 Commercial St., Provincetown or visit provincetownfilm.org.