by Steve Desroches
On a gorgeous late August morning the sky is a pale blue with a few streaks of thin, cotton-white clouds. The light drenches the wooded hollow largely full of pine trees just outside Kathy Cotter's Truro studio with the golden hint of autumn, that time of year when the Outer Cape appears to be drizzled with honey. A soothing breeze sweeps in as the chirp of summer insects fills the air accompanied by a soft lounge music playing in the corner of the cedar room with a paint-splattered floor and the tools of an artist throughout, leaving no ambiguity that this is indeed a working studio despite its tranquil surroundings.
At the moment, the workspace is full of paintings of various sizes featuring lighthouses, the pieces that will comprise Seeing the Light, Cotter's latest show at the Adam Peck Gallery this week. Cotter mixes realism with the abstract to capture the essence of the very real lighthouses that inspire her, without presenting an exact interpretation. Familiar shapes, but with unusual lines, stand in contrast to bold color choices representing not sky, water, or sand surrounding them, but rather emotion, or feeling. Cotter's paintings capture the splash of memory, one that evokes a personal response rather than a required definition.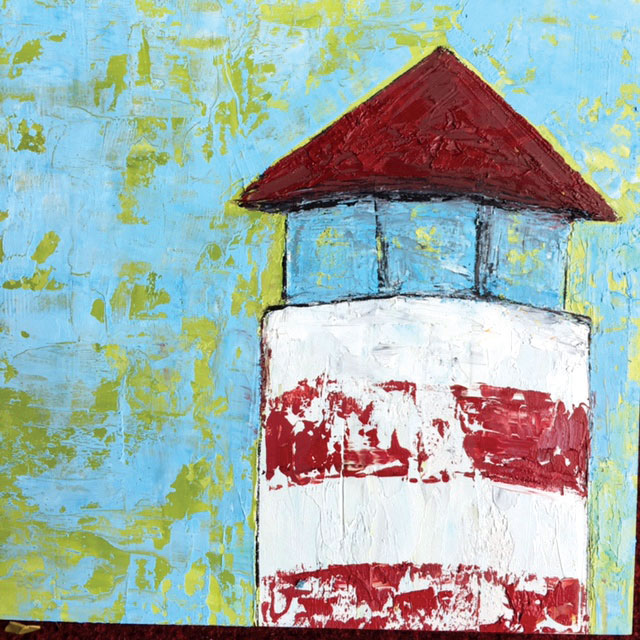 "I like to leave enough for someone to see what they see," says Cotter. "It's good to leave a little bit to the imagination."
Cotter began her work as an artist 10 years ago, but just now is when she feels comfortable accepting that occupational title. For the past 31 years Cotter has worked as a baker and chef at Front Street, the popular downtown Commercial Street restaurant she runs with her wife Donna Aliperti. Working in a kitchen where at any, and most every moment, different challenges are coming at you is akin to the mind space Cotter enters when she is working in her studio. Both processes have the same velocity. And in fact her artistic pursuits began in the restaurant, not just with her culinary ingenuity. While making cream puffs one day about a decade ago, she started to appreciate the beauty left behind on the parchment paper and began to make collages that were then sold in the design store at the Schoolhouse Gallery.
That ability to see not just the splendor in the peripheral art left behind by baking and then make it her own extended to the world at large. There is a deep focus that's apparent in the works Cotter decides are worthy to be presented in an exhibition. In her description and execution there is a clear telepathic message communicated by her work. There isn't so much a narrative, but a voice. As she said, the story is largely the viewer's to tell. As an artist particularly interested in color, each piece features its own palette to open up a painting beyond the confines of the literal world.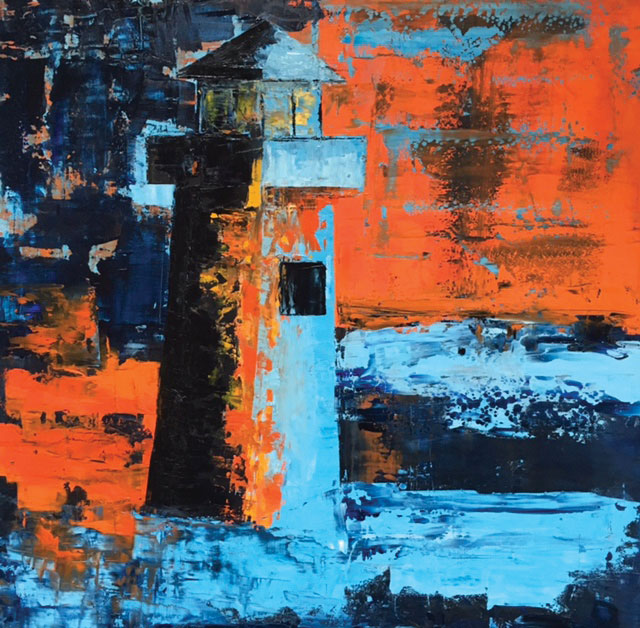 "I like to give my paintings personality," says Cotter. "So how does a building or architecture have personality? I know it does from living out here. That's what I'm doing."
A native of Brockton, Massachusetts, Cotter grew up camping in North Truro each summer with her family. Having spent the past three decades as a resident of the Outer Cape, Cotter credits the culture of Provincetown for providing the support and room to pursue the work of an artist. Back in the 1980s, when she and Aliperti took over Front Street, which already had a devoted following created by the previous owner Howard Gruber, Cotter says that clientele stuck with them, willing to see what they had to offer and giving the time for them to grow in their new venture.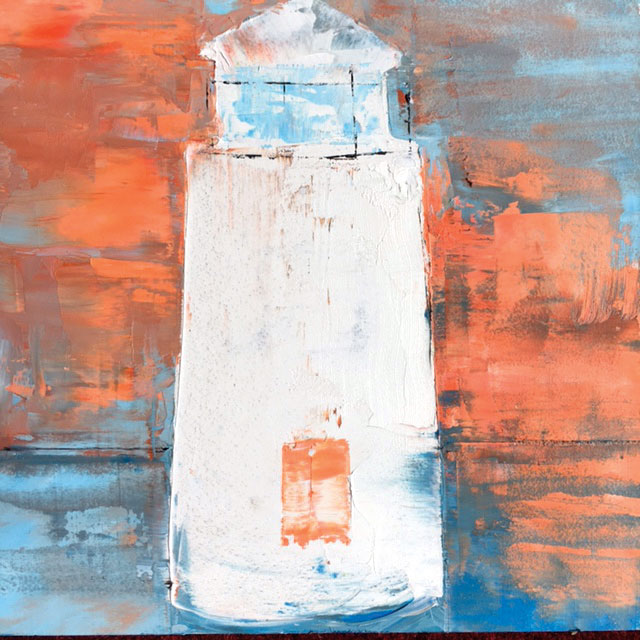 When it comes to art, that loyalty to both the individual and her craft is palpable, too. Some of her shows are mainly encaustic work, others oil on board done with a brush. This show is done with a palette knife. Her previous subjects range from owls to rabbits to fish to gardens. But no matter the subject, or the variations she applies to her techniques, there is an unmistakable viewpoint that defines them all. As she speaks she walks over to a specific work to illustrate her point, knowing exactly which one to pull out to illustrate what she is trying to explain, even if it's a piece she considers to be a noble attempt, but ultimately a mistake, at least in its present form. Those experiments are just as important as the successes, because without them, she wouldn't be able to have paintings that fulfill her vision. Maybe that's why after 10 years she feels comfortable calling herself an artist; while challenges will always be present, she knows now that she can find a way to say exactly what she has to say no matter the choices she makes, and especially when she pushes herself beyond her comfort zone.
"This one here is a bit subtle," says Cotter. "This one is wax with oil. This one has a heavier brush stroke. But it's all still me."
Seeing the Light featuring the work of Kathy Cotter is on exhibition at the Adam Peck Gallery, 142 Commercial St., Provincetown, now through Tuesday, September 5. There will be an opening reception Friday, September 1, 7 – 10 p.m. For more information call 508.274.8298 or visit adampeckgallery.com.
]