Boston Film Festival opens this week
The 33rd Annual Boston Film Festival (BFF) kicks off on Thursday, September 21 and runs through Sunday, September 24. Burnishing its established reputation of cinematic dynamism, the 33rd Boston Film Festival (September 21-24) will showcase a full spectrum of eventful new films, including the world premieres of In the Name of Peace: John Hume in America, Damascus Cover, and What Haunts Us and three films inspired by true stories. Five of the features also have local connections to Boston and New England. Theater locations are listed on the website. Opening Night, along with a large number of the weekend screenings, will be held at the AMC Boston Common. Party locations will be posted online.
Noted producer-directors James Keach (Glen Campbell…I'll Be Me, Walk the Line) and William Horberg (Milk, Cold Mountain), and journalist Chris Matthews will be among the celebrity attendees, which also will include notable political figures. The diverse lineup includes five documentaries: the poignant Augie, In the Name of Peace: John Hume in America, What Haunts Us, Heal, and The Bullish Farmer. In addition, BFF welcomes NBC's The Brave, an all-new drama brought to the festival in conjunction with NBC Boston, starring Anne Heche and Mike Vogel who will be on hand for the screening.
In a refreshing change of pace, BFF also will showcase the riveting Tales of Suspense, a one-man live show presented by bestselling author and master storyteller Casey Sherman on Sunday. Sherman, who is the author of Boston Strong: A City's Triumph Over Tragedy (which became the film Patriot's Day) and The Finest Hours, will share gripping behind-the-scenes stories about those New-England-based projects.
The world premiere of Damascus Cover (September 23) stars Jonathan Rhys Meyers, Olivia Thirlby, John Hurt (in his final performance), and Navid Negahban, and was written and directed by Daniel Berk (a Brandeis University graduate). After the fall of the Berlin Wall in 1989, a veteran spy is sent undercover into Syria to smuggle a chemical weapons scientist and his family out of Damascus. However, the spy soon realizes that he's being followed, his partner doesn't show up, his local contact disappears – and a group of men are trying to kill him.
The world premiere In the Name of Peace: John Hume in America (September 21), is a documentary narrated by Liam Neeson that weaves the dramatic efforts of Nobel-Prize-winning John Hume to secure peace in Northern Ireland. Hume, who was inspired by Martin Luther King Jr., rose from the riot-torn streets of Northern Ireland to enlist vital aid from American Presidents Jimmy Carter and Bill Clinton. The film includes interviews with both presidents and various U.S. senators and congressmen who assisted in securing the accord. Interviews also include Irish leaders and former British prime ministers Tony Blair and John Major. This is a timely film that reveals the steady leadership and international cooperation that are needed to win the peace. Also interviewed are U2 singer Bono and Tom O'Neill, former lieutenant governor of Massachusetts. Maurice Fitzpatrick directs and Bill Whelan (Riverdance) wrote the score.
The full schedule, VIP passes for the films, events, and after-parties are available on the website or via TicketLeap. There will be a red carpet each night outside of the Revere Hotel. Visit bostonfilmfestival.org for more details and to purchase tickets.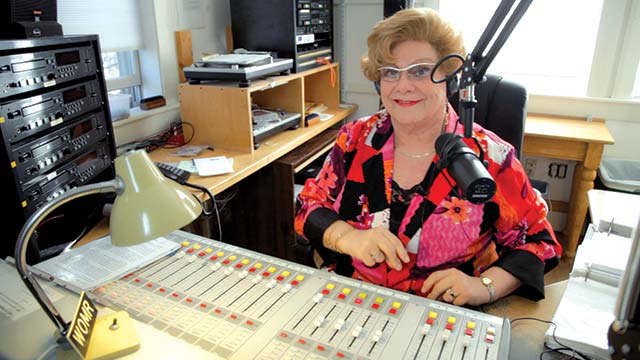 Film about WOMR wins award
Outermost Radio, the documentary about Provincetown's own community radio station, WOMR-FM, has won the 40th Annual Boston/New England Emmy Award for best documentary. The film, directed by Alan Chebot, was screened in the Provincetown International Film Festival in 2015 and numerous other festivals around the country, and features many of your favorite WOMR DJs.
]