]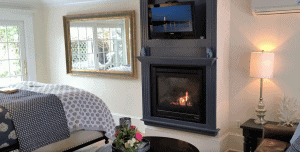 The shores of the Outer Cape and the fun and inspiring atmosphere in the streets of Provincetown are the backdrop for the unique experience you will have at the Carpe Diem Guesthouse. When you stay at our Provincetown inn we want you to feel that you truly made the best out of your Cape Cod vacation.
The rooms at the Carpe Diem Guesthouse honor an eclectic group of writers and poets from all over the world.  Each room or suite has its own personality and style, and are suited to many different tastes.  Enjoy the luxurious accommodations here at this wonderful Provincetown hotel.
With its tranquil Zen garden, the courtyard of our Cape Cod lodging is the "relaxation center" of the guest house inn. Elegant sitting areas and quiet corners invite to read, have good conversations or just listen to the sound of numerous water features or the meditative gurgle of the fish pond's little waterfall. During the summer months guests can have breakfast at the large outside table under the wisteria arbor or gather there for Happy Hour in the afternoon at our Provincetown hotel.
Carpe Diem Guesthouse & Namasté Spa
12 – 14 Johnson Street,
Provincetown, MA 02657
USA: 800-487-0132
International: 001-508-487-4242
[email protected]