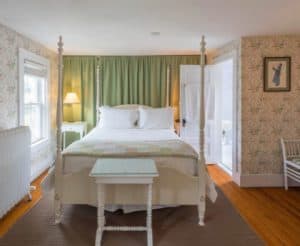 Located at the second highest point in Provincetown (Miller Hill), our Massachusetts bed and breakfast offers amazing views of the Provincetown Harbor from 4 of our 8 guest rooms and our expansive front patio.  An easement with our property guarantees an unobstructed view during all seasons. Individual artists and painting classes can be seen across our street capturing the famous 'Provincetown Light' and views.
Pull up an Andirondack chair, morning breakfast or an evening glass of wine and enjoy the same view. In addition, at all times during the day, you'll have the lowest cost activity in Provincetown — people watching from our front patio.
Snug Cottage is on Provincetown's world renowned 'guesthouse row' in the East End of town.  We're a quick 1 1/2 blocks to the vibrance of Commercial and an easy walk back when you're ready for some serenity.
Snug Cottage
178 Bradford ST
Provincetown, MA 02657
Phone: 508-487-1616
[email protected]
]