]
by Rebecca M. Alvin
Since the dawn of the Sound Era, audio has been an underutilized component of filmmaking in the dominant film industry. Back in the 1920s, the debates around the use of sound in film fell into two camps, as most technological innovations in art do: those who displayed unbridled enthusiasm for marrying sound and image as soon and as often as possible; and those who cautiously warned of how sound would dilute the silent cinema's dreamlike power to disorient and envelop us in a totally unique art form. Guess which camp won?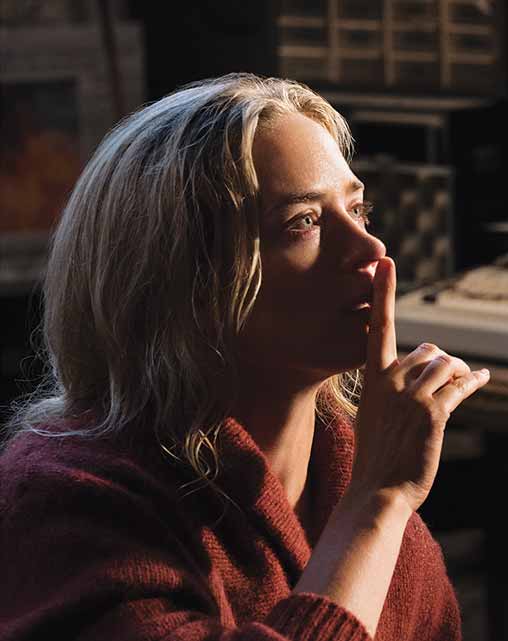 There are exceptions, of course. Films like Francis Ford Coppola's The Conversation (1974) engage with sound design as an element of the story itself. David Lynch's Mulholland Drive, Eraserhead, and Blue Velvet all use sound in a multidimensional way, bringing us farther down the rabbit hole, primarily through heightened ambient sound and unusual music choices. In theaters now, John Krasinski's A Quiet Place is one of those films that uses sound (and silence) not only as a creative device, but as its subject matter. The film, which takes place some time in the not too distant future, gives us a world in which humans must hide from aliens with super hearing. Inherently noisy and talkative as humans are, this setup is no mean task. If you've ever tried to stifle a laugh in a silent room, you know the difficulty of staying quiet, but in circumstances in which death and trauma surround you, the need to suppress your desire to scream or cry or just release your angst, is absolutely terrifying.
Krasinski's script centers on a family that knows sign language because their daughter is deaf. This clever feature of the story places the deaf character's reality front and center. We often hear what she hears: silence. We also sometimes know what she doesn't know because of her deafness, but her condition is actually the reason the family is able to survive as long as it does.The performances in the film are stellar, matching the intensity of the plot, and inviting our identification with each character as (s)he is highlighted. Emily Blunt as the mother, Millicent Simmonds as Regan, Noah Jupe as Marcus, and Krasinksi as the father each bring their own depth to the roles. The script is written as truly an ensemble piece, with moments for each character to be the protagonist, from the opening until the end.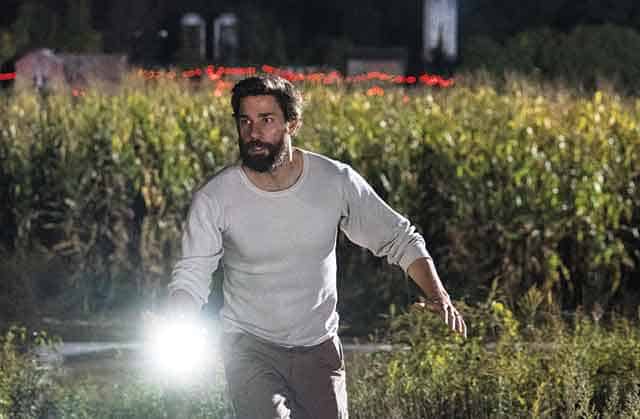 There are truly terrifying moments in A Quiet Place, moments that are so relatable I was worn out emotionally by the end of the film. This was in part due to the pressure to be quiet that the film puts upon the audience. I was glad to have not bought any popcorn because the atmosphere in the theater would have made it entirely inappropriate to break the intensity with a crunch of even one kernel. The other reason for the drain I felt was the structure of the film's horror. There is a very, very slow buildup, but once we are in the center of anxiety, Krasinski keeps us there for what seems like an eternity. My heart pounded, my palms were sweating, and in one key moment, the predicament faced by the pregnant mother of the family made me almost light-headed with empathy.This is what great films do… they place you in the shoes of characters and elicit a visceral response that can be entertaining or emotionally draining, or both. It's why movies matter even when they are entirely fictional and about something that will never happen to you. And, I might add, it's why you should not wait for things to appear on your computers and televisions. There is absolutely no way to experience A Quiet Place as it was intended without going to a cinema and watching it there. At home, you will pause the film, talk to your friends/family, remove yourself from the drama when it gets too intense by taking a bathroom break, etc. A Quiet Place is relentlessly good cinema and should be experienced as such.
A Quite Place is showing at Waters Edge Cinema, 237 Commercial St., 2nd fl., Provincetown. Visit watersedgecinema.org for up-to-date showtimes.