by Steve Desroches
Craig Bloodgood is hanging a show at the Arts Complex Museum (ACM) in Duxbury on a Friday that began like real spring and ended up rainy and cool like the spring we've been having.  As contemporary curator he's preparing the gallery at the South Shore museum for the Monotype Guild of New England's Fifth National Monotype/Monoprint Juried Exhibition, which will hang all summer. But his mind begins to drift toward next week's task where he'll be at the Provincetown Art Association and Museum (PAAM) to install Related Visions: Carol Odell, Tom Odell, and John Howell White, an exhibition he curated that features a family of artists.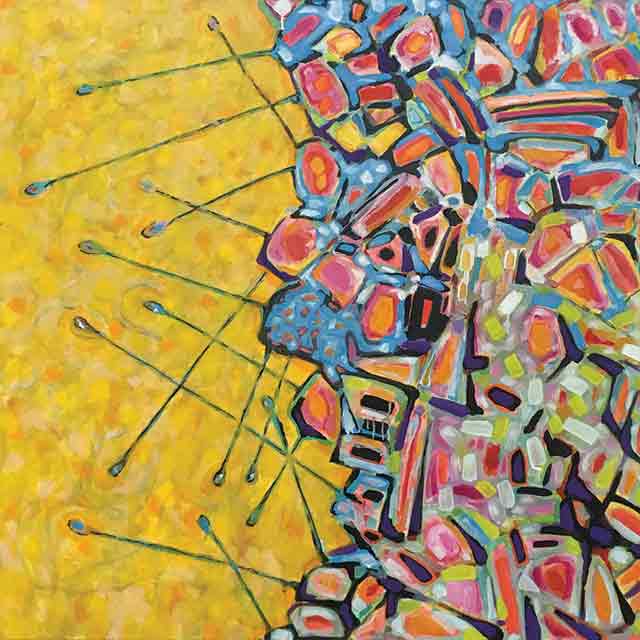 Bloodgood, who has curated over 125 exhibitions, was already familiar with the work of Chatham artists the Odells, who have been married over 40 years, through various shows he'd done at the ACM.  The idea of two artists that live together and who have studios on top of one another yet create work in different mediums – he a sculptor, she an oil painter – intrigued him.  How do they maintain creative independence of vision and practice? Where do they influence each other, if at all? When he learned Carol's brother John Howell White is also an artist, though in Kutztown, Pennsylvania, the thought of a creative trio connected by blood and marriage fascinated him even more.
"I thought it would be great to have a show of people who live together and the connections that are developed because of it," says Bloodgood. "It's a pretty intimate artistic life."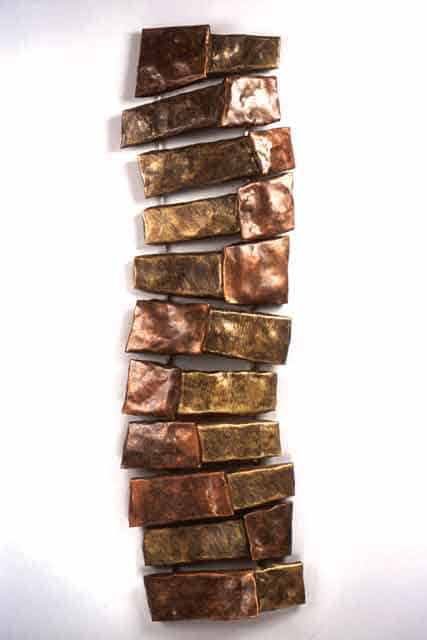 All three artists work in some abstract form, which Bloodgood says he found refreshing, as, particularly in New England, there is a plethora of landscape artists, especially of the maritime variety. Finding inspiration in the natural world, Carol Odell's work explores color, pattern, and texture, most often in oils, monotypes, and encaustics.  Tom Odell is a metalsmith who creates sculptures and is also focused on color and shape, while White, a professor of art at Kutztown University, pursues his own creations through painting. His art is created in those moments between his work, family, and public life as the chair of the National Arts Education Association's Research Commission.
Perhaps this is the one aspect that makes this show unique, as it does not pursue a precious view of the life of the artist, but rather a more practical one. Bloodgood, an artist himself, laughs at his own windy road to where he is as an artist. It began as a student at the School of Agriculture at the University of Massachusetts at Amherst, then to working in landscaping to make money so he could create art in the winter, and on to a curatorial position at the ACM. Twenty years later, having raised a family, he laughs again at how he's really abandoned any attempt to organize a firmer narrative than that of the crazy life of an artist who works another job and has a family. It just somehow worked. And it works for Carol, Tom, and John, as well.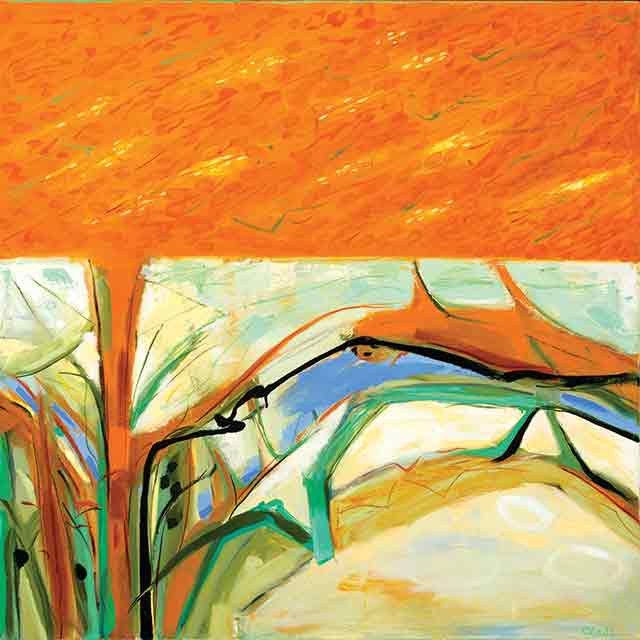 The combination of an attraction to methodology, viewpoint, and process with the familial ties presents a fun challenge to the viewer to find the bloodlines where they may be in each artist's work. Two siblings who grew up together, then pursued their own lives, with one beginning a life together with an artist spouse, undoubtedly presented many opportunities for friction and harmony. The resulting body of work presented in Related Visions may even be a surprise to the artists as it's Bloodgoods curatorial eye that spotted what makes it all present a cohesive, compelling show celebrating both the work and the bonds between those who created it.
"It's a happy show," says Bloodgood. "It's bold and bright. Many of the pieces are really big and have motion and movement. It's just big and strong. I think people will leave this show feeling really good, really happy."
Related Visions: Carol Odell, Tom Odell, and John Howell White is on exhibition at PAAM, 460 Commercial St., May 4 — June 24 with an opening reception on Friday, May 4 at 6 p.m. For more information call 508.487.1750 or visit paam.org.
]