Provincetown Artist Showing in Newburyport
Provincetown artist Laurence Young will have an exhibition of his paintings at the Fire House Center for the Arts in Newburyport, Mass., May 23 – June 7, with a reception for the artist on Sunday, June 3, 2 – 4 p.m. The contemporary paintings have a twist of the past, inspired by historical black and white imagery of the Outer Cape and the Islands.
Young's personal history to Provincetown dates back to the early 1960s and was inspired by the works of Herman Maril, Ross Moffett, and Ambrose Webster. In 1989 Young started out studying plein-air painting with Lois Griffel, a student of Henry Henche. Later in his career Young was fortunate enough to work with Wolf Kahn at the Vermont Studio Center, and then years later with Cynthia Packard. He credits all three artists as having greatly influenced his painting career. Today Laurence Young's work is represented by Alden Gallery in Provincetown, and he exhibits nationally and internationally. Young's paintings are also part of public and private collections, including the Provincetown Art Association and Museum.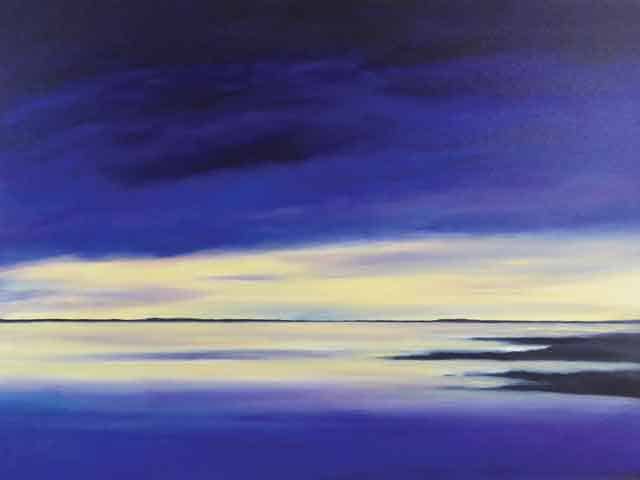 Wellfleet Artist Subject of Eastham Library Exhibition
Inspired by the Sea, oil paintings by Agnes Collis, a Wellfleet resident, will be on display at the Eastham Library during the month of May. Agnes Collis captures the simple beauty of life on Cape Cod with her minimalist compositions, depicting the changing energy of the ocean, the brilliant colors and reflected light of the sky and sea. Her rich visual experiences tumble from her life lived, and then onto the canvas. This is the spirit of her art. In addition to the Eastham Library, the paintings of Agnes Collis may also be seen at Jules Besch Stationary in Truro.
The Eastham Library is located at 190 Samoset Rd. For library hours and more information call 508.240.5950 or visit easthamlibrary.org.
]