by Rebecca M. Alvin
Reflecting on the storms of this past winter, particularly the one that had the bay overflowing onto Bradford Street in January, author Philip Hoare says, "The sea had come inside the town! That's the thing. It's almost as if the whole place could float away… Provincetown is a floating place, and you feel suspended and away from reality, in a way. But this is the real world, not that constructed world back there." He gestures toward the mainland where cities and industries and whole communities ignore the alternatingly raging and calming tides with which we are all so familiar.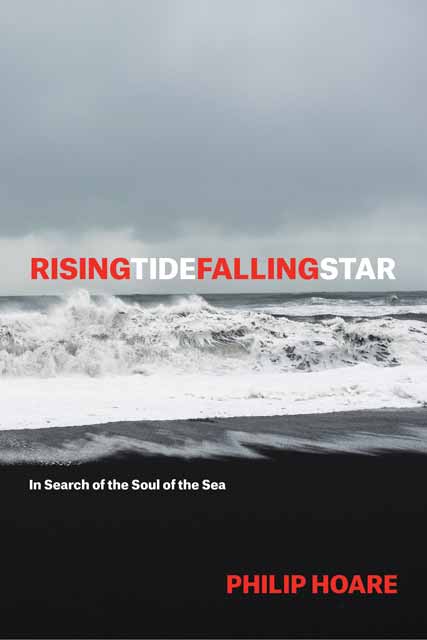 Hoare has just released his latest book, RISINGTIDEFALLINGSTAR, which seems to pick up where his previous book The Sea Inside left off. In just under 400 pages, Hoare manages to bring together the likes of Sylvia Plath, David Bowie, the Irish Potato Famine, Percy Shelly, and Provincetown, uniting all under their connection to the sea. Having spent nearly two decades dividing his time between his native Southampton, England, and Provincetown, Hoare has never allowed himself to drift too far from the sea. The Sea Inside was another remarkable tome tying together passages about seemingly disparate places, creatures, and times to offer an explanation for his fascination with the sea. But in RISINGTIDEFALLINGSTAR there is yet more to this ongoing, near-universal link between humanity, art, and the ocean.

"You only realize what the book's about after you've written it, really, so too late in a way. But the whole thing about RISINGTIDEFALLINGSTAR is it's the culmination of 18 years of coming to Provincetown, and the way this place concentrates things," he explains. "You get to the end of the Cape and everything is funneled tighter and tighter and tighter, and the land is less and less and less, and all the Earth runs out. And then it's just sand and it's just the sea. So it's a sense that coming here, for me, is just this concentration of everything else in the world. Provincetown becomes a kind of microcosm of everything else."
The book is what he calls "a love letter to Provincetown," because although his whole life has been one connected to the tides, the ocean, and the fantastic creatures within it, it is his time spent here that he credits most for inspiring this book. In particular, Hoare's relationship to local artist Pat de Groot set him on this path.
"She's the most extraordinary person," Hoare says with delight. "Pat is the sort of person who will wake you up at one o'clock in the morning because there's an incredible storm rolling in, and she knows that it's more important for you to see that rather than sleep. And she's right! She appears at the end of your bed, saying, 'You've got to see this storm.' She's like a character out of an Emily Brontë novel!"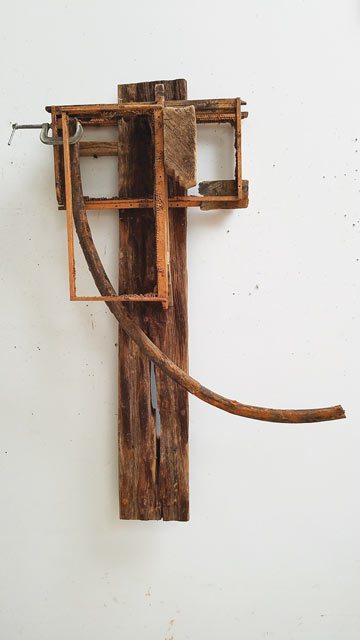 Hoare has often stayed at de Groot's house when in town, directly on the beach, overlooking the bay in the east end of Commercial Street. "I think the thing about her and that house is that it's old Provincetown, isn't it? It's just old school Provincetown.  It's a house built for creativity…She's not my landlady, she's my sealady," he says with a smile.
RISINGTIDEFALLINGSTAR begins with a lengthy portion about de Groot, whose work will be featured, along with several other artists, in a book launch/art exhibition at Albert Merola Gallery, opening this weekend. Hoare, who curated the show as a celebration of the ocean and what it means for creative people, says it also includes works by Helen Miranda Wilson, the late Tim Woodman, Mark Adams, Richard Baker, James Balla, Richard Bosman, Paul Bowen, Cyrus Larcombe Moore, Mischa Richter, and Hoare himself, as well as someone you would not readily associate with the ocean: John Waters. "He's made two very ironic images," Hoare hints. "Quite satirical really."
Apart from its specific focus on the ocean through time, the book is really about Hoare himself and his sense of identity as English by birth, with Irish heritage, but also as kind of a New Englander. He says he's just read a fascinating book about tides in which it says there are only two places on Earth where they have "double tides" (tides that stand for two hours at a time), and that's
his native Southampton and Cape Cod.
Hoare swims every day, regardless of the weather. He laughs, saying that when he comes back to shore after a swim in the January ocean, his skin is "the color of denim." But it doesn't matter; so connected to the sea is he that no amount of shark sightings, no drop in temperature, no warnings of riptides will keep him away.
"If we rejected all the dangerous things in this world, we would do nothing," Hoare exclaims. "Great artists, they dared!"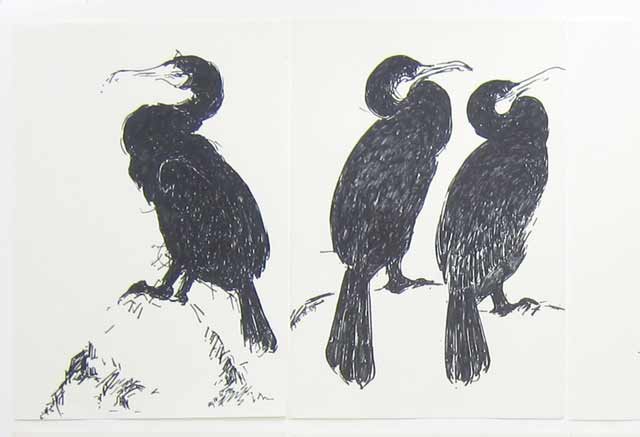 Hoare speaks about the ocean with such enthusiasm and intensity, connecting just about everything intrinsically to the water, it prompts the question, "Have you spent any time in the desert?"
He laughs wildly at this, admitting it is a great question and one he has thought about. He says the farthest inland he's ever been was to a place called Red Cloud, Nebraska, where American author Willa Cather once lived. He was there to speak at a conference but found the prairies a challenge given his need to swim every day.
What would it be like for him to write a book about the desert, about the absence of the sea? "It would be torturous, but it would be quite intense," he surmises. Reminded of his earlier comment about taking risks, Hoare nods sheepishly and says, "You're right, I should definitely try to do it. I ought to do it, challenge myself. Maybe I should go to Burning Man." He thinks about it a moment, then shakes his head. No, we won't see Philip in Nevada any time soon.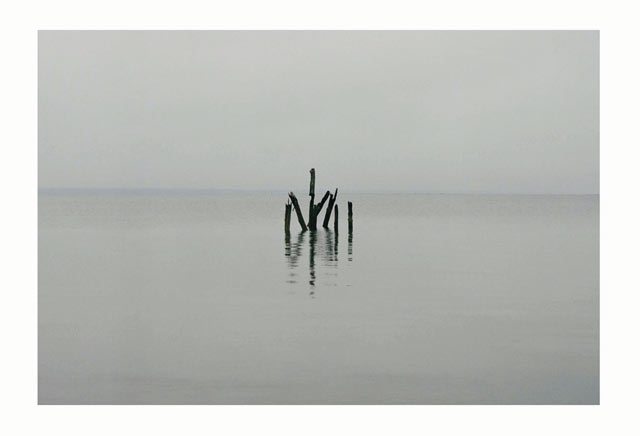 Philip Hoare's book RISINGTIDEFALLINGSTAR is available in hardcover and paperback wherever books are sold. The exhibition of the same title opens Friday, May 25 and runs through June 13 at Albert Merola Gallery, 424 Commercial St., Provincetown. For information call 508.487.4424 or visit albertmerolagallery.com. Hoare will also give an illustrated talk, "The Ocean's Skin," at Napi's Restaurant, 7 Freeman St., on Wednesday, May 30 at 7 p.m. as part of the Center for Coastal Studies lecture series. For information on that event call 508.487.3622 x103 or email [email protected]. All events are free.
]