by Steve Desroches
Top Image: Global Rainbow by Yvette Mattern, Whitley Bay, England, in 2012
Why does Provincetown need a Gay Pride celebration? Isn't everyday Pride in Provincetown?
Any time the idea of a Provincetown Gay Pride came up over the years that was the question the proposal faced. Provincetown has long been a haven for the LGBTQ community, going back to the 1920s. The United States Census Bureau's statistics show we have the largest concentration of same-sex couples of any zip code in America, and anecdotally, many believe we are the "gayest" town in the country. Provincetown Carnival brings in thousands of revelers to take in one of the largest LGBTQ events in New England each August and has often been considered a de facto Pride parade.
Executive director of the Provincetown Business Guild Robin Lapidus and the board of directors think that the town absolutely needs a Pride, now more than ever. There are hundreds, if not thousands of Pride celebrations now around the globe. It's expanded well past the usual suspects and major urban areas. Cheyenne, Wyoming; Fayetteville, Arkansas; and Kalamazoo, Michigan, all have Prides, as do Alice Springs in the middle of the Australian desert, Havana, Cuba, where it was previously illegal, and Beirut, Lebanon, the first of its kind in the Arab world. There is even a Pride celebration at several of the research stations in Antarctica. Various guides and websites publish a list of all the Pride events around the world to attract revelers…and Provincetown is left out. This is why the Guild is holding Provincetown Pride this weekend in hopes of making it an annual event and bringing more visitors to town as Pride events in general continue to grow.
"Our goal is to invite new visitors and for them to learn about our really storied place and our community," says Lapidus at the Guild's Freeman Street office. "We want people to know the history of Provincetown. How it came to be the special place it is for LGBTQ people and its huge role in LGBTQ culture and history for the whole country. Pride is the perfect way to do that, all the while promoting the town as a destination."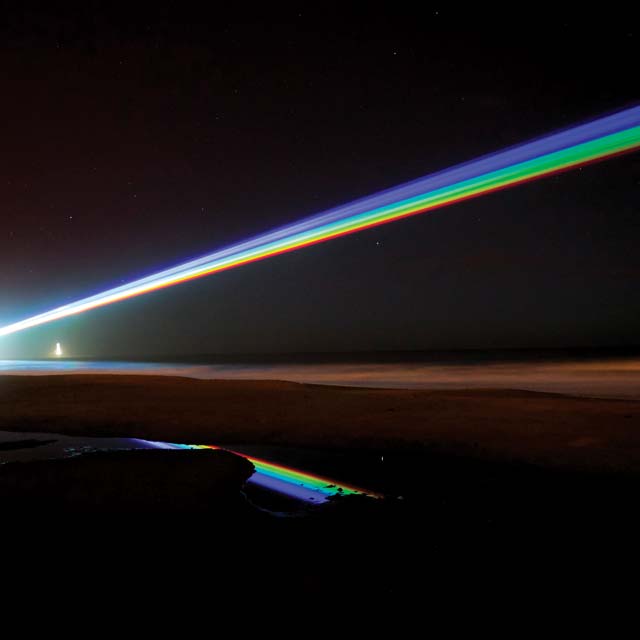 The Guild decided to make their first attempt at Pride bite size, with several parties planned as well as some ancillary events. There won't be a parade, as that energy will be saved for Carnival. It's about planting a seed. While it's being billed as Provincetown's first Pride, that's not true. But because the idea for Pride had a couple of fits and starts that fizzled over the years the idea of Pride does feel new to the town. In 1970 local activists held a Labor Day Solidarity March (despite being denied a permit by the town) in union with the Christopher Street Liberation Day marches held around the country to commemorate the Stonewall rebellion from the year prior. That was the precursor to Pride. Provincetown had its first proper Pride in 1986, which from then to 1988 consisted of just a candlelight vigil to honor those who were dying of AIDS as the epidemic raged. In 1989 the focus shifted to make it a celebration,  and a parade down Commercial Street ended at Town Hall where the crowd was entertained by comedian Kate Clinton and folk singer Holly Near. But the presence of ACT UP chapters from New York and Boston, which marched with the Provincetown members, spooked some in town, and a provocative sign held by one activist enflamed tensions leading to Carnival being cancelled that year. Pride never happened again.
The two centerpieces of this Pride celebration are the opening of The Shack, an LGBTQ welcome center located at 115 Bradford Street that will also present artifacts and exhibits on the LGBTQ history of Provincetown, and the installation of Global Rainbow, a major work by artist Yvette Mattern. Based in New York and Berlin, Mattern conceived of the project New Year's Day at Walden Pond in 2007 where she challenged herself to recreate the rainbow she saw that day. Since 2009, Global Rainbow has been installed in various cities in Europe, the United States, and Canada. This particular installation over Provincetown Harbor Friday and Saturday night marks the first Gay Pride where Global Rainbow will be seen, providing a perfect intersection for Provincetown of art, gay culture, and our beautiful natural environment.
"It represents peace, diversity, inclusivity, equality, and positivity," says Mattern. "I lived in Boston for many years, and I love, love, love Provincetown. I'm so happy this worked out. I'm thrilled to bring this to Provincetown."
Global Rainbow will appear over Provincetown Harbor Friday, June 1 and Saturday, June 2nd, 8 p.m. to 2a.m.  For full information on Provincetown Pride events visit ptown.org/pride. 
]