The Photography of Bobby Busnach
by Steve Desroches
Bobby Busnach became a photographer after stealing a camera while he was robbing an apartment in Boston in 1970, maybe 1971. Born in Cambridge, Busnach grew up in the Washington Elms housing projects with his mother, who popped black beauties and beat him, often after the neighborhood bullies did, for being a sissy. His mother and father remarried, and with two dysfunctional parents he moved to rural Pennsylvania where he rebelled and began to smoke pot and drop acid. He soon was committed to Wernersville State Mental Hospital where he was kept on heavy doses of Thorazine for about a year before being released. Then he ran away with a pack of hippies ending up at Confront, a drug rehab where treatment consisted of primal scream therapy. With long hair and six-inch platform shoes, he hitchhiked back to Boston, where he began hustling on Commonwealth Avenue, which was also about the time he stole that camera. He was 15 years old.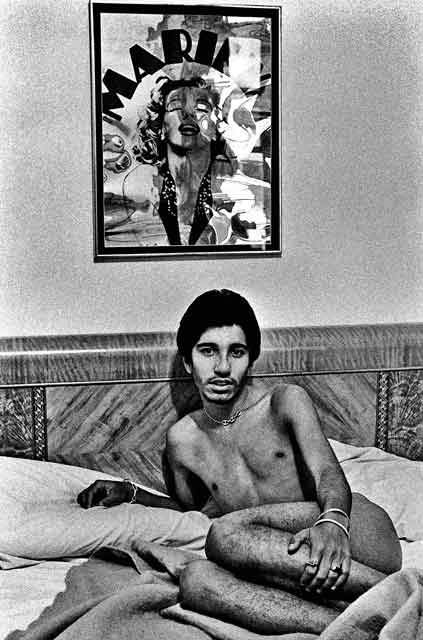 In a moment of self-empowerment, he "came out" and soon found himself surrounded by a chosen family of others on the outside, living together in a cramped apartment and celebrating themselves at The Other Side, a Boston gay bar on Broadway made famous in part by photographer Nan Goldin, who often shot inside. He also hitchhiked out to Provincetown, the only other place he felt safe. Busnach and his family of social outcasts wanted to find a world that was as thrilling as The Other Side, so after hitchhiking to San Francisco and finding hippies turned out to be as homophobic as anyone else, his clan of friends went in search of glitter and glam in New York. They all settled into a flat across the street from the Dakota, where Rosemary's Baby was filmed. It's there and then he began documenting his life.
He's one of the only survivors of his newfound family and he only began showing his work several years ago. That's what makes his show Stranger in an Alt-World this month at AMP feel so fresh and on the edge, as the images have never been seen before, providing a new glimpse into 1970s New York, a place and time that continues to fascinate.
"It's just that it's important to keep history alive," says Busnach. "My friends have a story to tell. It's a way of keeping them alive. With AIDS we lost so many people. And now with these awful Stonewall movies and bullsh*t things that try to rewrite history and leave people out. The truth needs to be told. We were revolutionary."
Arriving in 1973, Busnach plunged into the glamorous grit of post-Stonewall, pre-AIDS New York at a time when America's largest city was broke and the words Janis Joplin sang rang true – "freedom's just another word for nothin' left to lose." He found work as a DJ and turned tricks on Third Avenue to survive while dancing the night away at early discos like Galaxy 21, Hollywood, and The Gallery, well before Studio 54 added an elitist velvet rope. His apartment became a fantasyland as he created scenes to shoot with blaring disco music, and they all devoured Quaaludes. In a hazy cloud of glitter, this diverse family of misfits licked their wounds and found strength.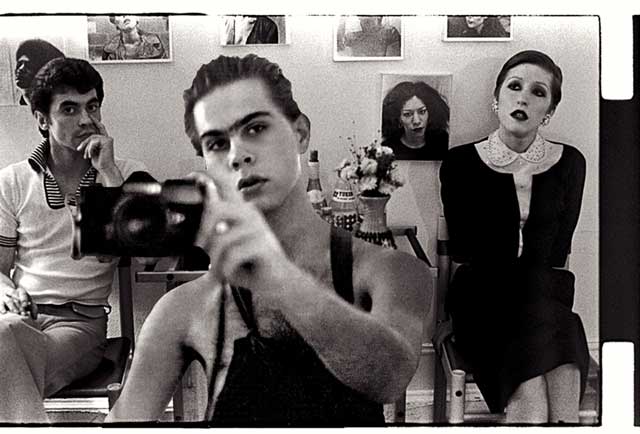 That fortitude would serve them all well, not just against the harsh realities of their own lives, but also as they fought for gay rights, women's liberation, and black power. They were fighting for their lives and each other's. And as those movements grew in size and influence, they began to feel themselves pushed out by those they thought would be allies. Busnach ran around New York with spraypaint in hand writing "Kill Straights" and "Gay is the Way," running away from gay-bashing mobs only to sometimes stumble into a police officer who would give him the beating he had hoped to outrun. These were the early foot soldiers of a variety of social movements, from which they have often been written out in an attempt to sanitize the past or avoid affiliation. All the while a full assault rages, driven by people the likes of which are all too familiar to Busnach. If history were told accurately, people would know that, he maintains.
"Now I feel like I'm a stranger in an alternative world," says Busnach. "Where the hell are we? This country is full of f*cking lemmings. All that progress, all that work, and now it's being taken away from us. It's a dangerous, dangerous time. It's an alternative reality. It's not real."
For all the hard knocks and scrapes, there is a persistent kindness in Busnach's voice that matches the point of view he captured in his photography featured in the current show. Through art, politics, and sex he and his friends transformed themselves and put their mark on the world, one that frequently tried to silence them. Transformation – it was always central to his world and his work. Having given up photography for almost 25 years, fumbling through life the best he could with only a ninth grade education, Busnach received his GED at 50 and then went on to graduate from the Massachusetts College of Art and Design. And as he created new works, he also dove into his archive, which remained largely untouched, though a portion was lost to a flood years ago. Living in Yarmouth, as close as he could afford to Provincetown, Busnach is working on future shows here in town, working with a publisher in the United Kingdom for a book of his photography, as well as on his memoirs.
As a survivor of his chosen tribe, this work goes beyond himself, though he finds his center in it all. "I'm proud to call myself a fag," says Busnach. "We all called ourselves fags, or dykes, fag hags, wannabees, sissies, whatever we were called we took the name for ourselves. I didn't and don't want to be like everyone else. I want to be special. It made us special. I didn't want to be part of their society. And I still don't."
Bobby Busnach's Stranger in an Alt-World is on exhibition at AMP (Art Market Provincetown), 432 Commercial St., Provincetown, June 8 – 27. There will be an opening reception Friday, June 8, 6 – 9 p.m. For more information call 646.298.9258 or visit artmarketprovincetown.com.
]