Gold Dust Orphans Savage Westerns in Brokelahomo!
]
by Steve Desroches
Ryan Landry is in the garden of the Baker Avenue home he shares with his husband, Scott Martino, picking raspberries. In dusty denim cut-offs and a gray t-shirt with his long hair held back by a red bandana, he lets out his best Carol Channing impersonation. "Raspberries! I'm picking raspberries!" As a sweet breeze passes through the yard, an empty hammock sways on an impossibly gorgeous July day. The hammock is often empty, as this is the time of the year that Landry and his legendary theater troupe, the Gold Dust Orphans, present their summer offering as well as the beloved weekly freak show Showgirls and several upcoming concerts of his glam rock band Space Pussy. Tourists can lounge. Landry and crew are busting their butts. He dusts off his own as he gets off the ground, satisfied with how full his yellow bowl is.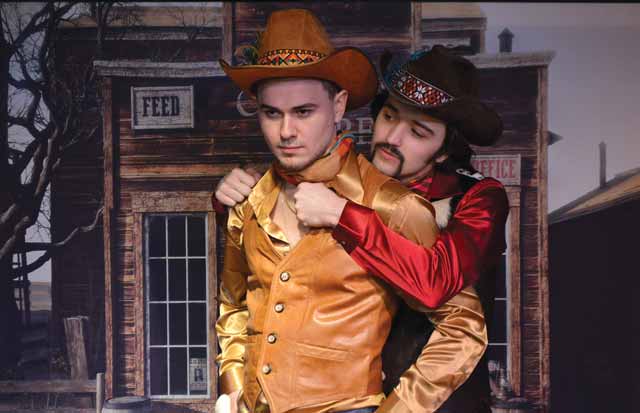 He's also quite satisfied with what a hit this year's show, the western spoof Brokelahomo! is. After a sold-out run in Boston this spring, the show has risen to the ranks as a new Gold Dust Orphans classic. Like many an orphan, no one is quite sure when the Gold Dust Orphans were born. Is this the 20th year? No, can't be. It's got to be more than that, Landry mumbles, but maybe it is. No. No. They're definitely older than that. Regardless, this cast features many new faces in this fixture of the Provincetown performance community. New blood mixed with the old loveable venom that gives the Orphans their bite keeps a balance between tradition and innovation, and is on display in Brokelahomo! as if GDO were branded on the backsides of the fake cattle that stampede through Fishermen Hall each Sunday evening.
"I love the Orphans I have now," says Landry. "It's like Saturday Night Live casts. You have good casts and bad casts. This is a great one."
In true Gold Dust Orphans fashion, Brokelahomo! is a tightly woven storyline based on source material from the films Brokeback Mountain, Oklahoma!, Johnny Guitar, How the West Was Won, and Destry Rides Again, mixed with original characters and vaudeville gags. Knowledge of any of what Brokelahomo! is based on is not necessary, as the production moves as quickly as a runaway stagecoach, creating a familiar, yet completely new narrative in this western with a swish. In this play, written by Landry, audiences are transported to the town of Brokelahomo, a heterophobic Old West town completely populated by gun-slinging gays and lesbians. Landry channels the Joan Crawford brand as he portrays Vienna Walsh with a high noon wide stance that would make former Idaho Senator and bathroom toe-tapper Larry Craig jealous (remember him?). Vienna is about to make a deal with the railroad that is looking to run a line through town, which would challenge the power wielded by Emma Smalls, a lesbian Almira Gulch-type (played with scene-stealing perfection by Orphan newcomer Julee Antonellis) who owns almost all of the town, and her son, Ringo Pink, portrayed by Martino as a delightfully sinister Snagglepuss cowboy. To defeat Emma and Ringo's band of bandits, Vienna calls in Dusty Rhodes, a straight sheriff who shines a hairy full moon of justice over the town and develops an affection for Frenchie Pissoir, a knife-wielding bordello broad who cheats at cards, characters created with great comedic chemistry by Jeff Blanchette and Qya Cristál.
This same cast is headed to New York in October to perform Brokelahomo! at Theatre 80 St. Marks in the East Village. But no matter the city or the space, a Gold Dust Orphans production has the same magic.
"I tell them to play it like a serious drama," says Landry on how to maintain the Gold Dust Orphans aesthetic, which he says is a combo-inspiration from Charles Ludlam and Charles Busch. "That keeps it funny. Take the role seriously, and the comedy comes through. Make it cutesy, and it's not. It's basically me telling people what to do. I don't mean it to sound bitchy, but I keep it on a path, a formula, to maintain that Gold Dust Orphans feeling. And it works."
Now in their second season in Fishermen Hall, the Gold Dust Orphans reached full-wing span in the beautiful auditorium in large part due to Robin JaVonne Smith, a veteran Orphan and cast member making her directorial debut. The costumes by Martino and the set design by the always ingenious Windsor Newtown incorporate the loveable dime-store technology that's become a hallmark of Orphans shows, as they create everything from cattle stampedes to an old-school hanging right before your eyes in the most hilarious ways. Peppered with just the right amount of politics to keep it current, but not overwhelming us, Brokelahomo! is smart entertainment that gives audiences options for which way to go, like a Choose Your Own Adventure book leaving it all up to the individual to revel in a political jab or a diarrhea joke, or both. Brokelahomo! is the Gold Dust Orphans at their best.
"I'm already working on next year's play," says Landry. "You have to always be working. Next year is in Outer Space. I'm calling it Star Whore: Episode One, What's Up Uranus? What can I say? I find sex and stuff funnier than anything else. Yeah, it's satisfying and all, but I still think it's funny."
Ryan Landry and The Gold Dust Orphan's present Brokelahomo! Sundays through September 9, 7:30 p.m. at Fishermen Hall, 12 Winslow St. Tickets ($39.99 general/ $49.99 VIP/$100 for premium seating in the first four rows) are available at the door or online at fishermenhall.com.