Ai Weiwei on Art, Activism, and the Internet Age
]
by Rebecca M. Alvin
Sitting at a table in a small North Truro cottage with internationally acclaimed filmmaker, architect, artist, and human rights activist Ai Weiwei feels a bit surreal. In the middle of a philosophical discussion about which invention has been more important to society, the printing press or the Internet, a scrawny red fox scampers into view through the bay window next to us. Weiwei marvels at the creature, and everyone in the room grabs a camera to snap a photo of it before it trots off into the bushes.
Ai Weiwei is not someone anyone would have predicted as an honoree at this year's Fine Arts Work Center (FAWC) Summer Gala. Fellow honoree and Vice President of the Board of FAWC Alison Ferring, speaking a few weeks prior to the event, which occurred on July 21st, explained, "The fact that we have Ai Weiwei coming… I think that's great, but on some levels it doesn't even make sense… It's a big leap."
But that leap, she says, is a symbolic one. While FAWC also honored Sal Del Deo, one of its founders and an artist with deep ties to the artists' colony's heydey, and has often highlighted the canon of great Provincetown-associated artists, Ferring says the Center is banging the drum for new blood to be infused into the artists' colony and that it is necessary to connect the town's art community to the larger, international art world. And while Weiwei, at 60 years old, is hardly new, his status as a conceptual artist, a politically engaged person, and a representative of the East, makes him the perfect recipient to represent FAWC's progression beyond its own history. He is, after all, very much a contemporary artist, but also someone keenly aware of the past.
"We are all products of our past. It could be longtime history or something you could never even consciously [be] aware about, or about recent memories and experiences," Weiwei reflects when asked about his relationship to the past. The Chinese artist speaks English fluently, but it's clear it is not his first language. Noted for works like the set of three photographs, Dropping a Han Dynasty Urn (1995), in which a real 2,000-year-old Han Dynasty urn is unceremoniously dropped and destroyed, and also as an artist engaged quite deeply in contemporary social and political issues who does not kowtow to the establishment, Weiwei's past, both personal and cultural, is actually present in everything. "Doesn't matter you want to break it or you want to — it still shows your position, your criticism, or your attitude toward certain things. Yes, it's a response to the past," he says.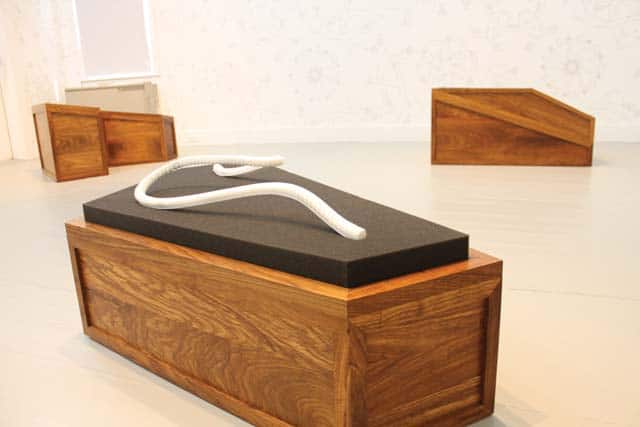 Once the fox has gone, Weiwei, an avid blogger and Twitter user, says that indeed the Internet is more important, even as it could not have happened without the printing press (which, incidentally, was invented in China some 400 years before Johannes Gutenberg introduced his metal version to Europe in the 15th century).
"The learning process become very different today. It's rather by the ability of searching and structure [of] your information. But before it's not possible. It would take a very strong family background or a social status to get those information. People today they just don't know that. But that was very difficult for anybody. But today it's just, you can wake up at midnight, and fully equipted in the morning on any topic. It can go very deep. So this is amazing, it's a miracle to the society, but still all this knowledge, this requires action, you know, because our life is about action, it means we're alive, it means we still can make a decision to how to act," he explains.
Weiwei has been actively using his status as a well-known artist to address some of the most important issues of our time. Most recently, he has focused his lens on human migration, with his incredibly expansive documentary Human Flow, a film that takes us to refugee outposts from Greece to Bangladesh to the U.S.-Mexico border. It is at that last site that we hear from a human rights activist and lawyer who explains that migration is something people have always done. It is in fact a basic human right to be mobile, to go where your life will be better. This simple statement gets to the heart of the matter, and we hear it because Weiwei's approach to filmmaking is one of listening. And yet, he is not just a passive observer.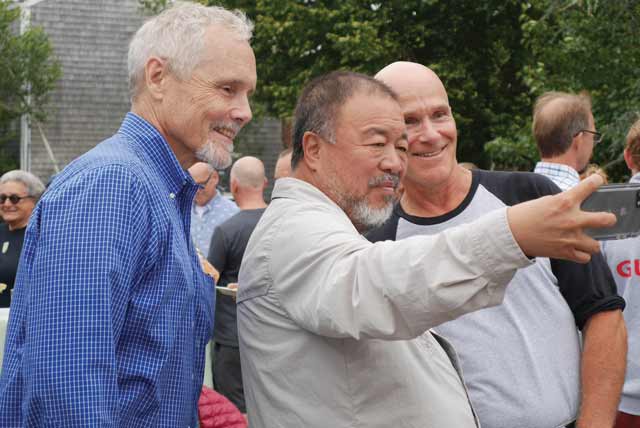 "I think it's so important to take action. Just prove you're part of this democratic freedom. Just prove you're free. You're free, you know, you have a free spirit, and you do have the power of the individual. Take action. Prove it, you know," he says in a quiet, but firm voice.
Weiwei studied art and lived in New York from 1981 to 1993, only going back to China when his father was ill. During that time, inspired by Marcel Duchamp, Andy Warhol, and others, Weiwei was not known as the dissident artist he is now. It was only upon returning to China that Weiwei began to make work that progressively questioned the powers that be. That work was not only in the realm of fine art. Weiwei studied at Parsons School of Design, Beijing Film Academy, and the Art Students League and has made dozens of films in addition to Human Flow. He is also an architect, having designed the Serpentine Pavilion in London, the private Tsai Residence in upstate New York, and consulted on the design for Beijing National Stadium. He is also known for a number of photographs featuring his middle finger held up to various important cultural monuments, beginning with Tiananmen Square in the photograph Study of Perspective Tiananmen Square (1995).
In 2008, a devastating earthquake in Sichuan Province killed 69,000 people, including thousands of children who were, because of China's one-child policy, the only children of their parents. Weiwei and others contended the schools collapsed due to corruption and shoddy construction of government buildings. In addition, the initial death count appeared suspiciously low. These things prompted Weiwei to create a citizen's investigation to uncover the real number of children killed, to commemorate them by documenting their names, and to hold the government accountable for this unthinkable loss. In addition to his active investigation, he created several works that drew attention to these matters.
One piece, Rebar and Case is currently on display at FAWC's Hudson D. Walker Gallery for a summer-long show. It features eight huali boxes (boxes constructed in the traditional Chinese manner, with no nails used) in various shapes, some looking like small coffins. Four of the boxes are topped with cut foam and marble rebars that look vaguely skeletal, prompting a strong sense of sorrow on this, the tenth anniversary of the earthquake. The boxes fill the gallery and are accompanied by floor-to-ceiling wallpaper featuring circular, spiral drawings of arms extending out with their middle fingers held up, by now a familiar motif in Weiwei's work.
For those who might wonder what the purpose of making art is when one could be doing something else in these troubling times, Weiwei quickly corrects the assumptions inherent in that question.
"First, this time is not particularly difficult. And also the art should never really come from an easy time," he says. "Maybe for too long, art has been separating itself from reality. So then you think about art or something else. Art is something else and something else can be art so I don't think that even is arguable. I know we're living our life, through all kind circumstance. Easy or not, it's all part of our life. You don't have another life… It's not you choose to do this or not, it's your response to life itself."
Weiwei came to Provincetown after appearing at the Anderson Ranch Arts Center in Aspen, Colorado, where he told an audience that if there were any artists present, they should "Know less, care more." Asked about it now, Weiwei explains, "The tragic phenomenon in the modern society is it provide us a knowledge which confuse people. If a knowledge is not practically being appliable or used by our own struggle, the knowledge I would say is a fake, it's a illusion. It doesn't really function as knowledge."
He adds, "Now today, especially young people, because they're so equipted with Internet, information, seems they know everything because everything's a Google search. But that has certain kind of danger, because the real meaning of knowledge, of so-called wisdom, come from how we use this knowledge applied to our real life. So I think to care more means you really [examine] the knowledge with your own life, and it has a true meaning, rather than to think you know a lot but to not really use those knowledge."
Throughout history, artists have been seen as dangerous around the world. Oscar Wilde and Marquis de Sade were imprisoned in the name of protecting society from their "depravity." Poet André Breton, painter Max Ernst, and many other so-called "degenerate artists" fled Europe during the Nazi era. Ai Weiwei suffered a brain hemorrhage after being beaten by Chinese police in 2009, was imprisoned for nearly three months in China and had his brand new studio destroyed by the authorities in 2011, was subjected to intense surveillance upon his release, and lost his right to travel until 2015. He has since moved to Berlin. But Weiwei assures me his exile does not impede his abilities to see what's going on and to respond. In fact, it broadens his view.
"In China we used to say if you walk out a hundred yards, you'll always find a very precious purpose. It's everywhere. It's about our sensibility and about our awareness. You don't have to really travel to Tibet to get enlightened. Or you know, it depends, you can sit on toilets to have some great ideas come. So for me, it provide me opportunity, physical opportunity to see outside such a comfortable capital and here and to know people, to know their lifestyle, and what's in their mind. It's such a, quite a privileged living condition."
He adds, "But I just come from Myanmar, little area, 2 kilometer by maybe 6 kilometer, have 900,000 refugees, you know, almost a million refugees in Bangladesh, you know, pushed out by Myanmar." He was struck by how these individuals survive, especially children who don't necessarily even known where their next meal will come from. "But they're also happy. So happiness is very hard to even to measure. They enjoyed playing in the mud, and it's raining all the time," he says. "You see, human is product of this kind of struggle. Very often we forget. We only give one type of [happiness and] then say, 'Oh, that's happiness. If you reach that, that's happiness,' because you're secured by certain, more money… some kind of stable marriage, or children go to some kind of school, associate with certain people. I think that doesn't understand life, you know. Life should provide much more than that. [There is] a lot of surprise, a lot of desperation, and you know, unthinkable situations, because that's the beauty of life."
Rebar and Case is on view at the Hudson D. Walker Gallery at FAWC, 24 Pearl St., Provincetown, through August 30. The gallery is free and open Monday – Friday, 9 a.m. – 5 p.m. For more information call 508.487.9960 or visit fawc.org.