]
by Melissa Yeaw
In the 60s James Brown would shout "Maceo, I want you to blow!" Alto saxophonist Parker would GO, in a funky, rhythmic flow, a way that is just MA-CE-O! Since then, he has continued to grow, and he is bringing it to Payomet Performing Arts Center this Sunday, August 12, with his group of equally funky musicians.
He describes his music like this: "I kind of like when people have that party thing, when you don't necessarily hold hands, you aren't doing what we call slow dancing. You're partying and you're laughing and you're smiling and feeling good. We try to provide music for that." He describes the saxophone as "sexy, dreamy, kind of atmospheric, dreamy kind of sound, luscious."
Maceo is a busy man! He has recorded 15 solo albums and has appeared on at least 78 others, with artists including James Brown, Parliament Funkadelic, De La Soul, Ani DiFranco, Red Hot Chili Peppers, and Prince. When asked about his most memorable collaboration, he flips "through the deck of cards" in his mind, as he has performed with so many people, and he "stops on the Ps" because the time spent with Prince was "like Heaven." First of all, it's Prince, "that royalty guy, that Prince." Parker still marvels at the fact that he had a chance to play with him. But more than that, Parker remembers him first because he was "such a sweetheart," very positive and supportive, "a sweet guy" who is very much missed.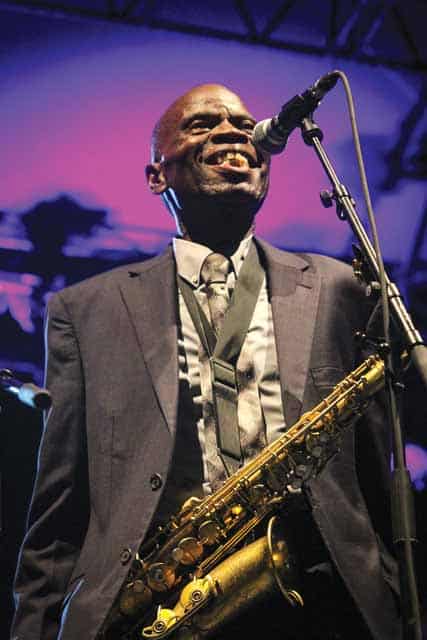 Parker also tours a lot. Between now and the end of the year he will do 35 shows, travelling from North Carolina (where he's from) to Massachusetts to Canada, then to Europe, where he will perform in six different countries, before heading to California. He brings a tight band with him, all experienced musicians. He is the band leader, plays saxophone and flute, and he sings. His "cousin" (married to his brother's son), Darliene Parker, is also on vocals. Greg Boyer, who played with Parliament Funkadelic and also Prince, is on the trombone. Will Boulware, who has played with The Blues Brothers and John Scofield, is on keyboards. The bass player, Rodney "Skeet" Curtis, played with Parliament Funkadelic, too, and according to Parker, he "could be one of the funkiest bass players ever." On guitar is Bruno Speight, from the SOS Band, and Parker says he "wants to change his last name because he is so funky!" Finally, Pete MacLean is playing the drums. It should be an amazing show.
How DID all this happen? Parker is from a family of musicians, for starters. But that's not all. It's who he is. He says, "It's a bit of who you are, how you do your thing." He was born on Valentine's Day, so he is automatically a love baby, spreading the universal and beautiful message of love. Next factor: his name. He is named after his dad, but his parents did not name their first-born son Maceo. No, they waited until their second son was born, on Valentine's Day. Maceo rhymes with blow. He says, "Perhaps it was all predestined."
But there's another story here, one about conviction, involving one of his all-time favorite performers, Ray Charles. It was 1961 and Parker was a freshman in college in Greensboro, North Carolina. Charles was playing. Parker had seen him four or five times with his family, but not away from his hometown. As he says, "You're away from home, you have a dorm room, and you look around and you just own your own, you can do how you want to do." So Parker went to see him and got backstage. And when he was 15 feet from the dressing room, he saw Hank Crawford, the alto saxophone player. And as Parker explains, "he is dressed in a gold jacket and boots to match, and I almost fainted because that was the coolest thing I ever seen in my life." And for some reason, in a moment that stands out in Parker's mind, he pointed his finger at Ray Charles' door and said, shaking his finger like he's scolding somebody, "Mr. Ray Charles, I don't know how I'm going to do this, but one of these days, you are going to know me. You are going to know Maceo Parker." He describes this conviction as being "in granite."
Thirty-two years later, Parker opened for Ray Charles in Europe. He remembers sitting in Charles' dressing room before performing, talking to him—a "highlight" in his career. He told Charles he had heard about his excellent ability to discern pitch and whether or not someone was out of tune. Charles laughed (Parker says he was a "beautiful guy") and answered, "Yeah," talking to the horn, "you better play good tonight!" Charles "puts his hand on his hips and laughed all the way down like you do, head almost hit the floor, all his teeth showing." Parker just knew Charles was going to know him. And he did.
This is all part of the sound, part of the way Maceo Parker came to be. He is "hearing what is inside of" him. He says, "I searched inside of me, and I can get funky stuff. Really, really funky stuff. And everybody can't do that."
Maceo Parker performs at Payomet Performing Arts Center, 29 Old Dewline Rd., North Truro on Sunday, August 12 at 8 p.m. For tickets ($39-$75) and information, go to the box office four hours before any show, call 508.487.5400, or visit payomet.org.