]
by Steve Desroches
It took Ryan Raftery four months to learn how to fold a fitted sheet in 21 seconds. There are all kinds of YouTube tutorials and vintage articles from homemaker magazines, as it's been a household conundrum for years and an especially traumatic chore for those with OCD tendencies. It begins easily enough: drape the sheet over your hands with the two corners inside out with the elastic edge facing you, holding it with one hand in each of the top corners. But somewhere along the way, it falls apart and the fitted sheets gets stuffed in a closet looking like a high-thread count wrinkled ball. Sad.
Like the quest for fire or the discovery of penicillin, it took one person to change the course of history. And when it comes to sharply folded linens, Martha Stewart is the Louis Pasteur of fitted sheets. Through her business and media empire, Stewart brought a level of almost inhuman perfectionism to maintaining a home and entertaining that inspired millions to be just like her. The story of Martha Stewart is as American as apple pie, but with a crust rolled by hand and apples, picked no later than mid-October, that feel heavy to the palm and firm when gently pressed using two fingers to ensure no bruised fruit goes into said pie. From humble beginnings, she became one of the first women to be a self-made billionaire via her own ideas and with complete creative control, only to almost lose it all and go to prison, only to come out and immediately begin a comeback.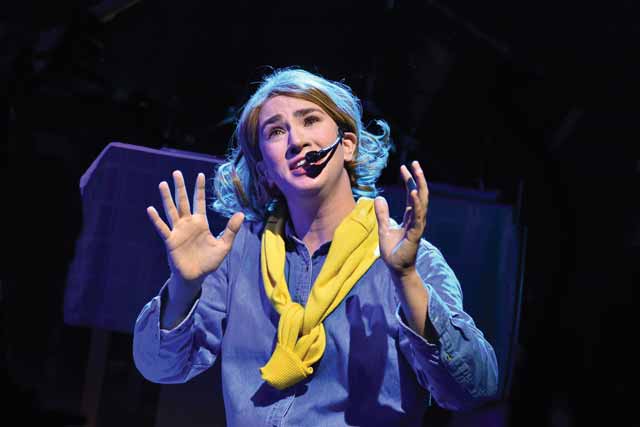 There is an undeniable mystique about Martha Stewart. And as an actor, Raftery just couldn't resist her charms. Under her enchanted spell, he created his musical stage show The Rise and Fall (and Rise) of Martha Stewart, with which he will make his Provincetown debut this Carnival Week at the Crown and Anchor. After the show premiered last year in New York City, it became the talk of the town, in part for the scene where he folds a fitted sheet in 21 seconds, eliciting perhaps the same shrieks of delight and wonderment from the audience as did Houdini when he escaped a straightjacket while hanging upside down. Be it Martha Stewart Living or Martha Stewart doing time, Raftery embraces it all, telling her story with live singing, featuring music by Beyoncé, Lin-Manuel Miranda, Adele, and Metallica.
"When she decided to not appeal, she said she chose to begin her sentence in October so she would be out of prison in time to plant her spring garden," says Raftery stopping to release a gasp for punctuation. "Now that's the kind of person I want to follow into battle."
Born and raised in New York, Raftery moved to Los Angeles after completing his studies at the Tisch School for the Arts at New York University. While there, he landed several roles, including guest spots on Ugly Betty, What I Like About You, Malcolm in the Middle, and perhaps his most memorable part, on Law & Order: SVU as Dennis Faber, an Amish teenager with measles. As much fun as it was to play a boy with an easily preventable disease through vaccinations, Raftery's real passion and goal was always Broadway, so he returned home.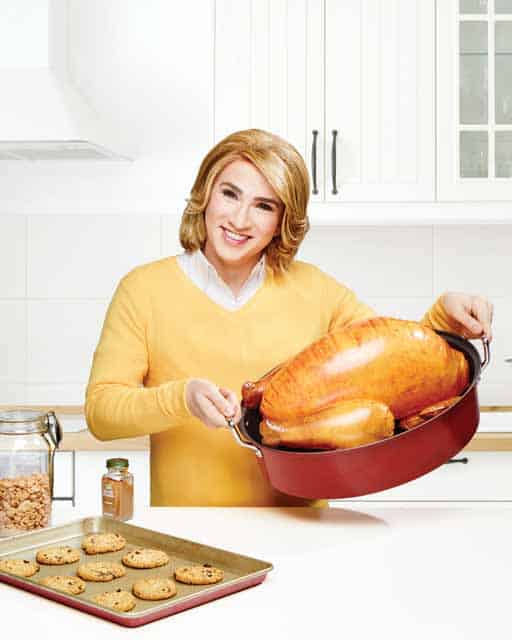 Of course landing a role on Broadway is no easy feat. And so, like many actors, Raftery creates his own opportunities to perform. But solo cabaret shows are a ubiquitous feature of New York, making it hard for even the best performer to stand out. With shows like Ryan Raftery & Friends: A Solo Act, Ryan Raftery's It Gets Worse and Ryan Raftery: King of the Jews, he garnered some praise and attention. But it was his turn as one of the most intimidating figures of our times that made him a star: Anna Wintour.
In 2015 he premiered Ryan Raftery is the Most Powerful Woman in Fashion, a musical comedy show about the uber powerful longtime editor of Vogue, in New York, before taking it to Los Angeles. The show was an immediate hit thanks in no small part to Katherine "Bee" Shaffer, Wintour's daughter, who went to opening night and filmed the show for her mother. He was terrified. But the show landed him in the New York Times, gave him an appearance on Watch What Happens Live with Andy Cohen, and he had to add several more shows to meet up with the demand for tickets. Not long after he was planning an event to raise money for the Trevor Project, an organization that focuses on suicide prevention among LGBT youth, when he received an e-mail from Vogue, which he assumed was a cease and desist notice from Wintour's lawyers. Instead, it was an offer to donate a pair of Wintour's famous sunglasses to the auction at the event.
A year and half ago Raftery walked into an elevator in a Manhattan skyscraper and who should be in the elevator, alone, but Anna Wintour on her Blackberry. It took a few moments, but he said, "Hi Anna," to which she glanced over and replied, "Of course. The musical." He continued, a bit stunned, confirming it was him and thanking her for the glasses, and she said what he thinks is you're welcome as she walked out of the elevator. He thought that experience wouldn't be topped until Stewart's entire team came to see the show, everyone from the CEO to her gardener.
"It's just crazy," says Raftery. "Every time I do a show I kind of think there is no way the show will get the attention that the last one did. But once the show about Martha Stewart opened it just blew up!"
While Broadway is still a goal of Raftery's, so, too, is performing in Provincetown. This musical performance with a comedic spin of The Rise and Fall (and Rise) of Martha Stewart marks that dream coming to fruition in what Raftery hopes is the first of many. "It's not just because Provincetown has been a haven for artists, and for LGBT artists," says Raftery. "But there is a reverence for performance. It's also a survival of the fittest there. Provincetown attracts the best of the best. You have to bring your best to Provincetown. I'm just really excited to be on the roster at the Crown and Anchor. It's a honor to perform in Provincetown."
Ryan Raftery presents The Rise and Fall (and Rise) of Martha Stewart at the Crown and Anchor, 247 Commercial St., Sunday, August 12 at 10 p.m. and Monday, August 13 and Tuesday, August 14 at 9 p.m. Tickets ($30) are available at the box office and online at onlyatthecrown.com. For more information, call 508.487.1430.