]
by Steve Desroches
Tucked back on the other side of Bradford Street on the cusp of the East End, the morning air is filled with the sounds of birds chirping and leaves rustling when the peace is interrupted by two men in matching navy-blue shorts, each in a differently colored gingham collared shirt dragging their rolling luggage to their rental as they check the numbers on each house. The light rumble of the plastic wheels on pavement has become a Pavlovian indicator in Provincetown that the ferry from Boston has arrived. These two must be stragglers from the 10:30 boat.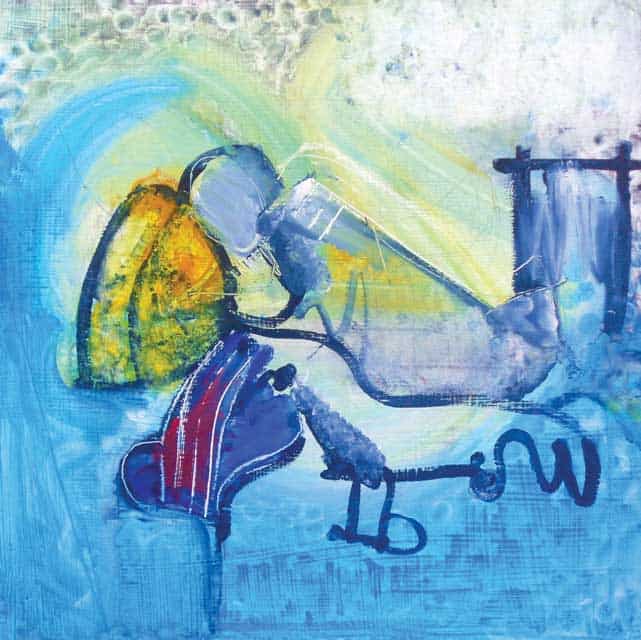 As they disappear, Laura Shabott comes from around the bend and waves. Coffee. She needs coffee, she laughs as she turns the cornflower blue mug in her hand upside down. She's been working hard on her upcoming show at the Four Eleven Gallery, her first solo exhibition. Her quest for coffee is suspended as she points to a series of giant squash plants that, come late August, have taken over a sizeable portion of the yard. They serendipitously grew out of the compost. "Go on in there. I'll be right back," she says, motioning to a 1940s handbuilt shed that she shares with her husband, a Provincetown native, one half his workshop, the other half her studio.
A whale vertebra hangs above the door. Inside a bumper sticker reads "Commercial Fishermen Help You Live Better" as it hangs next to the flag of Portugal. An orange scrim with an image of Buddha indicates you're headed to Laura's side, painted clean white and filled with canvases, brushes, and paints. A vase of late-summer hydrangeas glows violet-blue. A longtime resident of Provincetown, Shabott is the kind of Jill-of-all-trades you need to be to live here year-round. This used to be her writing studio.
"I was writing about Paul Resika in the late August heat and I had this realization that I had to start painting again, as it's the truest expression of myself," says Shabott, returning with a full cup, a sigh, and a smile. "So I did."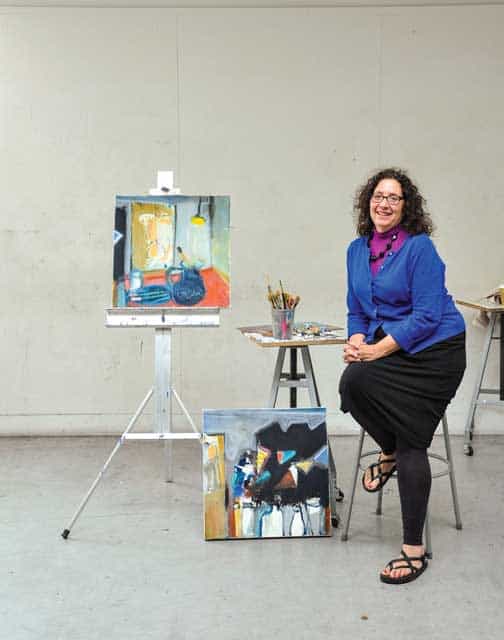 Now, at 60, Shabott is finding, or more accurately, returning to her root passion for painting. Growing up in New Haven, Connecticut, Shabott's mother frequently took her to see the immense art collection at Yale University. Her first crack at art school proved painful. Come her thirties, Shabott had returned to art school, right about the time she discovered Provincetown, a twofer of creative inspiration that led her to work as an actress, as well as a myriad of odd jobs, followed by over a decade as an arts writer. And then came that day when, at 57, she swatted away insecurity and anxiety to pursue work as an artist.
While she had spilled a lot of ink writing about Provincetown's art colony over the years, she was about to experience for herself one of the most vital components to any community of artists: the chorus of the magical word "Yes." She had already said it to herself, but as many will attest, whenever someone shares a thought, idea, or inspiration to delve into a creative pursuit, you are often met with a steady beat of affirmation here. Do it. Do the work. Don't be precious about it. Just do it. Yes. Yes. Yes.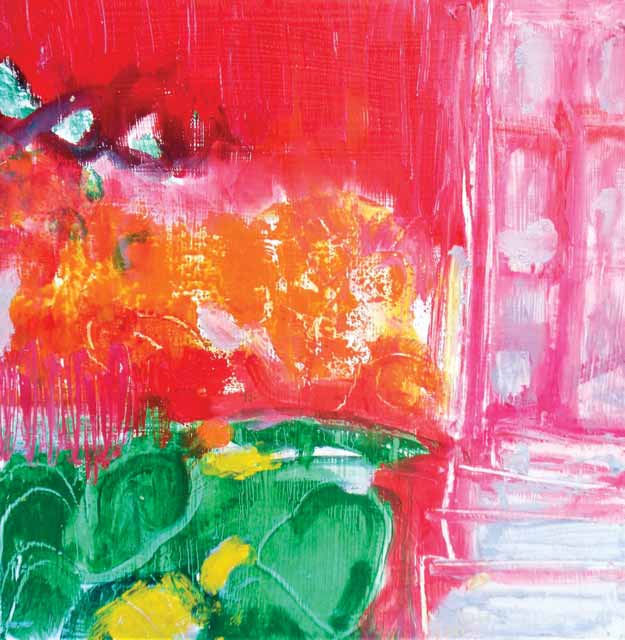 Proof that the community support is more than just lip service, Shabott went on to receive a Romano Rizk Scholarship to study at the Lillian Orlowsky and William Freed Museum School at the Provincetown Art Association and Museum at the prompting of Grace Ryder O'Malley to apply, followed by a gift from legendary gallerist Berta Walker to study with Robert Henry at the Fine Arts Work Center. That led to a pop-up show at Coffey Men at the invitation of Scott Coffey and to participation in group shows at Berta Walker Gallery, at Grace Hopkins' invitation, and Four Eleven Gallery—her new gallery home—at Liz Carney's.
It took four years from that moment of clarity until now. And the baker's dozen of paintings she has for her show at the Four Eleven Gallery, titled Returning, shows both exuberance and discipline. In one piece (Hydrangea in Full Bloom), a patch of blue indicates the hydrangeas in her yard, not the ones confined to a vase, to evoke joy and summer. In another (Man with Drum), an expression of a figure of a man leans over as he beats on a drum. Each painting is infused with a vibration, the epicenter of which is Shabott's deep love and appreciation for Provincetown, a place that is mostly her "muse," at times her "nemesis," but always an inspiration. For those not born here, Provincetown becomes your home when it stops being your escape, when you confront your true self and agree to let that person free.
"First, I had to stop being afraid, and this town helped me do that," says Shabott. "I had to stop editing myself from being the artist I wanted to be. There's always something. I don't have the time. I don't have the money. I'm starting when some are ending their careers. None of that matters. I'm older and on fire to paint."
Laura Shabott's exhibition Returning is at the Four Eleven Gallery, 411 Commercial St., Provincetown, August 31 through September 19. An opening reception will be held Friday, August 31 from 7 to 9 p.m. For more information call 617.905.7432 or visit fourelevengallery.com.