by Rebecca M. Alvin

In a town steeped in the history of abstract expressionism, representational art can sometimes feel downright rebellious. Perhaps that's a bit of an overstatement, but as photography has grown into an established art form, the role of the painter also seems to have grown into one that is decidedly non-representational. But in the Provincetown art scene, there are a number of galleries that offer both ends of the spectrum. Bowersock Gallery is one that regularly features an eclectic group of painters and sculptors, but its strength is in the realm of representational work. In their current show, The Realist Academy Show, the gallery has teamed up with the Academy of Realist Art in Boston for a juried exhibition of student and faculty work from the Academy, with the promise of giving one of the students his/her own show next year at the gallery.
Looking at representational works, especially those created in the classical realist style, we are often drawn in by how "lifelike" the images are. The ability to make the texture of an animal's fur or the intricate lines on a human hand as true-to-life as a photograph is very appealing, and it certainly takes great skill and control of one's medium to be able to achieve this. But while some of the works in this show offer that kind of impeccable realism, that is not the most remarkable quality on display. It isn't just how visually accurate a painter can be—otherwise, why not look at a photograph—but rather, it's a combination between that and what else the painter brings to the real-life figure or object that truly grabs hold of you when you look at representational works.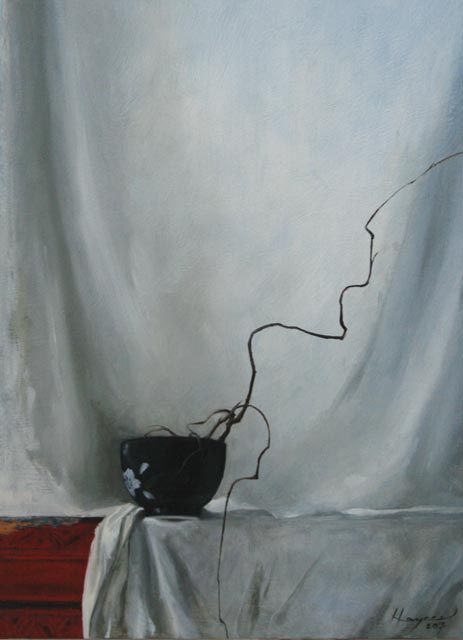 Faculty represented in the show all offer remarkable works to this end. Eric Johnson and Julie Beck both offer diverse images that play realism at different angles. Each artist's work in the show demonstrates a range from the near-photorealism of Johnson's Ultramarine Obsessions to his landscapes, from Beck's Fox in the Hen House to her impressionistic nudes. Academy alum Noriko Fox takes a slightly whimsical path with her paintings featuring toy dinosaurs, rubber ducks, and the like, while other students in the show have more serious subjects, again giving a great range to the types of works on display in this show.
Both faculty and student works show great skill as well as expressive qualities, although Brittany Haynes' work stands apart. Her somber palette and classic style make her still lifes quietly beautiful paintings evocative of their stronger emotional underpinnings. Her piece, pictured here, Years Ago We Flourished demonstrates the artist's skill, but also the emotional resonance of its title. It's a great chance to take a first look at up and coming artists like Haynes.
The Realist Academy Show is on view through September 14 at Bowersock Gallery, 373 Commercial St., Provincetown. For more information, call 508.487.4994 or visit bowersockgallery.com.
]