]
by Steve Desroches
Every time two people fall in love a new universe is created. Just like the Big Bang, an explosion of energy is released and continues to expand infinitely. Of all human emotions it's the strongest in its ability to create a whole new world for both its tremendous power and its resilience. While even light might not be able to emerge from a black hole, love can realign the planets and power the stars. And here on Earth, that little blue dot orbiting its tight 365-day rotation in an ever-expanding universe of wonderful mystery, is the source of all that love. How much love is released into the cosmos is all up to us.
Love seems in short supply these days as much of the world is mired in a spasmodic ooze of hate, distrust, and fear. But cosmic harbingers are on their way to save us from ourselves. Two intergalactic kings—Manchildblack and Monstah Black—were drawn together by an otherworldly magnetism, creating a gravitational pull of love, art, and music and combining their respective energies into a new celestial body – the Illustrious Blacks. And they've descended upon Earth to share their message of ecstatic love in Provincetown this week.
That's the origin story for The Illustrious Blacks, a husband and husband artistic duo from the Bedford-Stuyvesant neighborhood of Brooklyn that has continually wowed New York with their Afrofuturistic music and performances, presenting as glam extraterrestrials with a message of unspeakable joy that emanates from their funk-infused creations as the two pilot their spaceship of creativity and vivacious lust for life to every audience they encounter. Having completed a three-month residency at Joe's Pub in New York, the Illustrious Blacks are making their Provincetown debut at the Afterglow Festival, bringing their show Hyperbolic to town as well as their infusion of booty-shaking beats for a nation in turmoil.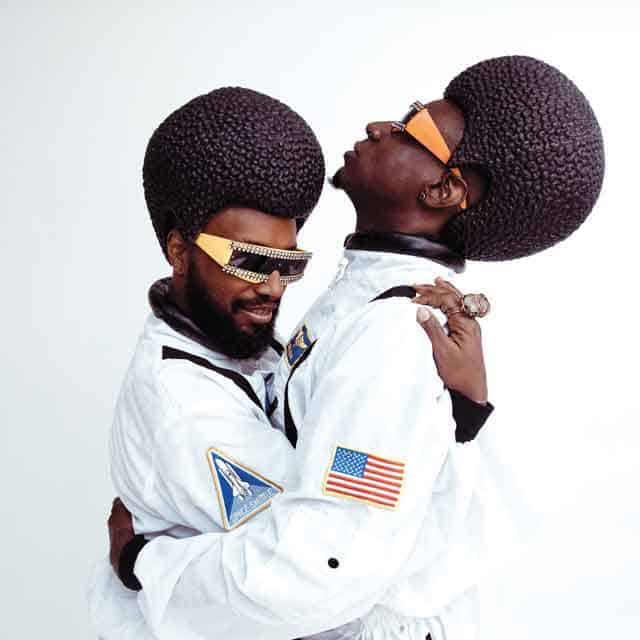 "We do view love as a revolutionary expression, especially in these times," says Monstah Black. "What happens up top trickles down. All that negativity and hate comes down. What we wanted to do was to present something in opposition to that. Love. Love for our brothers and sisters. We do view love in this current climate as a revolutionary act."
From its inception in 2010 the Afterglow Festival instantly became an important cultural institution in Provincetown, widening the creative pipeline that exists between New York and the Cape tip and providing the town with new energy from the best acts of downtown cabaret and alternative performance as well as introducing those performers to Provincetown and encouraging them to experiment and form their own relationships with the oldest continuous art colony in America.
That being said, it is particularly exciting for the Illustrious Blacks to come to town as they've taken inspiration from Prince, David Bowie, Grace Jones, Boy George, George Clinton, and Parliament Funkadelic, combining their own talents and vision into live shows that wow and amaze. Their 2017 EP
NeoAfroFuturisticPsychedelicSurrealisticHippy, featuring tracks like "Blast Off," "Red Light," "Delusions of Grandeur," and "Black Like Jesus," received critical acclaim. Their exploration of Afrofuturism, where the cultures of Africa and the African diaspora are incorporated into science fiction, fantasy, and stories of the future, has made them artists that create work rooted in a specific viewpoint offering a universal message that expands the mind. The concepts within Afrofuturism in part stem from the exclusion of black people from stories of the far off future resulting in interpretations of a place and time with no people of color, one of the reasons why Nichelle Nichols portraying Captain Uhura on Star Trek was both important and revolutionary at the time, as it soothed some of the hurt of exclusion while also providing hope.
Monstah Black and Manchildblack are encouraged by the artistic scene in New York, even with the challenges of out of control housing prices, something that plagues the nation's creative capitals, including Provincetown. New York City's creative community is vital to the one here in Provincetown as the symbiotic relationship has existed for over 100 years and counting. New York may set the trends, and its size can create bold new ideas, but Provincetown provides a place of respite to work and imagine in a much different setting as well as to maintain a crucible of ideas where artists of different genres can influence and learn from one another. And just like New York, Provincetown has some grit and continues to fight to maintain its artistic import. Perhaps it's the mantra of the word "resist," but the Illustrious Blacks see a renewed energy in New York, which in turn is a very good sign for Provincetown.
"New York has gone through a lot of changes, especially Bed-Stuy, because of gentrification," says Manchildblack. "There are people here producing great works of art, but are struggling to stay afloat here. It plays a part when you working. There's been such big changes in our neighborhood over the past eight years. We're just happy to continue to live and work here."
"Much of what we create is because we come from a place that supports people to still be creative," says Monstah Black. "We couldn't do this if we came from somewhere else. There aren't many places like New York—maybe Berlin—that still support creative exploration like here, despite the changes. I've definitely noticed the creative response from artists in New York getting stronger. Artists are on the rise again and pushing boundaries here."
The Illustrious Blacks present Hyperbolic at the Afterglow Festival at the Art House, 214 Commercial St., Friday, September 14 at 9:30 p.m. Tickets ($30) are available at the box office and online at ptownarthouse.com or afterglowfestival.org. For more information call 508.487.9222.