]
by Steve Desroches
Since Election Day 2016 there are many in America who have had a sinking feeling in their gut accompanied by a bit of an anxious flutter. The vicious chaos that started almost immediately after Inauguration Day just increased the extrasensory experience of these strange days. Whatever guide people use to decipher the times frequently fail to provide an accurate translation where the actions coming out of Washington, DC resemble the final scene in Raiders of the Lost Ark, except you can't close your eyes and pretend the vengeful specters aren't flying all around you.
Regardless of your perspective, interpreting modern day America requires a whole new language. Now, almost two years since Trump's election, the first wave of artistic responses is cresting and as has been evident this past summer, is crashing down in various forms here in Provincetown.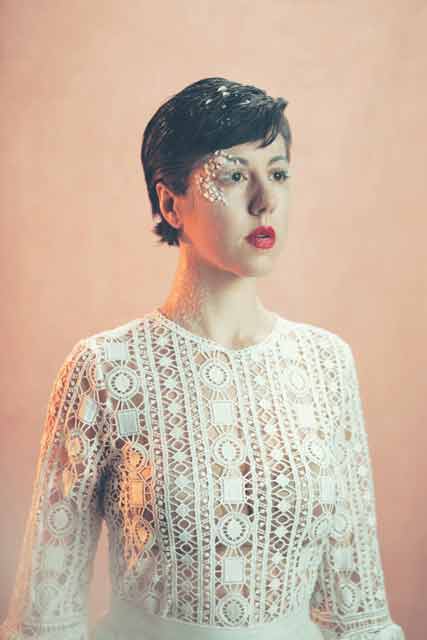 As summer wanes, September brings a new cultural landscape to Provincetown that includes the annual Afterglow Festival, which brings an infusion of some of the edgiest, most compelling, and inventive performers from New York and beyond. And one of the most highly anticipated shows of Afterglow this year draws from across the bay in Boston with Ruby Rose Fox and her latest, critically acclaimed show Salt, based on her album of the same name that is deeply rooted in these troubled times.
"I had started a record and then Donald Trump got elected," says Fox. "And then things started to unfold in this surreal way having a reality TV star as our president. So I started the record over."
Wherever Fox performs, it registers on the Richter scale. Critics and audiences marvel at her shows while at the same time struggle to define them. A mйlange of music, cutting-edge technology, performance art, and social commentary, Fox continues to maneuver a changing cultural and political landscape in a state of independence. Subjectwise, Salt is a subversive one-woman pop opera. Taking its name from the Biblical story of Lot's wife, who is turned into a pillar of salt for looking back at the doomed city of Sodom despite warnings by two angels not to do so. Addressing the #metoo movement, the mass shooting crisis, and the events in Charlottesville last summer in her work, Fox asks the question: Do we look back or keep focused on the future to overcome hate, division, and unbridled corruption?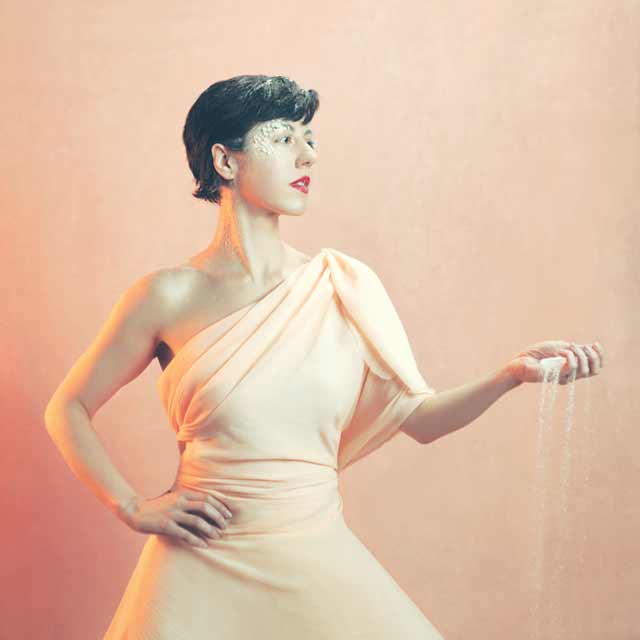 While Fox hovers like a drone over the swirl of confusion that's become American discourse, she also takes us to the edge of the latest in technology with her recordings, some of which appear in some form during the show. To record Salt, Fox used binaural recording microphones, also called ASMR (Autonomous sensory meridian response) microphones. Those sensitive to the effect will feel a corresponding tingling, creating a unique sonic experience.
Listening to the album Salt should be done via headphones for the full effect, says Fox, adding that the work is not something you'd listen to while jogging, but for the artistic expression within.
Fox discovered the technology on YouTube, where there are other ASMR artists posting their work in a deep community not widely known. Fox adds that if virtual reality ever really takes off, ASMR will not be far behind. It's an introduction to the new and cutting edge that has become a hallmark of the Afterglow Festival as it helps to keep Provincetown a welcoming home for those looking to experiment and showcase their results. It's something artists who come to town relish, as it can be difficult to find venues to book you when your area of performance isn't easy to label.
"I think I don't fit into a box," says Fox. "A lot of the performance world doesn't quite know what to do with me. It's a struggle to find allies. I've been self-producing most of my shows. That's why I'm so looking forward to the Afterglow Festival. I'm just showing up to perform."
This appearance at the Afterglow Festival marks Fox's Provincetown debut, a place that, despite living in the Boston area since she was 14 and attending Emerson College, she's never been to. Her excitement for coming to Provincetown in general, and for the festival, is palpable both to present her work in town with an extensive and important performance legacy as well as to meet her fellow Afterglow performers as they develop a relationship with the town on their own. Fox's name has been humming around town since she performed at Wellfleet Preservation Hall this past summer and at the Cotuit Center for the Arts last March, both of which were widely hailed by audiences to such a degree the buzz is still substantial. Fox says Cape Cod is an artist's delight.
"I just have to say there is really something special about the Cape," says Fox. "The audiences are different than in Boston. There's a deep appreciation for art, much in the same way as in Europe, where it's such a part of life. There's an appreciation for new stuff. I love the Cape."
Ruby Rose Fox presents Salt at the Afterglow Festival at the Art House, 214 Commercial St., Saturday, September 15 at 9:30 p.m. Tickets ($30) are available at the box office and online at ptownarthouse.com. For more information call 508.487.9222.