]
by Rebecca M. Alvin
Few stories of true crime have garnered more speculation than that of the murder of Andrew and Abby Borden. The Fall River, Massachusetts, couple were murdered in their home in 1892, but public fascination with the case—still going strong more than 125 years later—centers on three main factors: the horrific nature of the murder, with both victims bludgeoned to death with an axe to their faces; the fact that it is still an unsolved crime; and the trial and eventual acquittal of Andrew Borden's daughter Lizzie, the prime suspect.
Books, television movies, plays, short stories, even an opera have been made to explore the possibilities of who killed the Bordens and why. More often than not, the focus is on why Lizzie did it, even though she was never proven guilty of the crime. So naturally, especially around here, so close to where the dual homicide happened, there was skepticism about this latest film, produced by Massachusetts native, actress Chloe Sevigny, who also stars as Lizzie.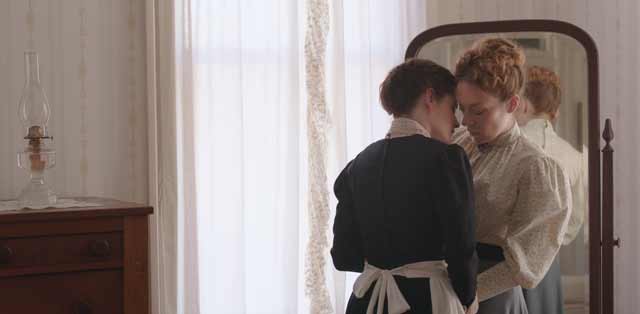 Directed by Craig William MacNeill, Lizzie is actually a rather quiet, tense film up until the last 20 minutes. Although of course it is about the murders, and the film is structured around that event, the circumstances of gender, class, sexuality, and ethnicity at the turn of the century in New England are given equal weight to the actual crimes. The relationship that develops between Lizzie and her maid Bridget (Kristen Stewart) is where many of these themes come to light. Bridget, whom the rest of the family calls "Maggie" (because she is Irish and presumably their specific names didn't matter), is a new maid who becomes friendly with Lizzie, although she appears hesitant to do so. When Bridget is repeatedly raped by Mr. Borden in her room at night, her quiet reserve takes on a more tense, stifled quality, as though she is constantly holding in her pain and powerlessness. In fact "stifled" is an apt word to describe all of the women in the film, as they all must continually watch their tongues, control themselves in public, and hide their emotions.
When the relationship between Lizzie and Bridget turns passionate, it is less a romantic relationship and more a release from what both women—in vastly different ways— have to keep inside as a matter of everyday reality. Sevigny portrays Lizzie as an intelligent, upper-class spinster who suffers from seizures from time to time and bristles at her father's ability to control her destiny. But while Bridget is completely powerless as a lower-class, immigrant woman living in the Bordens' house, Lizzie has a more entitled air to her as the daughter of a wealthy landowner. This makes the women's relationship an inherently unequal one, and the love scenes between the two women do reflect this.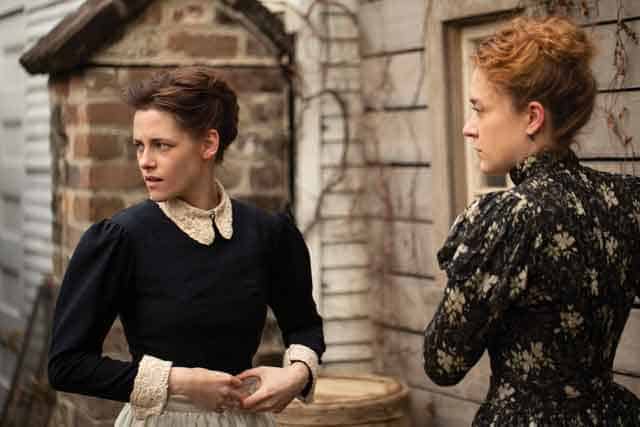 Jamey Sheridan as Lizzie's tyrannical father Andrew is not exceptionally nuanced, nor is Fiona Shaw as her stepmother Abby, but this in no way takes away from the horrific manner in which they are murdered on screen. In the roughly 90 minutes that lead up to the murder, we are put into a kind of trance as the maddening reserve that keeps all the characters locked within their prescribed roles in society feels unrelenting. The pattern is disrupted only on a couple of occasions where the loss of control, such as Lizzie's epileptic fits, or an emotion, such as Bridget's grief over her mother's death, comes through. The murder itself, on the other hand, is a burst of primal violence that succeeds in shocking us even though we've known all along how the Bordens were murdered, because it comes after such a long period of polite discomfort, altering the tone of the film and one's experience of it as witness.
Lizzie is a tense, brooding film that contains a compelling characterization of the infamous Lizzie Borden, and it does elicit a strong emotional response to violence, rather than a cartoonish horror movie version, giving the film greater dramatic weight.
Lizzie is showing at Waters Edge Cinema, 237 Commercial St., 2nd Fl., Provincetown, Monday, October 8 through Sunday, October 14, daily, except Thursday & Sunday at 3, 5:15 & 7:30 p.m. On Thursday, it shows at 3 & 5:15 p.m. and Sunday it shows at 5:15 & 7:30 p.m. For tickets and information go to the box office, call 508.487.3456, or visit provincetownfilm.org.