]
by Steve Desroches
For the better part of a decade Gerri Cannon worked for marriage equality and transgender rights in New Hampshire. As part of her volunteerism for LGBT equality, she independently lobbied members of the New Hampshire House of Representatives, which, despite being in a state with a small population is a massive 400-member chamber. To pass any legislation can be a Herculean task when trying to achieve a majority, but ultimately, Cannon and her many fellow community-based activists were successful as New Hampshire achieved marriage equality before the Supreme Court ruling that brought it nationwide, and the Granite State also has anti-discrimination protections for its transgender citizens.
Through her work, Cannon learned quite a bit not only about the legislative process and the machinations of democracy, but also that the people who occupy the House in her state were just ordinary people. She also came to think that she could do that job better than some of the representatives she met. And now Cannon is a candidate herself, running as a Democrat for a seat in the New Hampshire House, where she hopes to join colleagues to tackle the issues facing her state. If elected, she would also be the only transgender person to sit in the State House in Concord. Her experiences as a transgender woman are not what she considers to be her defining aspect of her as a candidate, but it is an attribute through which she's learned to stand up for herself and be a stronger leader and representative of her entire community.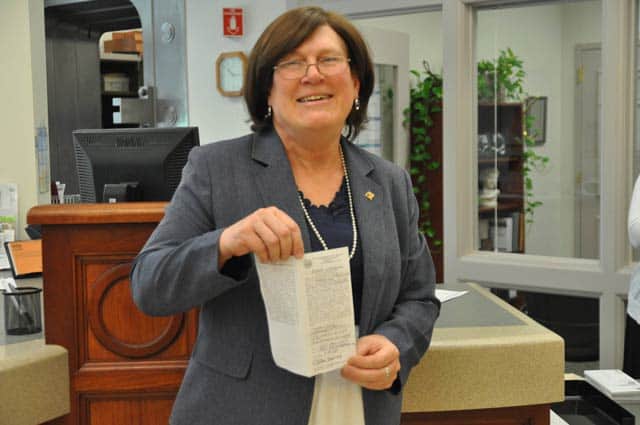 "It makes me a stronger person," says Cannon. "I don't walk away from a fight. We know progress doesn't happen overnight. You have to build a team and work on it together. It's what you need to do in the legislature. I know how to do that."
Regardless of the results on November 6, Cannon has already made history. Last November Cannon was elected to the school board in her hometown of Somersworth, a small New Hampshire city of about 11,000 in Stratford County. With that victory, she became one of eight transgender people elected to public office in 2017, a big year for transgender candidates with the election of Danica Roem in Virginia. Roem became the second out transgender person ever elected to a state legislature after Stacie Laughton was elected to the New Hampshire state legislature in 2012, although she resigned shortly thereafter when her criminal past became public. (Althea Garrison was the first transgender woman when she was elected to the Massachusetts state legislature in 1992, but she was not out on election day.)
Cannon was encouraged to run for the school board by Somersworth mayor Dana Hilliard, a gay man who is also the principal of Somersworth Middle School. In part, Hilliard thought it would help with name recognition, says Cannon, as she began to consider her run for the legislature. With five candidates for four seats, Cannon came in fourth, beating the mayor's own partner for a seat. In September of this year, Cannon progressed out of the primary and now is running for one of three seats in her district against seven other candidates. She's spent the past weeks knocking on doors and talking to voters making her case and addressing issues like education, health care, a living wage, and many other issues. But she makes certain to note that she will also be an advocate for LGBT issues. She's running for state representative much in the same way she did for the school board. Person to person.
"I did not run as a transgender candidate," says Cannon. "I ran as a person, a person with a couple of college degrees and a lot of experience in industry and with a lot of volunteer experience. That came across well."
Representation is critically important in government, says Cannon, so that when issues facing your community come up there can be a voice in the room to speak on its behalf. Diversity in those in elected office was already on a trajectory toward progress, but has received a jolt of energy in the Trump era. That includes transgender politicians. According to Elliot Imse, senior director of communications at the Victory Fund, a Washington, D.C., based organization that works to support LGBT+ candidates nationwide, since last year there have been 15 transgender people elected to public office, with Kathy Otterstein and Liz Lyke winning seats on the Fairbanks, Alaska, city council just in early October. And of course, Christine Hallquist made history when she won the Democratic nomination for Governor of Vermont. Joining Cannon are three other trans candidates running for state legislatures. It's a monumental year for transgender representation in our political process. While still relatively small, it's a big leap toward change.
Cannon's campaign has been going well, she says as she connects with people in her district, and she's earned endorsements from the Victory Fund and former President Barack Obama. There's been only one incident, when one of her opponents referred to her as "it." While he offered a lukewarm apology, Cannon says the large amount of support for her in response was a pleasant surprise. And while she will always be an advocate for the LGBT community, she's largely focused on the wide array of general issues on the minds of voters in her district. She's taking a quick break from her campaign to come to Provincetown to speak at Fantasia Fair, the country's oldest transgender event founded in 1975, to share her experiences as a transgender woman running for office and the positive effect it has on our culture and democracy.
"Being open about who I am has been so important," says Cannon. "People see I wasn't as dangerous as people thought transgender people were. I'm seen for who I am."
Democratic New Hampshire state representative candidate Gerri Cannon speaks on Thursday, October 18 at 1:30 p.m. at the Crown and Anchor, 247 Commercial St., Provincetown. For more information on Fantasia Fair visit fanfair.info.