]
The holidays are here! It's time to celebrate! There are all kinds of holiday traditions here in Provincetown all season long, from the lighting of the Pilgrim Monument and the Lobster Pot Christmas Tree to the Polar Bear Plunge followed by fireworks over the harbor on New Year's Day. But for many it just isn't the holidays until they've seen the Dina Martina Christmas Show, a holiday extravaganza that puts Radio City Music Hall's Christmas Spectacular to shame. Nothing will leave you feeling the spirit of the season, and slightly confused, more than the Dina Martina Christmas Show! Ill-fitting costumes, dump-truck choreography, and a voice that shatters the calm of any silent night are all year-round hallmarks of a Dina Martina performance, but watch what happens when she adds a little Christmas magic to her surreal stage show. It's so off the charts they had to make a new chart! Dina took a little time between polishing her jingle bells and watering her poinsettia with Tab to talk about her classic Christmas record The Dina Martina Christmas Album, her favorite holiday memories, and why she just loves this "delightful little ashtray of town" so much!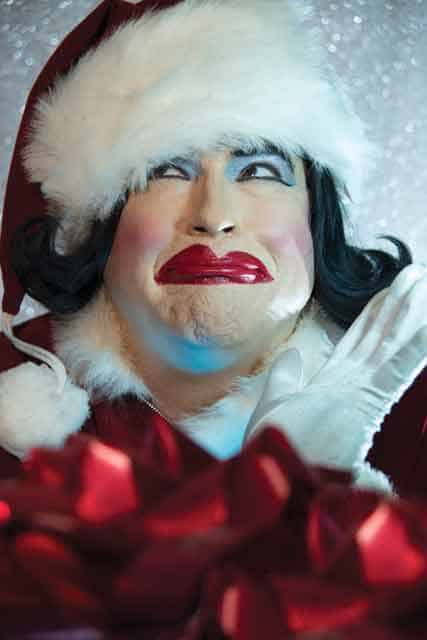 Provincetown Magazine: Your Christmas shows are the talk of the town wherever you perform each holiday season. Do you recall the first Christmas show you ever did? What can people expect from your show this year?
Dina Martina: The very first Christmas show I did was very minimal, or "bare-bones," as some would say. I sang "The Little Drummer Boy" for about 45 minutes and I didn't really have a costume budget, so I just wore a pair of nylons and that was it. I used lots of flamboyant hand gestures to make the audience think there was a lot more going on than there actually was. But for this year's show I'll definitely be clothed. People can expect that, plus…gosh, I don't even know. At the very least, they can expect the zest and vigor that keeps us all young during the holidays.
PM: What are some of your best Christmas memories from childhood?
DM: I've always loved the smells of Christmas that you don't smell any other time of year. The smell of my mother's perfume. She wore Tabu by Dana. I also loved it when my Uncle Omar would come over and play fetch with me. He'd take off one of his dirty socks and wad it up and throw it across the room and I'd run after it and bring it back. That was another one of those "holiday smells," I guess. Uncle Omar wasn't really my uncle; I'm not really sure what his connection to the family was.
PM: What's the best Christmas present you've ever received? What's the best Christmas present you've ever given?
DM: The best present I ever received was pinworm, from my adopted daughter, Phoebe. I loved it so much because it gave me a chance to focus on something other than my scabies. And the best gift I ever gave is probably a toss-up between two gifts I gave to Phoebe for her eleventh birthday: either the chemical peel or the feet binding.
PM: The Dina Martina Christmas Album is right up there with other holiday classics like A Perry Como Christmas, Johnny Mathis: Merry Christmas, and Ray Conniff and the Ray Conniff Singers: We Wish You A Merry Christmas. What was that recording session like? Do you have a favorite track on that album?
DM: That recording session was epic. It was a long rainy weekend in Philly, and for starters we had the Wrecking Crew backing the whole thing, but then all these people kept dropping in left and right to guest on it, like Terry and Jimmy Jam and Sly & Robbie, the Kelly Family, you name it. We stayed up for days and ate pork and beans with sardines and smoked More menthols from both ends. My favorite track is Phoebe's song, "Fun in the Snow" because her vocals are so tender and juicy.
PM: It's so great to have you back in Provincetown for the holidays, especially since this past summer's show was so fabulous. What do you love about Provincetown that has you coming back each year?
DM: There's so much I love about Provincetown. I love the saltwater fudge. I love the single rowboat paintings. I love the wide range of entertainment showcased there, and that you can see different acts performing together, like Varla Jean Merman and Peaches Christ, or Merle Haggard and Tears for Fears. The first show I ever saw in Provincetown was Fatty Arbuckle and the Pointer Sisters at the top of the Pilgrim Monument.
PM: 2019 is just around the corner. Are you making any resolutions and do you have any hopes and wishes for the New Year?
DM: I don't make New Year's resolutions anymore because I always gained them back, but I do have predictions for next year. I predict that wireless extension cords will be a thing, as will tampons without strings. A lot more streamlined, you know? I also predict that pop-up funerals will come into vogue. They'll pop up in empty storefronts in malls. Viewings and respects being paid, right next to Forever 21. These predictions were originally for 2016 from a psychic I met once, but they didn't come true, so I figure I can make them my predictions now. They're sure to be winners at some point, you know? Just like lottery numbers. I also predict someone will develop an app that gets rid of skin tags. God, at least I hope someone does.
The Dina Martina Christmas Show is on Sunday, December 30 at the Crown and Anchor, 247 Commercial St., Provincetown, at 7:30 p.m. Tickets ($30) are available at the box office and online at onlyatthecrown.com. For more information call 508.487.1430.