]
by Steve Desroches
Only in Provincetown. Whether you've lived in Provincetown your whole life or maybe only spent a day here, chances are you've seen a sight or heard a story that had you shaking your head and chuckle those three words. And indeed, Provincetown is home to many legendary yarns. How could a town this eccentric with such a storied past not be? From the famous to the infamous, the funny to the downright bizarre, Provincetown could produce Encyclopedia-Britannica-sized volumes of wild legends. And if they truly are only in Provincetown type stories, where better to collect and store them than here, an effort that the Provincetown Public Library is taking on as it seeks to expand the holdings of their archives to protect, preserve, and interpret our local history, including those aspects that make this town as far out as you can get.
One of the craziest tall tales of all actually had a tail. On Christmas Eve back in 2005 then Provincetown resident Ben Thornberry became worried when his beloved orange cat Ohio hadn't returned home. In 1992, Thornberry was working as a photojournalist traveling the country covering the presidential election that year and he had found two little kittens abandoned on the side of the highway in Missouri when he stopped for a impromptu bathroom break right near where the Ohio and Mississippi rivers meet. Thus he named the poor little kittens after the geographical spot, eventually bringing them back to Provincetown, giving Mississippi to his good friend and neighbor at the Figurehead House Jennifer Cabral and keeping Ohio for himself.
While Mississippi was a homebody, Ohio liked to roam and quickly grew to become a neighborhood cat, going from door to door grabbing snacks where he could or bumping up against someone until they scratched his head. Eventually he'd spent a night or two at a neighbors, becoming good company for several homebound seniors and a source of joy to all who loved him. That's why when he went missing it became a source of worry for all in that East End neighborhood as those that cared for Ohio hung "missing cat" posters all over town. What happened next began a several month odyssey that was so strange, so bizarre, and ultimately hilarious, that the news clippings and ephemera of the ordeal kept by Cabral are headed for the archives at the library to be preserved for the ages. It turns out Ohio had been kidnapped.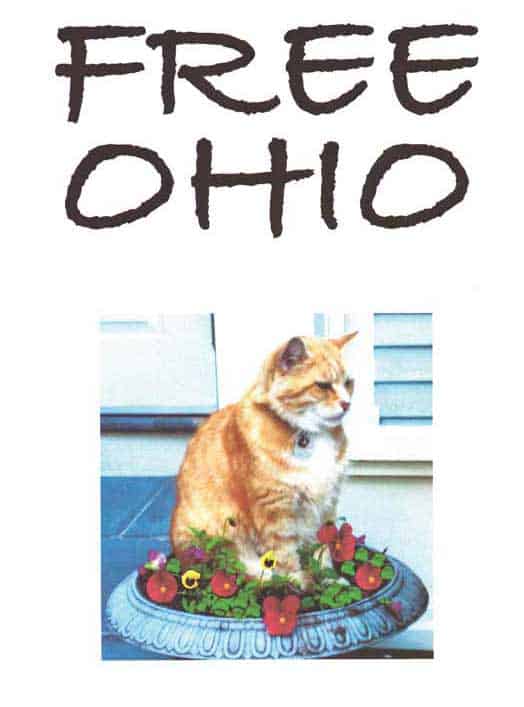 "It was comical," laughs Cabral. "We wanted him back for sure. That part was serious. But it was funny. Look, it's Ptown in the winter. It's just one of those things. But you know, don't steal someone's f**king cat."
After the cat had been missing for a couple of weeks, Thornberry received a letter in the mail. The message was anonymous and strangely crafted. The handwriting on the envelope could have been that of a serial killer. Whoever wrote it said they believed Ohio was not properly taken care of and that he was now on a "three acre farm near Harwich." Those looking for Ohio were incensed. So began the Free Ohio movement, largely organized by Thornberry and Cabral. They held Free Ohio meetings at the Squealing Pig, where the beer flowed freely and the sound system played songs by the Ohio Players or Crosby, Stills, Nash and Young's "Ohio." T-shirts were made, as were new posters, this time demanding Ohio's safe return. The saga took an international jag, too. A native of England, Thornberry's sister had recently been elected to the House of Commons. When a man in the West End found an orange cat on his steps he didn't know Thornberry's address or number, but he knew his sister was a member of Parliament, so he rang London, pulling her out of meeting to say he think he had found Ohio. While it was a different cat, for a time Ohio's whereabouts became the business of the British government.
As efforts to get him back increased, so, too, did the anonymous letters saying Ohio was not going to be returned. Eventually, several other anonymous letters came identifying the thieves: two women from New Jersey who owned a condo across the street took him. Ohio was not in Massachusetts, but New Jersey! Confused geography aside, a quick Internet search later found that the couple worked in real estate and their photos were taken off their website and wanted posters were made and hung around town. Ohio had become a folk hero and as such the story quickly illuminated the fault lines in Provincetown. Year-rounder versus seasonal resident, the old bohemian ways versus the uptight, nouveau-riche newcomers arriving and passing judgment and telling everyone what to do. The tale of Ohio struck such a chord media coverage zipped down the Cape over to Boston and then eventually to NPR and the news wires. It went viral long before social media. Orders for "Free Ohio" t-shirts came from near and far, and a fundraiser was held to raise money for a road trip to go to New Jersey to get Ohio.
The Provincetown Police Department intervened and negotiated with police in New Jersey. And then on one bright, cold February day Ohio was unceremoniously dropped off at the police station on Shank Painter Road, ending his incarceration in the New Jersey suburbs and reuniting him with Thornberry. Sadly, a year later Ohio was killed after being struck by a car on Commercial Street, so perhaps the thieves had a point. But nevertheless they became so unpopular in town, and in their condo association, they sold their unit and never returned. Thornberry moved back to England and Mississippi passed away about 7 years ago. And the ballad of Ohio the Cat entered the cannon of Provincetown folklore.
"I vaguely remember Ohio the Cat, but of course we'd love to have the collection in the archives," says lead librarian Nan Cinnater. "Anyone who wants to donate materials that tell the history of Provincetown should get in touch with me. It is very important that the donation have direct relevance to the history of Provincetown. Scrapbooks, photos, letters and diaries are particularly desirable. We do not need books, but we are interested in rare local periodicals, homemade videos and DVDs, even flyers and newsletters."
Cabral still has a box of "Free Ohio" t-shirts. And she offers a savagely biting postscript. A year or so later she received a message from a woman visiting town who wanted to buy 10 "Free Ohio" t-shirts. Cabral gladly sold them, but inquired why this woman wanted them. The buyer confessed that she was friends with the cat-napping duo and was having a dinner party where all the guests would be wearing them to surprise them when they arrived. No word on how that all went.
"Say what you want, but it was a real grassroots movement," says Cabral. "We organized, were persistent. We were heard, not just about Ohio, but about the culture of the town. It was also hilarious."
If you have materials you would like to donate to the archives at the Provincetown Public Library, contact the lead librarian Nan Cinnater at 508.487.7094 or [email protected] Please do not drop off materials without prior approval.