]
by Steve Desroches
Top Image: Still from the Jamaican classic The Harder They Come.
If you ask many Americans what they know about Jamaica, chances are they'll mention Bob Marley, the Caribbean country's bobsled team, and the fastest human in the world, Usain Bolt. But there is, of course, so much more. We surely know that here on the Outer Cape, which is home to a large and growing Jamaican community. As has been the case throughout Provincetown's history, each group that arrives on its shores adds to the diverse tapestry of the community. Immigration provides the rich gift of different perspectives and new energy, something that has made our country stronger and more prosperous, and in the case of Provincetown, more creative, dynamic, and engaging. The culture and artistry of Jamaica, and in turn its influence on Provincetown, will be celebrated this weekend at the Jamaica on Film festival.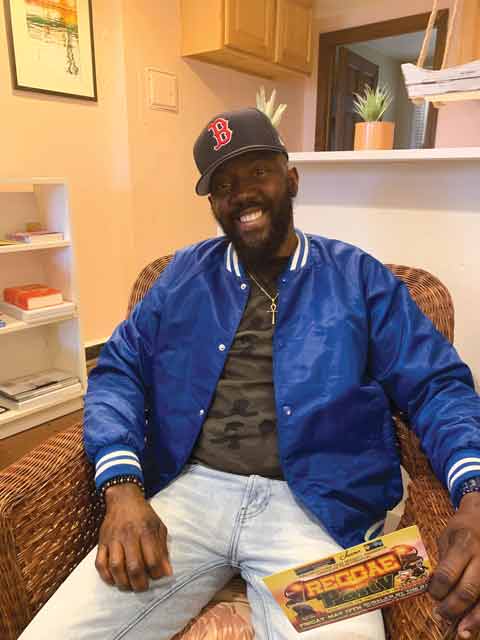 Founded in partnership between the Provincetown Film Society and local filmmaker Kevin Hume, the Festival brings not only screenings of films by and about Jamaica and its people, but also dance parties, Jamaican cuisine samplings, and panels featuring the some of the most prominent voices in Jamaican cinema and culture.
Now a resident of Truro, Hume came to Provincetown in 2000 to work at the Lobster Pot from his home in Kingston, the bustling capital of the island nation of almost three million people. He laughs now when he remembers arriving on the Cape tip in February. He'd never seen snow before, and as the plane was landing in Boston, he thought all the trees were dead as he glanced out the window. Those first few months were cold and boring, but as the tourist season arrived Hume saw how hectic life can get out here, which is now home to him and his family, including Aziza, his daughter, who is assisting him in presenting the festival. He still works at the Lobster Pot, but also makes films and paints, citing PTV's Amy Davies and artist Bobby Cardinal as friends and mentors. After several self-produced screenings, Christine Walker, the executive director of the Provincetown Film Festival and CEO of the film society, reached out to him to work together to provide a larger Jamaican cultural event in town. And the festival was born.
"I hope that everybody gets to learn the culture a little better," says Aziza, who is a student at Cape Cod Community College studying biology with hopes of being a neurologist. "People only hear about Bob Marley and this and that. People will understand more about us, they'll have a better understanding of where we come from."
"I always say Jamaica is the capital of the world," says Hume. "Jamaica has given the world so many things. We are more than sunshine, beaches, and parties. This is to make people know the diversity of Jamaica."

Having gained its independence from the United Kingdom in 1962, Jamaica sputtered to rid itself of colonial ways, and throughout the 1970s it developed a keener sense of itself as it found strength in self-determination and in combating imperialism, explains Hume. It's from that time period that the most famous Jamaican film The Harder They Come came. Starring Jimmy Cliff, who also recorded the film's iconic soundtrack, the 1972 film gave voice to a nation long oppressed by its colonial rulers, inspiring artists of all kinds in Jamaica. Directed by Perry Henzell, the film will be screened Saturday night in the festival. Also screening at the festival is Ghett'a Life, a 2012 film by Chris Brown about a teenager striving to be an Olympic boxer; Storm Saulter's Sprinter, a film just released in the United States, about a young track and field star trying to reunite with his mother who is living in America illegally; and H-2 Worker, a 1990 documentary by Stephanie Black about abuses faced by workers from Jamaica and other Caribbean nations who came through the H-2 visa program to work in Florida's sugar industry. All of the directors, as well as Sprinter star Shantol Jackson, will be in attendance, as will legendary dub poet, activist, and radio talk show host Mutabaruka.
Hume himself came to the United States on a H-2B visa, a program that is vital to the economy of Cape Cod and the Islands. But it is also an aspect of the U.S. immigration system that continually faces criticism for its structure and lack of protections for workers, especially those on H-2A visas, which is specifically for agricultural work. The Southern Poverty Law Center, an American civil rights legal advocacy organization based in Birmingham, Alabama, that continually monitors the program and records abuses, released a report in 2013 titled "Close to Slavery: Guestworker Programs in the United States." The majority of documented cases are in the Midwest and the South, but nevertheless it's the same program our local economy relies on, making H-2 Worker particularly important (there are no cases of abuse on Cape Cod or the Islands documented in the SPLC's report).
Hume says his own experiences on the Outer Cape and coming through the H-2 visas program has been positive, adding that the Lobster Pot, where he has worked for 17 years, has been great, as has the community at large. It's the spirit of inclusion and encouragement that's not only given Hume economic opportunities, but also artistically, as to date he has made 10 films, including Dog and Bone and Kingston, which will screen as part of the shorts program at the festival.
"Provincetown has very nice people that have supported me a lot," says Hume. "People here are interested in everything we do. It's a very accepting place. America is the land of opportunity. You can achieve things here. I believe this."
In addition to film screenings, the Jamaica on Film festival presents a Reggae Party on Friday, May 17 at Bubala's by the Bay, 183 Commercial St., with an outdoor party from 6 to 9 p.m. and indoor from 9 p.m. to 1 a.m., featuring DJ Jagga. Tickets are $20 at the door. On Saturday night Local 186, 186 Commercial St., hosts a Dancehall Style Party with DJ Gallingo and DJ Chris from 9 p.m. to 1 a.m. Admission is $10 at the door. For passes, full festival schedule, and information call 508.487.3456 or visit provincetownfilm.org.