]
David Alan Grier and Dale Elliott in Sprinter.
Images Courtesy of FilmRise.
The opening event for this first year of the Jamaica on Film festival at Waters Edge Cinema is a screening of the film Sprinter. The film is about making choices in difficult situations. It centers on a young high school track star Akeem Sharp (Dale Elliott) who has the opportunity to pursue his future dreams, but finds himself distracted by his brother's poor decisions and by his own resentment of the decisions his mother (played by Lorraine Toussant) made years ago when she left for economic opportunities in California. The film also features actor David Alan Grier (In Living Color) and was executive produced by Will and Jada Pinkett Smith. Director Storm Saulter and actress Shantol Jackson will both be here in Provincetown to present the film and answer some questions after the screening, but Saulter took some time to answer some of our questions remotely from Jamaica.
Provincetown Magazine: What kind of film industry is there in Jamaica?
Storm Saulter: Jamaica has produced some cinematic gems over the years, starting with The Harder They Come by Perry Henzell. We have solid crews who work on many local and international commercial and film/TV productions, and depending on the year, we make one to three local feature films. In recent years, though, and especially with the formation of JAFTA (Jamaica Film and Television Association), production of original local content has ramped up. The work is getting better on all levels and it's generally a very exciting moment for Caribbean Cinema.
PM: How did you get your start as a filmmaker?
SS: Every community has its storytellers, that person who holds court and knows exactly what parts of the story to dramatize and has the perfect timing to deliver a story for maximum impact. I always identified with that character, but my medium was visual art. Photography led to an interest in cinematography, and ultimately directing. I left Jamaica as a teenager to attend the Los Angeles Film School, worked hard as a production assistant, and eventually was taken under the wing of Director X, who encouraged me to move to New York. So I did. After a bit of a stint bouncing around the U.S., getting experience, I returned to Jamaica and linked up with some fellow young filmmakers and started to build a local film movement that is now truly blossoming. Exciting times.
PM: How did you come up with the idea for Sprinter?
SS: Firstly, Jamaican sprinters have been dominating the sport for at least the past decade, so I knew global interest was at a peak when the story started to percolate. Secondly, I was trying to process the recent death of my mother, and so I was interested in developing a character that had lost his mother, but if he could only run fast enough, perhaps he could get back to her. Perhaps he could bring his family back together. And lastly, I have always been interested in characters at that moment where they are going from being teenagers to young adults, hormones raging, trying to figure out who they are. Films like Y Tu Mama Tambien [by Alfonso Cuaron] and Dazed and Confused [by Richard Linklater] were inspirations just as much, if not more than any sports related films.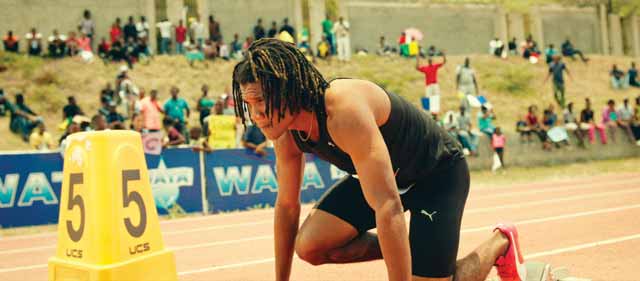 PM: Something that is interesting in the film is this situation of a parent leaving to work in the States. How common is this in Jamaica and is it part of your own experience?
SS: Thankfully, I had both my parents throughout my childhood and teen years, but almost every person I knew had at least one parent, of not both, working overseas and supporting the family back in Jamaica. It is extremely normalized, and nobody really seems to look at the emotional strains this separation can cause individuals and families. There is a lot of trauma that remains unaddressed in our society. Hopefully, telling a more nuanced story of a modern Caribbean family can help to open up these discussions.
PM: When and how did Will and Jada Pinkett Smith get involved with the project as executive producers?
SS: Our producer, Rob Maylor had a working relationship with Overbrook [their production company] and was able to get the script in front of their team. Will and Jada got involved as soon as they read it. They were at a moment, post #oscarssowhite, where they wanted to put their energy and influence behind new, emerging cinematic voices. Our story was solid, we had the participation of [Jamaican Olympic champion sprinter] Usain Bolt, and I think they could just tell this project had legs (pun intended), so they jumped in.
PM: What types of stories attract you as a filmmaker?
SS: I'm attracted to stories that, as a rule, break stereotypes of people of color. I like layered stories that impact on many levels and that allow for great visual storytelling.
PM: Have you ever been to Provincetown? Do you know much about it?
SS: My parents brought me there once when I was very young. I remember it as a beautiful seaside town. I look forward to sharing my work with the folks there. Bless.
Sprinter will screen as part of the Jamaica on Film festival at Waters Edge Cinema, 237 Commercial St., 2nd Fl., in Provincetown, on Friday, May 17 at 4 p.m. Saulter and female lead Shantol Jackson will attend. Tickets for the screening are $10. For passes, full festival schedule, and information visit provincetownfilm.org.