]
by Steve Desroches
Fresh off of filming the dark comedy The War of the Roses, which reunited her with her Romancing the Stone co-stars Michael Douglas and Danny DeVito, Kathleen Turner garnered rave reviews and a Tony Award nomination for her turn as Maggie in the 1990 Broadway revival of Cat on a Hot Tin Roof. According to the actresses who've played them, Tennessee Williams wrote some of the best roles for women on the stage; complex, nuanced, and with depth. Turner agrees. Over the course of her career to date Turner celebrates the theater for providing the opportunity for mature women to play rich characters. Hollywood tends to cast older women as boring archetypes, says Turner—the evil mother, the bitter ex-wife, the sad and lonely widow. But the theater is just as much of an adventure as swinging through the jungle in search of a priceless emerald, and Turner has wowed audiences with turns as Mrs. Robinson in The Graduate, Martha in Who's Afraid of Virginia Woolf, and more recently as the title role in Mother Courage and Her Children and in Joan Didion's The Year of Magical Thinking, a role she described as the most challenging of all. But thoughts of Maggie come whirling back, and Turner's iconic voice growls with excitement at the memory of bringing to life one of Williams' legendary characters.
"It's a roar of a script," says Turner. "When you first read it, it's, oh my God, it's all Maggie in the first act. Then you read more and it's all Maggie! It's a big bite to try to swallow!"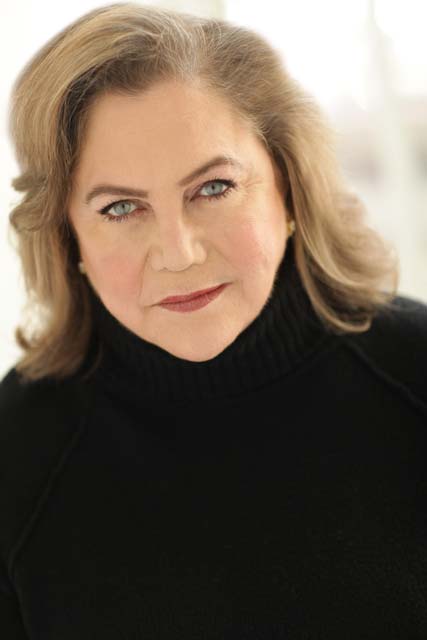 Turner takes to the stage at Town Hall this Saturday night at the Tennessee Williams Theater Festival Gala to reminisce about not just Maggie the Cat, but also her life's work at this fundraiser for the annual September festival that celebrates the playwright who spent four influential summers here in the 1940s. Turner herself first came to Provincetown for the film festival in 2007 to receive a career achievement award and then again with the film The Perfect Family in 2011. During both visits she was frequently seen around town with her friend, filmmaker John Waters, who, of course, directed her in the 1994 movie Serial Mom.
Turner lets out a gravelly laugh when she thinks back to Serial Mom, a film in which she famously kills Patty Hearst for wearing white shoes after Labor Day. By the time she appeared in Waters' film she was already Hollywood royalty, and here she was portraying a foul-mouthed suburban mother serial killer, joining the ranks of Divine, Mink Stole, and Cookie Mueller as Dreamlander muses. At $13 million it was the biggest budget Waters had had to date, and he really wanted Turner in the role of the murderous Beverly Sutphin. Once on board, she proved to be a champion as Waters relays in his new book Mr. Know-It-All: The Tarnished Wisdom of a Filth Elder. He writes Turner kept the corporate powers that be at the studio from ruining the film with focus groups and test audiences. They didn't get the film, says Turner, with the money people being surprised it was a comedy. But truth be told, it was not an easy sell for Turner initially. She'd been nominated for an Academy Award for her role in Peggy Sue Got Married, appeared in such classics as Body Heat and Prizzi's Honor, and given sex appeal to a cartoon—with just her voice—as Jessica Rabbit in Who Framed Roger Rabbit? And now she's going to deliver a line like, "Is this the c**ksucker residence?"
"Oh, I couldn't get through it," says Turner from her home in New York City. "I got to the part where I pull the poker out with the kids liver on it and I threw it down. I thought, 'Are you kidding me?!' Then I read more and got to the part where I hit the woman in the head with the leg of lamb and I said, 'No! No! No!' I thought it was horrendous, but then I thought, 'why am I laughing?'"
While exploring the varied facets of her work, Turner has a palpable passion evident in her famous voice. It conjures up clear images of an actress with sharp artistic vision and the strength to create a character from the soul up, making her a cultural icon. When you type "Kathleen" into Google, she's the first to come up. In addition to her work, Turner is also a respected activist serving on the board of the liberal advocacy group People for the American Way, an organization founded in 1980 by television producer Norman Lear to fight the right-wing Christian agenda of Jerry Falwell's Moral Majority. For almost 30 years, she's served on the board of advocates for Planned Parenthood, the reproductive health organization so often a target of the Republican Party. With the recent laws passed to restrict abortion rights in states such as Alabama, Missouri, and Ohio, Turner has doubled down on her activism.
"The fact that we live in a time that anyone would conceive or propose these laws is sincerely shocking to me," says Turner. "I've been saying this for years, it's not about abortion. If it were we would have laws that supported women with children. This is about old white men trying to hold on to power. They can go to Hell."
The Provincetown Tennessee Williams Theater Festival Gala with Kathleen Turner is on Saturday, June 1 at Provincetown Town Hall, 260 Commercial St. Tickets for the cocktail hour, which begins at 6 p.m., are $100. The dinner and gala begin at 7 p.m., and tickets are $175 for standard, $350 for VIP, and $500 for the head table. For tickets and more information call 866.789.TENN (8366) or visit twptown.org.