]
by Rebecca M. Alvin
Top Image: Bob Jaffe (Photo: Paula Court) and Samuel Beckett (Photo: Roger Pic)
"There's a feeling that [Samuel] Beckett's work is very difficult. I don't find it that way," says Bob Jaffe, the writer and solo performer in …and then you go on: An Anthology of the Works of Samuel Beckett. "There's a feeling that Beckett's work is dark and depressing, and I don't find it that way. I actually find it very uplifting," he adds.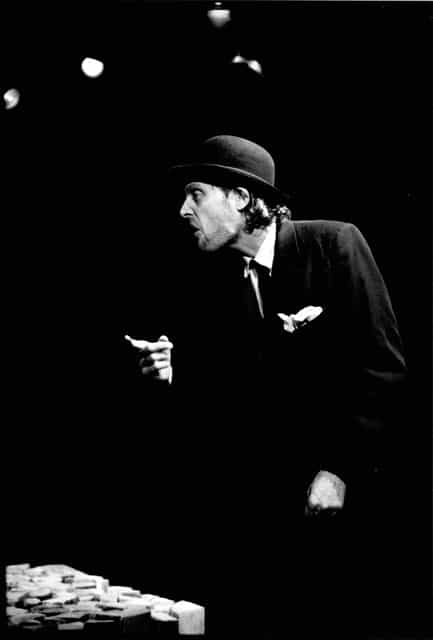 Jaffe has been a fan of the Nobel Prize winning avant garde Irish playwright, author, and poet since he first saw a production of Waiting for Godot at the age of 16. He went on to direct a high school production of that play at 18, and then a year later, in 1971, he was stage manager on a play in the Berkshires at the Lenox Arts Center with actor Jack MacGowran, who had worked with Beckett and was very knowledgeable about him. The play was Beginning to End, an Anthology of the Works of Samuel Beckett, which MacGowran had put together in collaboration with Beckett himself. While Jaffe was already a fan of Beckett's work, he says the experience of working with MacGowran was formative.
"When we were working on the Beckett anthology, I had the good fortune to spend a lot of time with him talking about Beckett's work. And I was a great admirer of Beckett, as a young person in the '70s but he's the one who provided me insight and entry to the work," Jaffe recalls.
In 2000, Jaffe first brought his one man show …and then you go on to the stage at Perishable Theatre in Providence, R.I., having written it in 1999 and worked with the Estate of Samuel Beckett for an approved script. He's been doing it on and off ever since, including an off-Broadway run at HERE Arts Center, and elsewhere, with the latest production coming to Wellfleet Harbor Actors Theater (WHAT) this year, as part of their 35th anniversary season. The piece brings together an array of Beckett's works, with the oldest one, a poem called Cascando written in 1936 and the most recent, a play called Company written in 1980, structured as a journey told through one character.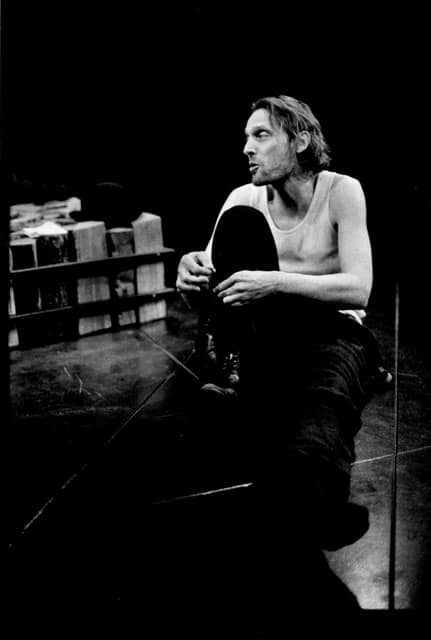 "Beckett, whatever his sense was of the human condition, he always believed that his characters found a way to continue. And to me that's a very optimistic message," explains Jaffe. "Despite whatever demons you may deal with internally or externally, you still find a way to connect to life and you still find a way to continue. That's what I hope audiences will pick up on. It's a very positive message."
The process of writing it involved immersing himself in Beckett's writings. "Once I put it together—I don't know how exactly this happened, intuition, I guess, about the work, but I found that there was an actual story arc that had been created, and a journey that the audience would go on with me," Jaffe explains.
It's structured in two parts "with a 60-second intermission in the middle," he says. "The first section of the play has more to do with external influences: father and mother, lost love, found love… And then the second half of the play has much more to do with internal influences and the internal struggles."
As a piece that uses Beckett's own writings in a format specifically approved by the Estate (and only approved for Jaffe to perform it, by the way), the piece has not changed since it was first performed, however, Jaffe says his relationship to the material has changed since he first performed it in Providence. "It came to New York and I performed it off-Broadway for a number of performances. Then there was another series of performances in New York later on, about seven years ago at the Cell Theater," he recalls. "Over those years in those different times that I've been performing the work, I find the relationship to it has changed, has grown, become more rich. And obviously I have a great affection for Samuel Beckett's writing and the honor that I find in going back to it is I make new discoveries all the time."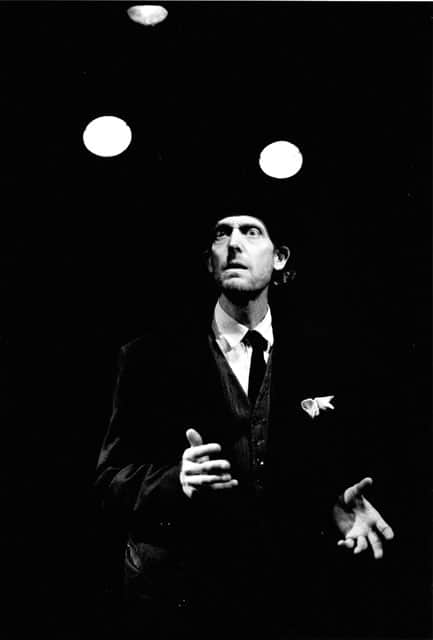 As for the audience, Jaffe says it's not a requirement that they be familiar with Beckett's work, only that they are open to it. He recalls a discussion he had with an audience member after a production of this play. The man said he'd been reading Beckett's work in preparation for coming to Jaffe's show and was struggling to make sense of the play at first before he realized what he needed to do. Jaffe says the man said, "'I was getting so frustrated trying to pay attention to every single thing, and then I decided I was just going to sit and let it wash over me, and at that point I understood everything you were doing.' And that's one of the highest compliments I've received. I said to him, 'Well that's exactly the experience I want people to have. It's my job to do the deep work in the play and to understand the underpinnings of what this composite character is going through. It's your work to sit there and receive it.'… I'm just hoping people will sit back and allow this to wash over them. And be intrigued, moved, and inspired to read more."
…and then you go on: An Anthology of the Works of Samuel Beckett is performed nightly, July 31 – August 2, at 8 p.m. at WHAT, 2357 Rte. 6, Wellfleet. For tickets ($25 – $30 regular/ $12 students/$22.50 – $27 seniors) and information call 508.349.9428 or visit what.org.