Todrick Hall Kicks Off Carnival Week in Provincetown!
by Steve Desroches
Todrick Hall is a veritable tornado of talent. And his schedule resembles a twister, too! Hall is walking down the street in Birmingham, England, as he's just been cast on The Greatest Dancer, a BBC dance competition show created by Simon Cowell. The news broke in the United Kingdom just a few weeks after it was announced that Hall will take to the Broadway stage as Ogie in the hit musical Waitress with fellow YouTube-born star Colleen Ballinger, starting August 20. He's crisscrossing the Atlantic in preparation for both projects. But before either begins he's coming to Provincetown to take the stage at Town Hall by storm, kicking off Carnival Week with the high-energy, dance and song extravaganzas that shot him to superstardom, a road which he's largely paved on his own, golden brick by brick.
Hall's story is fascinating tale of someone with immense talent, smarts, and ambition who sees opportunity everywhere. Born and raised in Plainview, Texas, Hall studied ballet and music as a child and came to national attention as a semifinalist on season nine of American Idol. But what really catapulted him to the next level were his self-produced YouTube mini musical videos, which garnered him legions of young fans. He then wrote his own semi-autobiographical concept album followed by the musical stage show Straight Outta Oz, a retelling of The Wizard of Oz about growing up gay and black in a small town and his rise to success in Los Angeles. He toured the United States, Canada, Europe, and then finished up with dates in Australia to sold-out theaters. Perhaps the most remarkable thing about all of this is that it's truly a DIY story of turning YouTube fame into a portal to get his own work out there while maintaining his own voice and viewpoint.
It's hard to pinpoint Hall's big break, as with each project he's pursued he's bounced like a pinball to the next level. But while he was touring the country presenting his own musical, he got a call to take the lead in one of Broadway's biggest hits, Kinky Boots. And then he traded in his high heel boots for a pair of spats when he took the lead on Broadway as Billy Flynn in Chicago. Hall is indefatigable as he masterfully blends work on Broadway and television, while still writing and recording his own music, maintaining his social media fame, his work as an in-demand choreographer, and wrapping it all up into his own live performances, which is what he's bringing to Town Hall this Saturday night. It's a chance to see a real phenomenon, a 21st-century star, in action.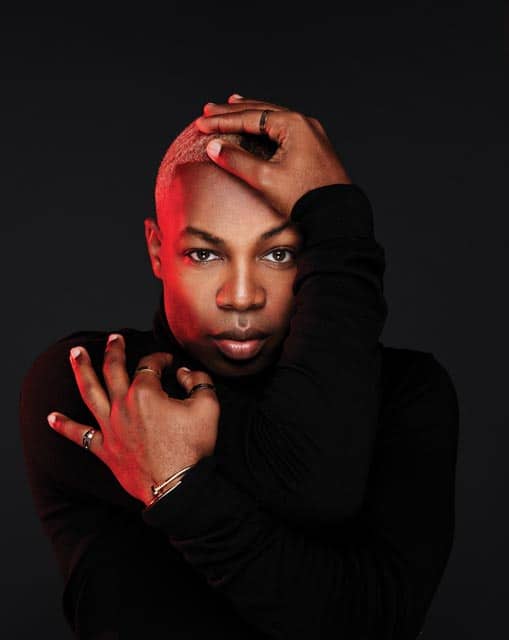 "Any time we do a show there's a lot of dancing and costume changes; it's a lot of fun," says Hall. "It's a very uplifting show. Often people say they're very inspired."
As Hall continues to connect his diverse audiences, braiding his various projects together, many here in Provincetown may know him best from his guest appearances as a judge and choreographer on RuPaul's Drag Race. While he does not consider himself a drag queen, drag performance is often a component of his work, as is collaborating with drag talents like Willam, Alaska, Bob the Drag Queen, and RuPaul himself. Appearing on the show opened him up to not just a new and larger audience, but to the possibilities within drag, as the art form has unprecedented opportunities. As a gay, black man, Hall is acutely aware of the nagging prejudices that persist. But he also celebrates how much has changed.
Working on RuPaul's Drag Race has been a thrill, not just to be on an Emmy-Award-winning, groundbreaking show, but because of what it all represents. Of all the work that has come his way, RuPaul's Drag Race really struck like a lightening bolt on a sunny day. He was zipping around his house on his hover board thinking of new ideas when RuPaul called out of the blue, inviting him on the show – a Wizard of Oz themed episode. It was that quick and simple. All of that talent that is showcased on RuPaul's Drag Race used to be strictly relegated to behind the scenes, says Hall. In the past, drag performers would work in hair and makeup, chorography, costume design, and other background roles. That is all changing and Hall couldn't be happier.
"I'm so grateful," he says. "The show is so important. What it's doing for the gay community is gigantic. All of these people and their talents used to be hidden. Now gay culture is becoming pop culture."
Infused in all of Hall's work is a call to not only be yourself, but stand up for yourself, and others. He's addressed racism and homophobia, police brutality and gun violence, something that in particular touched his life when friend and fellow YouTube star Christina Grimmie was gunned down by an obsessive fan at a meet and greet after a concert in Orlando the same night of the Pulse nightclub shooting in that same city, a place where Hall came of age as a performer at Disney World. But above all else, one of Hall's greatest accomplishments is connecting with young fans who feel like they don't belong, as is evident in the documentary Behind the Curtain, which documents his Straight Outta Oz tour. Each performance is a call to action: love yourself and you can change the world.
"When you have a gift it isn't a matter of everything being perfect," says Hall. "You have insecurities. But you have to fully embrace yourself. If I've learned one thing it's that you leave everything on the floor when you perform, but don't set it up so everything has to be perfect. People will embrace you with your flaws. Being yourself on stage is liberating. Being yourself everyday is liberating."
Todrick Hall performs at Provincetown Town Hall, 260 Commercial St., Saturday, August 17 at 8 p.m. Tickets ($30/$70/$100) are available in advance at the Crown and Anchor box office at 247 Commercial St. and online at onlyatthecrown.com. For more information call 508.487.1430.
]