Raphael Richter receives Swim for Life Volunteer Award
]
The Provincetown Community Compact selected Truro resident and community-minded businessman Raphael Richter to receive the David Asher Volunteer Award at the 32nd Provincetown Swim for Life & Paddler Flotilla last week at the Boatslip Resort, Provincetown. The award highlights his service as a town leader, Swim for Life supporter and his stepping in to provide transport to townspeople to Orleans for grocery shopping during the recent Stop & Shop strike.
Richter is a man on the move. Think Funk Bus, Mercedes Cab, Cape Cab and the Mayflower Trolley. He recently made a move with his family from Provincetown to Truro, headquarters of his fleet of party and mini buses with funky skins and state of the art sound systems. Yes, let's get the party started!
He is a hometown boy whose family's journey took him to live in several Cape towns as well as Boston's North and South shores. He returned to finish high school in Provincetown and has dug into the community with passion and creative entrepreneurial vision ever since. Beginning with partner Ricky Macara at Mercedes Cab, he noticed a need for safe and fun group transport and, with the flair of the late Pearlene, created the pink Funk Bus with eyelashes! It was a hit, and the idea spread Cape wide like the flash of an eyelash.
Richter's community service is exemplary, serving three years on the Provincetown Select Board, with his last year as chair, personally taking up the mantle of the need for community housing. This led to the town's overwhelming approval to buy a 28-unit condominium complex for workforce market-rate housing.
At the Swim for Life, Richter has provided transport for years for swimmers to MacMillan Wharf for boat transport to Long Point. The Mayflower Trolley is co-owned by Raphael and Michael Glasfeld, owner of Bay State Cruises, a Swim for Life business sponsor.
Perhaps the most touching example of his sensitivity to the needs of the community was his quick response to the recent Stop & Shop shut down during the two-week union strike. This left townspeople food insecure, many without transportation to the nearest supermarkets in Orleans. The Funk Bus stepped in and provided free daily roundtrip rides to Orleans for anyone in need.
Richter and his wife Vida have a two-year-old son and a girl on the way this fall. Vida is co-owner of the Nor'East Beer Garden in Provincetown. He presently serves on the board of the Community Development Partnership and on the Truro finance committee.
For more information visit www.swim4life.org.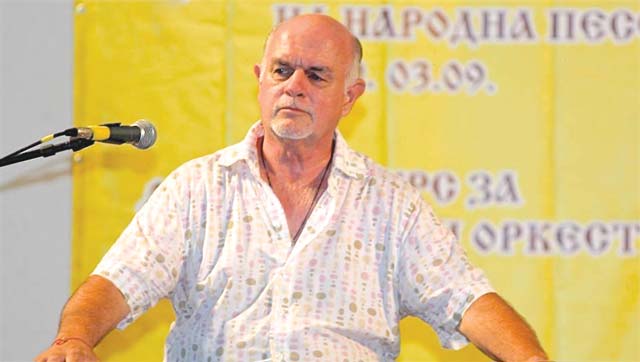 Provincetown musician John Thomas awarded Fulbright Grant in Bulgaria
John Thomas is well known to Provincetown and Cape Cod audiences as a pianist, music director, concert producer and composer. For many years, he has been an advocate for traditional and popular music of Bulgaria and has presented many concerts featuring this unique and enthralling music.
The Fulbright Bulgarian-American Commission for Educational Exchange has awarded Thomas a grant for extended research, study and performance of traditional Bulgarian melody, rhythm and harmony in combination with American roots piano styles. He will live in Bulgaria this autumn and winter to learn from and create music with some of the country's best musicians in Plovdiv and Sofia and other cultural centers of music. He will return for the late spring and summer 2020 music performance season in Provincetown and Cape Cod.
He has twice visited Bulgaria where he has met dozens of musicians. In the summer of 2018 he was honored as the first American musician to present a concert at the famous Pearl Festival celebrating traditional folklore music in Primorsko on Bulgaria's Black Sea.
During his Fulbright experience, he will work with teachers and musicians at The Plovdiv Academy of Music, Dance and Fine Arts and also study with Georgi Petkov, a renowned composer, pianist, conductor and innovative music collaborator at New Bulgarian University. Petkov recently won a Latin Grammy award for a recording featuring his Bulgarian women's choir and Spanish flamenco artists.
Thomas is internationally known for his original scores, arrangements and improvisations of traditional melodies. He seeks places around the world that are steeped in culture and history through music, and he frequently collaborates in performance with musicians in different countries. In addition to his focus on Bulgarian music, he has traveled to Mexico several times to absorb and perform music in San Miguel de Allende, Guanajuato, and Tepoztlán.
He produces and performs in the Great Music on Sundays @5 concert series in Provincetown (ptownmusic.com), now celebrating its 21st season. He is a highly regarded music director for stage productions, and this summer he was music director and performance pianist for Provincetown Theater's spectacular production of Sweeney Todd: The Demon Barber of Fleet Street.
Thomas has played piano at Boston's Symphony Hall and with the Cape Symphony and performed with musicians in Provincetown, Cape Cod, Boston, New Orleans, New York City, Bulgaria, France, Greece, Mexico and Nepal. John's music runs a wide gamut of styles: classical, New Orleans, Broadway, rhythm & blues, Balkan, Latin, original compositions and more. He composed Pure PolyESTHER: a biblical burlesque (with Abe Rybeck) and music for theater productions of Camille, The Ash Girl and A Perfect Ganesh. He wrote and performed the solo show Spontaneous Me: A Night with Walt Whitman, for which he also composed an original music score. He has been music director for Hair, Cabaret, The Wild Party, Working, Candide, Thrill Me: The Leopold & Loeb Story, Edgar Allan Poe's Nevermore and Always… Patsy Cline, and he has produced music events for the Provincetown Tennessee Williams Theater Festival. He portrayed Manny the pianist in the Maria Callas story Master Class; Cosme McMoon, Florence Foster Jenkins' flamboyant pianist, in Souvenir; Mashkan, the Viennese vocal coach, in Old Wicked Songs; and Tevye in Fiddler on the Roof. He produces Celebration of Life and WorldFest in Provincetown. His photographs of Tibetan monasteries and street musicians of the world have been exhibited at Berta Walker Gallery. His band Johnny & The Washashores celebrates American and international music. His three recordings – original music titled Composing Myself, Look to the Stars with Christopher Sidoli, and 4 hands, 2 guys, 1 piano! American Music with Paul Bisaccia – are available for digital download on iTunes, Amazon, and CDBaby.
More information, including videos and audio recordings, is available at johnwthomas.com and on YouTube.
Applications for 2020 Wellfleet Cultural Council grants are now being accepted.
Proposals for programs in the arts, humanities, and interpretive sciences are all welcome provided they benefit the Wellfleet community. These grants can support a wide range of local projects and activities such as: exhibitions; live performances; publications; workshops; classes; special events; and more!
Last year the Wellfleet Cultural Council made 39 grants totaling $8,250. The online application is really easy, however paper proposals are also still accepted. If you need help with your proposal, come to the grant proposal presentation on Saturday, September 14th from 10 a.m. to 12p.m. at the Wellfleet Library. Council Members will be there to talk with you about the program and answer any questions you might have. You can also reach them anytime via email at: [email protected]
The application deadline is firm. All proposals must either be completed online, postmarked, or stamped received at the Wellfleet Town Hall Clerk's Office by the October 15th deadline. Late applications are disqualified.
 The Wellfleet Cultural Council is funded by the Massachusetts Cultural Council and the Town of Wellfleet. Apply online at mass-culture.org/wellfleet.