Ali McGuirk Plays the Vinegrass Music Festival
]
by Steve Desroches
Ali McGuirk is resting on an off day between shows in Southern California. The night before, she played The Silo in the semi-rural neighborhood of Shadow Hill in Los Angeles, and the next night she's hitting the stage at the Redwood Saloon in Ojai. But on this day, her birthday, she's going to see Bob Weir, one of the founding members of the Grateful Dead, at the Majestic Ventura Theater up in Ventura, the coastal town that inspired the 1970s hit song by the band America about the highway that runs through it. Then she's on to Santa Barbara and wraps up the mini-California tour in San Francisco before coming home to Boston.
Things have begun to take off for McGuirk, particularly after the Boston Globe declared her an artist to watch in 2016, listing her alongside Lake Street Drive and Haim, and then, with the release of her 2017 full-length album Slow Burn. Come 2018 she landed two Boston Music Awards solidifying her position as one of the most exciting musicians and singers in the city, a city that she misses even though she's having a ball in California. But Los Angeles feels far from home, and that's due to more than the mileage. It seems to her there's more of a music industry in L.A. than there is actual music. But Boston, for a small city, is bursting with music.
"I think it's a very smart music city," says McGuirk. "There are a lot of people who are really young or new in their careers. You have all the schools, the conservatories. That adds some virtuosity to it. It can be pretty segregated between genres with all these insular niches. But as a music city it's getting bigger. There's a lot going on in Boston."
Just a few days after McGuirk comes back from California she'll be coming to North Truro for the Vinegrass Music Festival, an annual September music event founded by Cape Cod musician Monica Rizzio that celebrates American roots music. Although it features artists and bands that generally perform Americana, bluegrass, and folk, Rizzio reached out to McGuirk, who is making a name for herself blending soul, R&B, and blues into a fresh sound.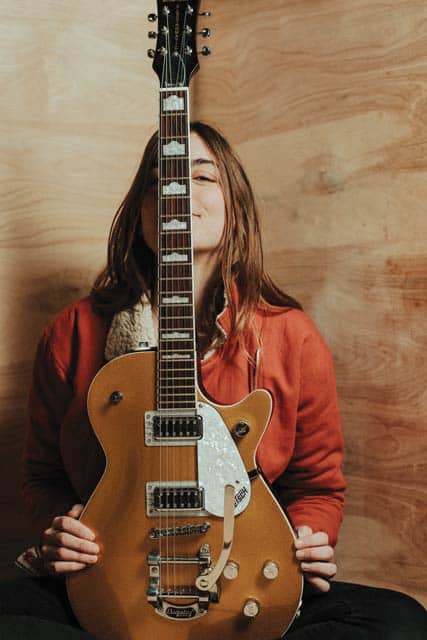 As a young girl growing up between Concord and Cambridge after her parents divorce, music was always an integral part of her family's life. While she had uncles who played the guitar, her family for the most part was not musical, but rather their house was always filled with music playing. For her, her journey toward actually pursuing music began with Whitney Houston. A voice that stops you in your tracks is what continually drew McGuirk in. Amy Winehouse, Lauryn Hill, Joni Mitchell, Stevie Wonder, Erykah Badu, Sarah Vaughan, Nina Simone, Neil Young, Sheila Jordan, Bonnie Raitt, Janis Joplin—those moments when, regardless how old a song is, you discover it for yourself and it taps you in the marrow; those are magical, eureka moments.
"I remember when I heard Aretha Franklin for the first time, and not just on the radio," says McGuirk. "I remember the moment when I listened to her on my boom box in my room. As she was singing I just had to lie down. I had to lie down and just listen. I thought, 'What is this woman doing with her voice? How is she doing that with her voice?' I was in awe of what she could do. Woah. Just how she could use her voice as an instrument. I wanted to do that."
Something that's always been important to McGuirk is acknowledging the roots of the musical forms she's so passionate about, and recognizing that an enormous amount of American music is rooted in the African-American experience and culture. Perhaps more so than any generation before, young musicians of today are having those conversations to discuss what is cultural appropriation and what is cultural expansion. By its very nature music is an amorphous art with genres coming into focus for brief moments before blurring again to become something else. McGuirk says she never been afraid to have those difficult discussions about complicated issues and the word that comes up over and over again is respect. A variety of artists repeatedly tell her if you perform with genuine respect that will shine through and be communicated; if you're merely copying a style from someone else that made it popular, that will be obvious, too.
In an era where the music industry is dominated by corporate focus groups and bland, formulaic songwriting, it can be an added challenge to maintain artistic integrity and a commitment to an artist's vision and voice. And it's something McGuirk thinks about both as she's on the cusp of hitting it big and being in Los Angeles, a great city that produces great art, but that can also be clouded with distractions of big business and corporate suits looking to cash in on an image they've created and just need someone to fit the suit. Right now, for McGuirk, it's about the work and the music.
"There's a difference between selling a show and selling a piece of music," says McGuirk. "I've definitely spent some time reconciling the difference and how much I want to give to the public and what I want my audience to engage with: a show or the music. I understand part of it is very public and a show, but I keep trying to redistribute that back to the band and the music. You know, to keep it about the music."
The Ali McGuirk Band plays at the Vinegrass Music Festival along with Parsonsfield, The Mammals, Smooth Hound Smith, and Monica Rizzio & The Round Ups on Sunday, September 29 from noon to 6 p.m. at Truro Vineyards of Cape Cod, 11 Shore Rd., North Truro (parking is at the Head of the Meadow Beach parking lot on Head of the Meadow Road with a shuttle to and from the festival site. There is limited parking for guests with disabilities or with special requests. Please email in advance to request a spot: [email protected]). Tickets ($40) are available online at vinegrass.org or at the box office the day of the festival.