The Alzheimer's Family Support Center's Annual Walk For Alzheimer's In Provincetown
]
The Alzheimer's Family Support Center brings the fight for free services to Provincetown for the annual Walk for Alzheimer's, Sunday, October 20, beginning in front of Provincetown's historic Town Hall at 11 a.m.
The annual Walk for Alzheimer's in Provincetown has something for everyone: trolley rides for those who can't make the three-mile trek, lunch by Cosmos Catering, and live music and dancing with multi-piece big band the Sound Dunes. Last year's participants spanned the age gamut from infancy to 95. With an anticipated 400+ people in attendance, the Provincetown Walk for Alzheimer's has become the largest "dementia-friendly" event in the region.
The fundraising goal for this year's walk is $100,000, with more than 80 percent of every dollar raised going to fund free services. All funds remain in our local communities.
Says one caregiver, "My husband's dementia diagnosis left me facing challenging decisions—alone—until we attended our first free support group meeting offered by the Alzheimer's Family Support Center. I have not been alone since! Knowing that this group of kind, caring, resilient individuals will walk every step of the way with us helps every day to brighten our journey and lighten our load."
Walk teams and donations can be made online by going to alzheimerscapecod.org and clicking on the walk button, or simply registering on the day of the walk. Checks made out to AFSC can be sent to 2095 Main St, Brewster, MA, 02631. The event is free and open to the public.
The Alzheimer's Family Support Center of Cape Cod, created by caregivers,provides free support services to the 10,000 Cape Cod families currently living with Alzheimer's or other dementia-related diseases, helping navigate the complexities and challenges particular to cognitive illnesses throughout the entire disease progression. Services, including supportive counseling, education, care planning, advocacy, support groups, connection to other available community services, and social and cultural events are provided free of charge, within an innovative, research-based social model. For more information call 508.896.5170, email [email protected], or visit alzheimerscapecod.org.
Annual "Green" Party
The Provincetown Conservation Trust is having its Annual Meeting/Party called the "Green Party" on Friday, October 18, 4 – 6 p.m. at Provincetown Commons, 46 Bradford Street.
This annual event raises awareness about conservation for our Provincetown eco-systems, protecting it for future generations and expanding accessibility to these areas for residents and visitors. The Trust will give a presentation on their accomplishments this past year, priority projects for next year, and information on how you can help preserve and protect Provincetown.
All are welcome and there will be complimentary wine, beer, and appetizers. There is no cover to attend; but donations are gratefully welcome to help the organization continue their work to protect and care for Provincetown's precious natural habitats.  For more information visit provincetownconservationtrust.org/events.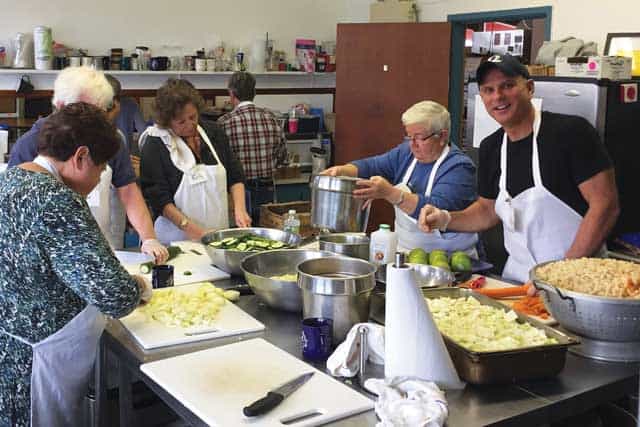 Soup Kitchen Seeks Volunteers
The Soup Kitchen in Provincetown (SKIP) is seeking volunteers for its upcoming 27th season starting on Monday, November 4. They will become part of a dedicated team that provides lunch to more than 125 members of the Outer Cape community every weekday through Friday, April 24. Meals are served on holidays that fall on weekdays, and a weekend "to-go" meal is also provided every Friday.
Orientation for both new and returning volunteers is scheduled for Tuesday, October 22, 11 a.m., in the SKIP dining room at the United Methodist Church, 20 Shank Painter Rd., Provincetown. The session lasts under an hour and refreshments are served. Those interested in attending are asked to email SKIP at [email protected]. Those who'd like to volunteer but are unable to attend the orientation should visit SKIP's website: skipfood.org and complete the form on the volunteer page and read the volunteer handbook.
New and returning volunteers are urged to attend orientation because changes prompted by the results of a volunteer survey last season will be announced. These include improvements to the SKIP scheduling system. For that system to work efficiently, SKIP must know each volunteer's day or days and which of those days or weeks will be missed due to vacations and other absences. Volunteers are able to choose from two shifts. The first is from 9:30 a.m. to 12 p.m. for cooking and set-up. The second is from 11:45 a.m. to 2 p.m. for serving and cleanup.
In another change, SKIP will offer new kitchen-training sessions taught by Executive Chef Bethany Gregory. This training will be especially helpful to new recruits.
At this year's orientation, attendees will receive a revised Volunteer Handbook. It answers several of the basic questions new recruits might have. It also covers such things as volunteer responsibilities, shift times, contacts, and health-department rules. With the handbook, everyone will receive a volunteer form that must be filled out. They'll also receive a small gift when they return the form.
"The commitment of volunteers is the single most important factor in SKIP's success," said Philip Franchini, SKIP board chairperson. "They help with food preparation, set-up, welcoming guests, serving, and cleaning up. Plus they enjoy working with other dedicated volunteers."
Last season, the volunteer team included nearly100 people coming from as far away as Eastham. Some volunteered for one shift on one day each week. Others came several days each week. "They all shared the good vibe that comes from helping others," said Mark Bjorstrom, vice chairperson and treasurer.
SKIP extends its thanks to all former volunteers and invites them to return for another season. "If you haven't volunteered in the past, we ask you to consider participating," said Franchini. "Come work with a great group of people for a very worthy cause."
SKIP is fortunate to have many volunteers who return each year. One has been on hand since the Soup Kitchen began in 1992. But it's necessary to add members to meet its growing needs. For questions about volunteering or other SKIP matters, call 508.487.8331 or email [email protected] You may also visit skipfood.org.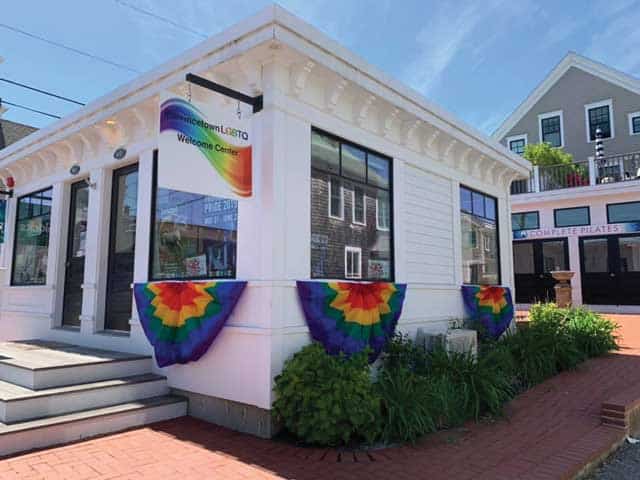 Provincetown LGBTQ Welcome Center Announces Fall Programs
The Provincetown LGBTQ Welcome Center (The Center) is pleased to announce programs for the 2019 fall and holiday seasons. Founded by the LGBTQ tourism organization, The Provincetown Business Guild, The Center is a 501(c) 3 non-profit initiative that provides an "on the ground" resource for LGBTQ visitors, Provincetown residents, and allies of the LGBTQ community. In its second year, The Center has moved to a retail location on Commercial Street, the hub and heart of Provincetown. The Center is also becoming a home for LGBTQ luminaries, activists, and advocates to explore our shared history, fight for equality, and build community in a time when LGBTQ rights are repeatedly being challenged by elected officials across the country.
The fall and holiday season programs include:
Stonewall at The Center—Zero to Equal. 2019 marks the 50th anniversary of the Stonewall Inn Riots in 1969 New York City where, like most of the country, homosexuality was illegal. Stonewall veterans David Bermudez and Bob Isadore will be at The Center during key Provincetown fall and winter events to meet with residents and visitors, discuss their Stonewall experience, and answer questions. Dates include:
• October 21, 3 – 4:30 p.m. (Fantasia Fair)
• November 2, 2 – 4 p.m. (Spooky Bear)
• November 30, 2 – 4 p.m. (Thanksgiving Weekend)
• December 7, 2 – 4 p.m. (Holly Folly)
• December 30, 2 – 4 p.m. (First Light Weekend)
Fantasia Fair at The Center. Fantasia Fair, the longest-running transgender event in the world, is a weeklong celebration that has been held annually in Provincetown since 1975. It has been and continues to be a model for other transgender conferences. Part learning experience, part social gathering, and part reunion, Fantasia Fair is a full immersion experience where attendees can spend an entire week presenting their gender as they wish. 100% of the proceeds from The Fantasia Fair Follies will benefit The Center.

Resident & Visitor Community Coffees at The Center. Various weekends throughout fall, visitors, residents, and part-time residents are invited to gather at The Center to get to know your neighbors and enjoy some hot coffee, tea, and good conversation! 10 a.m. – 12 p.m. on each of the dates below.
• October 19
• November 9
• November 30
To learn more about the Center or to donate, visit facebook.com/ptownlgbtq.