(a.k.a. Varla Jean Merman)
]
It was a dark and stormy night. A rumbling in the distance acted as an ominous warning. What is that terrifying sound? A hideous beast?! A shrieking banshee!? Donald Trump?! No, it's just lactose-intolerant Varla Jean Merman after performing her iconic Easy Cheese number (seriously, you'd be sick, too. That stuff isn't even cheese! It's "cheese product," whatever the hell that is). Varla Jean is hopping on her broomstick, complete with mini bar, and landing in Provincetown for Spooky Bear Weekend to present her Halloween show Pieced Together! All My Best Parts at the Art House, featuring Gerald Goode on piano. Jeffrey Roberson, the man behind Varla, took some time to talk to Provincetown Magazine about why he loves all the amateur drag queens out on Halloween, why some folks think the holiday is "Satan's Birthday," and why he wouldn't be anywhere else on All Hallows' Eve than Provincetown!
Provincetown Magazine: What's your earliest Halloween memory?
Jeffrey Roberson: My earliest memory of Halloween was first grade. We had a parade at my elementary school and on one side of me was a boy who put Vaseline on his face and then pressed coffee grounds into it so that he looked like an unshaven hobo. The boy on the other side of me had a brown paper bag over his head that was covered with glued hair clippings from his father's barbershop to look like a wolf. I remember the wind blowing hard and everyone started getting hair clippings in their mouths and eyes. Children were crying. The boy with Vaseline on his face was accumulating the most clippings and had an actual beard made of hair by the time the parade was over. Suddenly, I found myself oddly attracted to him! To this day, a beard over coffee gets me going. I, as to be expected, was dressed as "Raggedy Andy" in a striped romper my mother made me from a DIY section of Good Housekeeping. And of course, it was topped off with a mop of red hair she elaborately fashioned out of crepe paper streamers. The point of this story? This was the first time I donned a red wig!
PM: It seems a lot of drag queens first did drag on either Halloween or Gay Pride. Is that the case with you?
JR: The first time I did drag was in high school. There was a "senior auction" for charity, and students could "buy" a senior and make them do anything they wanted for a day. I gave my junior girlfriend the money and made her buy me and "force" me to come to school in drag for the day. Side note: this was a "red flag" for her and we didn't date much longer after that.
PM: Some drag queens call Halloween amateur night because so many dabble in it on the high homo holiday. Does it bother you to see so many in drag on Halloween?
JR: No! Doing drag is so liberating! Everyone should experience it. I find the guys who, year after year, have to only dress in hyper-masculine, sexy costumes to be more annoying. You can dress sexy ANYTIME. Have some fun and don't worry about not being sexually desirable for a moment! That being said, I never do drag on Halloween since I do it all year. I only dress in hyper-masculine sexy costumes. Hey! I have an excuse! I'm sexually undesirable 51 weekends a year!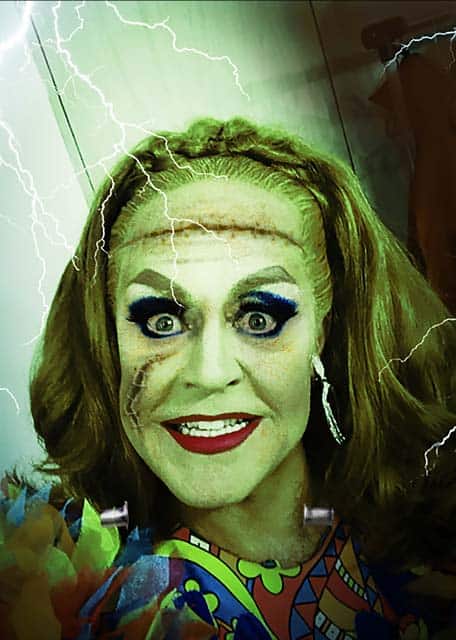 PM: You're from Louisiana, which is more conservative than many part of the country, especially here in Provincetown. Some religious conservatives call Halloween "Satan's Birthday" or the "Devil's Holiday." Was this something you ran into growing up in the Deep South?
JR: I'm from New Orleans. Every weekend is the "Devil's Holiday."
PM: What can audiences expect from your Halloween show Pieced Together?
JR: First, why come in with "expectations" to a show called Pieced Together? I'm kidding! They can expect new songs, classic chestnuts, and spooky stories! All of which will meet the Varla Jean Merman Gold Standard…which is actually quite low.
PM: Have you ever seen anyone dressed as Varla Jean for Halloween?
JR: Yes! For many years, people would come dressed as me, Miss Coco, and Evie from the movie Girls Will Be Girls. I must say, however, my look was the hardest to authentically pull off, and thus, usually the most tragic look in the trio.
PM: You've been coming to Provincetown for Halloween for several years now. Varla could go most anywhere on Halloween. Why Provincetown?
JR: It's no secret that I have a lot of bear fans. But more importantly, I am a big fan of the bears! In fact, I'm a huge fan of the big bears! Here's hoping I'll be coughing up a nice hairball by the end of the weekend! That's why I will be dressed as a sexy Spiritus Pizza slice, clogging down Commercial Street at 1 a.m.
Varla Jean Merman presents Pieced Together! All My Best Parts on Friday, November 1 at 9 p.m. and Saturday, November 2 at 8 p.m. at the Art House, 214 Commercial St., Provincetown. Tickets ($35/$45) are available at the box office and online at ptownarthouse.com. For more information call 508.487.9222.