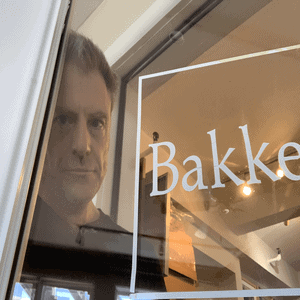 We are reviving a column long-time readers may remember called Street Scene, where we ask people around town a set of questions. In this revamped quarantine edition, we hope to share with you over the next few weeks a snapshot of how your fellow Outer Cape Codders are handling the COVID19 pandemic. Enjoy!
Today's feature:
Spencer Keasey of Provincetown
Describe your typical day in quarantine
Day starts driving a friend to work, back home for an online meeting at 7 a.m., breakfast, then to the [Bakker] Gallery until noon when I come home for lunch. Back to the gallery until about 3. Workout, feed 4 cats, dinner, shows, in bed reading by 7:30. Repeat. Repeat. Repeat.
What's the most frustrating thing about this pandemic/quarantine?
Not being able to share in the physical warmth and proximity to my recovery fellowship.
What's something unexpectedly positive to come out of this pandemic/quarantine for you?
Hours and hours to work on effective communication with my partner. Ha!
What's the best film or tv show you have watched during quarantine and why?
The World on Fire and the 8th and last season of Homeland.
What's the best book you have read during quarantine and why?
After 30 years, a second reading of The Seat of the Soul by Gary Zukav. I've been trying to think of the quarantine as a rehab for my life. It's affected and is affecting every ounce of my being. Nothing speaks to me more than this book. It's my philosophy of life—and time I remember that.
What's the weirdest item you've had trouble finding at stores in this time?
Yeast
You'll know everything is normal again in Provincetown when ______
Provincetown allows buskers to busk without masks.
]