]
by Steve Desroches
It's hot and sunny in Provincetown. A perfect summer day really, with a subtle breeze sweeping from the harbor into the courtyard of a West End "floater," one of those homes that many years ago was put on a barge to move it from Long Point to its current location and make it easily identifiable by the blue plaques featuring a house with squiggly lines representing water beneath it. Jon Richardson and Todd Alsup are talking about how their last show went, their fast-paced concert Elton & Billy: Greatest Hits Live each Tuesday night by the pool at the Crown and Anchor. These two men, primarily known for their popular piano man gigs until the pandemic shut them down, marvel at the complexities of the music of these two musical giants. But Richardson has a confession.
"I know this sounds really gay and at the same time lame, but it's when I saw Moulin Rouge that I heard my first Elton John song," he says.
"Shut up," laughs Alsup. "That movie came out in, what, 2000, 2001? How old were you?"
"Twelve," says Richardson. "And I didn't know all the songs were covers. I thought 'Wow! Who wrote this? The music is amazing.' But then the audience started to sing along at parts and I was like, 'How do they all know this song?' I just loved it. When Ewan McGregor sang 'Your Song' I was just blown away. That's when I learned who Elton John was."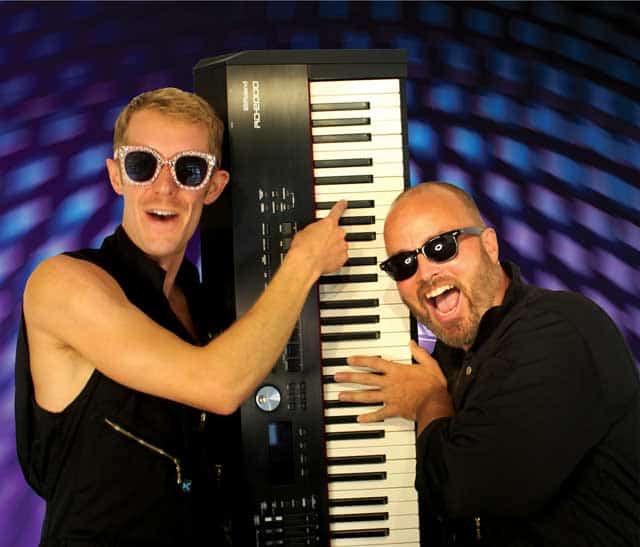 Alsup, still laughing, shakes his head and gives Richardson playful side eye, followed by a few Little House on the Prairie jokes, a good-natured ribbing referring to Richardson's Minnesota childhood. But the North Star State also gave us Prince and Bob Dylan, so all is good. Alsup grew up outside of Detroit, and Motown is hard to compete with when it comes to hometown pride and musical legacies. However, since this past winter the two have immersed themselves in a self-taught master class in Billy Joel and Elton John, the collective works of whom they have long been acquainted with.
"I have, or had, a steady gig at the Redeye Grill in New York and am constantly bombarded with requests for their songs," says Alsup. "There's one guy who is a big tipper and he'll drop in a twenty to hear 'Rocket Man' or "Don't Let The Sun Go Down On Me.' We both realized that we so often play their music that we each could do a full set of just them."
With their collective experience playing the music of the original piano man and Sir Elton, Richardson and Alsup began to brainstorm on the beach in Puerto Vallarta, Mexico, just after the New Year, and started rehearsals upon their return to Provincetown, giving neighbors in the West End sneak peek shows. It was fabulous as in the quiet of a Provincetown winter, you can be as loud as you like. Putting together a set list proved to be more daunting than they thought as the two Rock and Roll Hall of Fame inductees have 82 number one hits combined in the United States. But there was another issue. It's easy to take for granted considering how ubiquitous the music of Billy Joel and Elton John is and what a enormous part of pop culture they occupy, but the songs of each artist are incredibly complicated, musically. When playing in a piano bar competing with laughter and barroom noise, it's easy to cover up a mistake or fudge a part of which they're not certain. But they challenged themselves to learn the 32 songs in the show properly.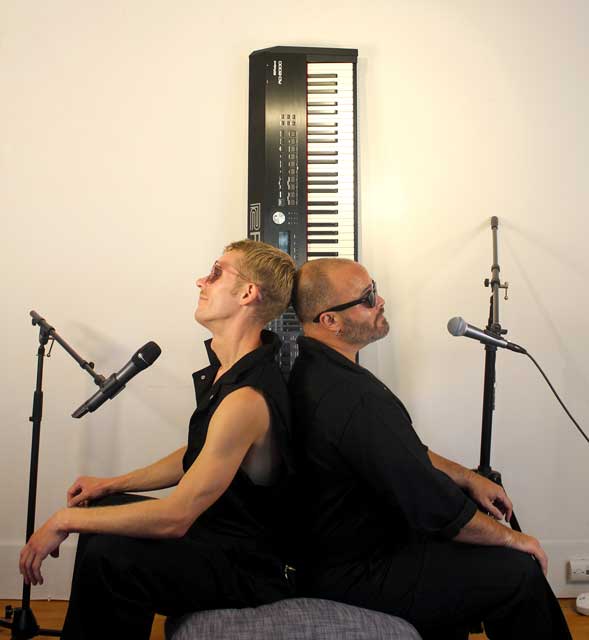 "We decided that we were going to do this show really right, as hard is it would be," says Richardson. "We decided the music would come first."
That being said, they were also clear from the beginning that this wouldn't be an impersonation or tribute show, but rather a music box concert where they could show off their own musical chops. Whether it was learning "Uptown Girl" or "Don't Go Breaking My Heart," the two agree that the genius in the work is the apparent simplicity. But it's the challenging chord structure that is the magic, and if they skipped it to make it easier on themselves audiences would notice for sure.
"It's a hard show for sure," says Alsup. "It's a very hard show. It's a lot of athletic singing. We both were just saying that we are as tired after this 55-minute show as we are after we do three or four hours playing a piano bar. This show is like a collapsed star. We are definitely riding a high when we're done."
It wasn't just the music that has completely enchanted Alsup and Richardson, but also the lyrics, teaching both, who write original music, about songwriting. The juxtaposition of the straight forward workings of Joel with the more poetic and metaphorical work of long-time John collaborator and lyricist Bernie Taupin is a compare and contrast study in musical storytelling. When Joel sings "I'm gonna try for an uptown girl, She's been living in her white bread world, As long as anyone with hot blood can, And now she's looking for a downtown man," you know exactly what he's talking about says, Alsup. But when John sings, "And I think it's gonna be a long, long time, 'Till touch down brings me round again to find, I'm not the man they think I am at home, Oh no I'm a rocket man," the mind contemplates and then interprets for itself, adds Richardson. But both musicians are incredible storytellers despite this big difference.
The show has been a bona fide hit this pandemic summer, as it is as fun as it is an evening of great music. And pre-COVID-19 plans included an after party where audience members could hang out in the Crown's Dive Bar where Richardson and Alsup would play all the B-sides of Joel and John they didn't include in the stage show, and they hope to do so in the future, once indoor entertainment is allowed again. It's certain that between now and next summer Alsup and Richardson will continue to pound the keys in the West End, perfecting each note written by these masters.
"I'm a different musician after this experience," says Richardson. "I look at their music completely differently now. How much these two influenced music and culture is inspiring. People mark different points of their lives by their music. People say to us, 'Oh, that song reminds me of high school or my wedding.' It reminds you how powerful music can be."
Elton & Billy: Greatest Hits Live featuring Jon Richardson and Todd Alsup is every Tuesday through September 8 at 9 p.m. Poolside at the Crown and Anchor, 247 Commercial St., Provincetown. Tickets ($25/$35) are available at the box office and online at onlyatthecrown.com. For more information call 508.487.1430.