]
By Steve Desroches
Top: Photos by Andrew Werner
Sutton Lee Seymour isn't exactly sure where he is. These days, with the state of affairs being what they are, it does seem hard to shake the brain fog brought on by the pandemic and politics. While it's late summer, sometimes it feels like it's March 89th, as the disruption to normal life removed the seasonal benchmarks that had helped to give order to our internal calendars and GPS systems. He's in the woods; he knows that. He's on a trip with his quaranteam in a quaint log cabin. But where? Wait. He's got it. He's in Jewett, a tiny little town in the Catskill Mountains not far from Hudson, a town that reminds him a lot of Provincetown, in a way.
Despite being on a mountain getaway from his home in New York City, Provincetown isn't very far from his mind anyway. He and his best friend and drag co-star Cacophony Daniels are coming to town soon to present their show Drag-A-Maniacs at the impromptu outdoor performance space at the Pilgrim House. This marks Daniels' second summer performing in Provincetown, but for Seymour (whose real name is Prescott Seymour), it's a debut. It's been a long road to opening night on Commercial Street. He began doing drag professionally in 2013, the same year he visited Provincetown for the first time. The frenetic energy of the town in summer enchanted him, but seeing the big wigs in action, those drag queen headliners that collectively make up one of the most unique performance scenes in the country, is when for Seymour it clicked like Dorothy's ruby slippers at the end of The Wizard of Oz. This is home.
"As soon as I got to Provincetown I realized, this is the goal," says Seymour. "It's where every drag queen wants to be. There's no place like it. It attracts the best of the best. It's Broadway for drag queens. If you can make it there you can make it anywhere. Truly."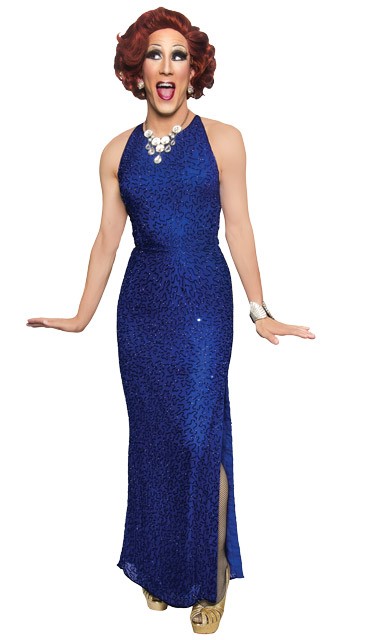 For Seymour, it all began in Winnetka, Illinois, his hometown and "where all those John Hughes movies are supposed to be set." The Chicago suburb indeed was where The Breakfast Club and Sixteen Candles were shot, as were Risky Business, Home Alone, and Ferris Bueller's Day Off. But Seymour's dream wasn't to make it onto the silver screen no matter how famous his hometown was in cinema. So in August of 2007 he moved to New York, and "like Peggy Sawyer" in the musical 42nd Street, he began to pound the pavement and audition, audition, audition. He got booked in regional and touring productions, but life in show business can be feast or famine. It was at the invitation of drag sister Paige Turner that he first performed in drag at a "virgin show" during Gay Pride, an annual first-time-in-heels cavalcade. He did a mash up where he, with his own voice, did Liza Minnelli, Eartha Kitt, Carol Channing, and wrapped the whole performance up with Patti LuPone. He killed it, if he does say so himself, and won the contest. It led to la vie en drag, something gay men in theater have over the past decade increasingly turned to for stability of income and work to tame the fickleness of life as an actor.
"Drag gave me consistency," says Seymour. "Because I'm Sutton Lee Seymour and as long as I say so, the show won't close."
In a short amount of time Seymour's risen the ranks, becoming one of the top drag performers in New York. He's parlayed that into season-long gigs at the Palm Cabaret in Puerto Vallarta, the Mexican resort city that is home to a large and growing drag scene. And right around the New Year he got the call he'd been waiting for, an offer for a run in Provincetown. But as was the case with all of us, 2020 had other plans. The pandemic swept through North America, closing the border between the United States and Mexico, leaving Seymour stuck in Puerto Vallarta for three and half months. His gigs in Provincetown evaporated as entertainment venues realized they'd be shuttered this summer. Like a lot of out of work performers, he began doing live shows on Facebook and Instagram, as the stages of Puerto Vallarta went dark, too. When he finally could make it back to New York, his drag pal Cacophony Daniels had already created a mini-TV studio in his home, and the two began to perform together again.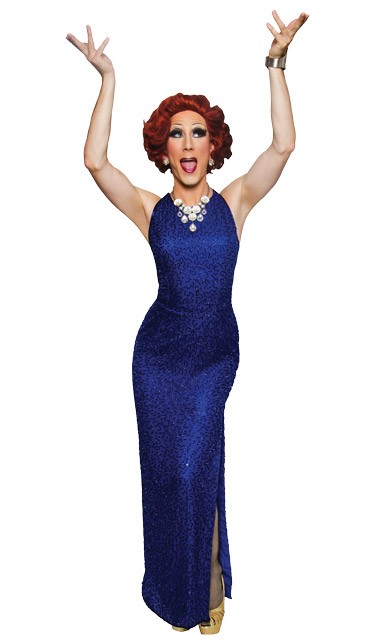 "You go where the work is," says Seymour. "And at the moment the work is in Cacophony's basement. Drag artists work so hard to lead the lifestyles we create for ourselves. It's an exciting challenge. But you have to constantly keep your name out there, more so now than ever."
It's why when the phone rang again offering a chance to make his Provincetown debut with his best friend he said yes before the folks at the Pilgrim House finished the question. Do the show in a parking lot? Perfect. After making the past six months work somehow, a parking lot feels like Carnegie Hall. The dynamic duo's show is tailor-made for fans of drag and musical theater, as they presented rapid-paced renditions of some of their favorite Broadway musicals like Chicago and My Fair Lady in five minutes or less, while also peppering the show with a touch of Disney and pop music in this live singing show. Ever heard a medley that blends the songs "9 to 5" and "Sweet Transvestite" from The Rocky Horror Picture Show? You will at Drag-A-Maniacs.
As challenging as these times are, Seymour says that when we get through it—and he emphasizes that we will get through it—we'll look back at this time and say, "Remember when we went to see a drag show in a parking lot?!" And he hopes it helps his goal of being here with Cacophony for the whole season some year. But for now, the most immediate goal is to make people forget about the world, at least for an hour, and have some fun as they present a show full of song, comedy, and optimism (remember that?)
"We're not mean queens," says Seymour. "Everyone's welcome at our show and we're not mean to anyone. We're sassholes, but we're never mean queens."
Drag-A-Maniacs with Cacophony Daniels and Sutton Lee Seymour is outdoors at Pilgrim House, 336 Commercial St., Provincetown, Thursday, September 10, 7 and 9 p.m. and Friday, September 11 and Saturday, September 12, 7 p.m. Tickets ($35) are available at the box office and online at pilgrimhouseptown.com. For more information call 508.487.6424.