How Johnny in Monsterland Became a Homegrown Halloween Cult Classic Comedy Horror Flick Franchise
]
by Steve Desroches
There was a time when Provincetown was full of monsters. Frankenstein stomped down Commercial Street as werewolves howled at that moon near Beech Forest and a murderous mummy roamed the dunes of Long Point. As the 1990s began it's as if a portal to a world full of ghosts and ghouls opened up, making the town at the tip a veritable haunted hamlet. At least that's how it must have felt to confused tourists. But it was just a rogue group of townies filming a movie after smoking a joint or two. And unbeknownst to them, this wild film, with no real script or storyboard, about a young drifter who hitchhikes to Provincetown and as the film's tagline states, goes "searching for love and sanity in a town that offers little of either," would go on to be one of the most bizarre cult classics ever made: Johnny in Monsterland.
In 1989, seeing a film crew around Provincetown was a familiar sight. Just a couple of years prior, Norman Mailer had directed the film adaptation of his novel Tough Guys Don't Dance in town, which brought stars Ryan O'Neal and Isabella Rossellini, as well as O'Neal's then partner Farrah Fawcett to the Outer Cape. But when aspiring filmmaker Jonathan Morrill rambled into town, it was an entirely different affair. The Massachusetts native was living in St. Petersburg, dreading the thought of a hot and humid Florida summer, when he saw an ad in the Boston Phoenix looking for a house sitter for the season in Provincetown. He jumped at the chance to spend the summer here and arrived that Memorial Day weekend.
While rare today, Provincetown then was full of young people like the 27-year-old Morrill, eager to both create and have a good time. In particular, the crew at Café Blasé (where Patio is today) became a hive of imagination. When Morrill floated the idea of making a monster movie, his favorite genre since childhood, to his new friend David Bishop, he and much of the staff at his new favorite hangout were enthusiastic. That's when Johnny in Monsterland had its thunderbolt moment bringing the creature to life with the wild spirit of Provincetown as its guiding light
"It became something I never intended for it to be: a time capsule of a bohemian time in Provincetown," says Morrill. "It was like a Fellini film. Even without the drugs it would've been a trip."
If you ask Morrill and Bishop about Johnny in Monsterland now, they both chuckle that the two-hour original cut is "surreal," "too long," and lacks "a clear story." But they are also definitely proud of the film, which Morrill adds is really a long string of vignettes created collaboratively. So what is Johnny in Monsterland about? Morrill played the title character, Johnny, a drifter who comes to Provincetown in search of his brother. While puffing away on a joint, Johnny hits and kills a man on Route 6 in Truro and dumps his body in nearby woods only to have the corpse reanimated by three witches. As the zombie stumbles his way to Provincetown, Johnny ditches his damaged car and is picked up by a man and a woman who, it turns out, are werewolves who see their new passenger as that night's dinner. And then there's a mummy and a Frankenstein's monster in a laboratory in the basement of the Gifford House, and a spider lady in a decrepit shack in the woods, and oh yeah, Nosferatu scrambling along the harbor beach. The best way to describe Johnny in Monsterland is about ten minutes of set-up and then the mushrooms kick in for the next hour and fifty minutes. It really was stream-of-consciousness filmmaking. And despite the lack of clear narrative, the film still works on a variety of levels. "I was trying to be logical about the illogical," says Morrill. "I always try to make order out of chaos, but that's me."
The chaos in question was Provincetown itself at the time, or more accurately, the chaos that can always be part of Provincetown, but mixed with youthful exuberance and the ferocity of imagination when you realize you're in a town that expects it. When word spread about the film, Morrill was inundated with volunteers, especially wanting to appear in the film. It didn't matter that there was no script and the budget was only $300, of which $50 was for marijuana; townies wanted part of the action. This wasn't independent filmmaking, or really even an underground film, but more of a guerrilla style of moviemaking done in a patchwork system over six months, May to October, as work schedules and the weather allowed. And it was an absolute ball. But the sheer size of the cast and crew led the movie to be a bit bloated, as Morrill didn't have the heart to cut anyone out of the film.
"You know how fast gossip spreads in Provincetown," says Morrill. "You fart in the East End and someone smells it in the West End. It seemed in a day or so we had a huge cast as everyone had heard about it. But everyone in the movie was either a dear friend or even a lover. I love everyone in that movie. Everyone was so willing to help out. We had no permits. We had no money. Back then everyone was just so supportive of whatever it was you wanted to do, to create. When it was all said and done I had 40 hours of raw footage!"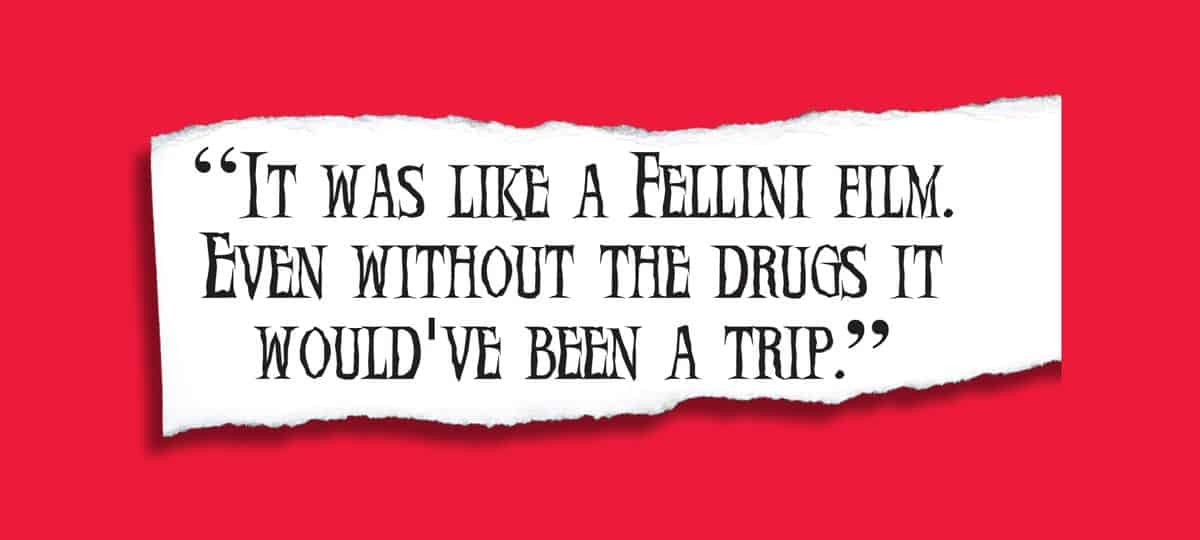 With Johnny in Monsterland now 30 years old, Morrill is still sentimental, but was more judicious about editing as he prepared a special director's cut, with a 77-minute running time. Morrill says that whenever he watches the film he cringes at the filmmaking techniques with clunky editing and the fever-dream imagery. When it came to video work, Morrill was no slouch. In the five years prior to his arrival in Provincetown he had produced, edited, and directed over 200 music videos for diverse clients like grunge rockers Smashing Pumpkins and surf music legends Jan and Dean. But Johnny in Monsterland was his first shot at a feature film, and he reveled in the chance to re-edit the film to give it a new life. With the new director's cut, Morrill successfully got it into several horror film festivals around the country, but the pandemic forced most to cancel for the year with a couple of others shifting to online formats.
Despite his complicated love for the original cut, longtime townies still have a special place in their hearts for Johnny in Monsterland. Physically, the town looks much the same, just maybe a little less polished than the Provincetown of today. It's the people in it that make it so special. Reggie and April Cabral do battle with the mummy in the Cabral Mansion while beloved town character Maurice "Popeye" Enos lovingly rocks a half-fish, half-baby to sleep, and the late artist Ray Nolin takes a bite to the neck from a hungry vampire next to a beached fishing boat. In its entirety, Johnny in Monsterland can't hide its deep love for Provincetown, no matter how horrific the tale. And it showed when the film premiered in the spring of 1990 at the Euro Café (current home of Saki).
"It was fabulous," says Morrill. "They had to turn away 150 people. I couldn't believe the reception. Everyone was so supportive. No one walked out, so that was good. I mean the opening credits alone were six minutes long! The screening was free so we didn't make any money. The Euro must've made a ton with food and drinks. We had to add a second night to get in all the people we had to turn away. And then the local cable station played it on Halloween. The movie grew legs like I never thought it would. Six little legs and it took off."
The local, critical success of the film led Morrill to make more Provincetown-based films, including the 1991 documentary short Drag Me To The Fair, which captures the day Ryan Landry rented two school buses and took about 90, fairly drunk and high people from Provincetown, some in drag, to crash the Barnstable County Fair. He also spawned a sequel, 1992's The Brides of Johnny in Monsterland, a more succinct but no less trippy story about the revelation that the town's water towers are lined with a paint that leeches into the water revealing the reason everyone in the town is crazy. But perhaps the biggest reason the film lives on is the frequency with which it's been broadcast on Provincetown Community Television over the past 30 years, especially on Halloween. So much so that Morrill still receives fan message from people over the years who've caught it while channel surfing.
Now a film preservation specialist at the University of California, Los Angeles' enormous film and television archive, Morrill reveals that the plan all along was to make it a trilogy and that he hopes to begin shooting The Son of Johnny in Monsterland in Provincetown sometime in the autumn of 2021, fingers crossed. As Morrill recalls filming the original, he laughs at the innocence and naivete, but also the daring, as he didn't get any permits or ask for permission. He just let the monsters roam free and filmed. But it did cause some alarm. In the scene when the pissed-off zombie attacks a man making fudge at Cabot's Candies, somebody called 911, causing the police to rush to the location thinking there was an assault in progress. And David Bishop, who played multiple roles, recalled one day shooting out in the Cape Cod National Seashore when his little 8-year-old neighbor had volunteered to be the mummy's next victim.
"Some lady from Ohio thought we were sacrificing a child in the dunes," says Bishop. "I mean, the girl's mother was right there. The rangers came, guns drawn. When we told them we were filming a movie they said that we couldn't do that, but we already did."
The Brides of Johnny in Monsterland will air on Provincetown Community Television (PTV), Channel 99 and 18, on October 31 at 7 p.m. and November 1 at 12 a.m. For more information on PTV visit provincetowntv.org. The director's cut of Johnny in Monsterland will be shown in Provincetown in spring or summer of 2021.