]
by Rebecca M. Alvin
Provincetown artist Jay Critchley has been creating provocative work addressing political and social issues for decades. His conceptual pieces have often been created in the form of installations in unconventional public spaces, such as his 2012 multi-media installation at the Herring Cove bath house before it was demolished, his 1997 theater in a septic tank Septic Space, and the 2006 conversion of the North Truro Pilgrim Spring Motel into the sand-encrusted Beige Motel before it was torn down.
His latest work, The Whiteness House – tarred and feathered, will be open to the public at Bubala's by the Bay, 183 Commercial Street, in Provincetown, daily 12 – 3 p.m. from October 16 –25. The project, a 14' W x 7' H x 12' D multimedia walk-in sculpture covered in paint and feathers, was originally created in an artist residency at the Santa Fe Art Institute in 2017, but it's meaning and significance have only deepened in the past three years.
"It was in the last presidential election that it became obvious to me that this presidency was all about race and division and bigotry," Critchley recalls. An artist with a penchant for wordplay, Critchley took the idea of the "White" House and ran with it, examining what happened when a white president followed a black one. "It was a deep dive into my own whiteness and what that means," he says."And what's happening now is just unrelenting white power and nationalism and white supremacy and a leader who is basically encouraging and fostering that."
In many of his works, Critchley has invited not only the public to interact with the main installation, but also other kinds of artists and performers to add to the overall atmosphere with their unique contributions in music, film, spoken word, or other forms. This will be the case at The Whiteness House, as well. Although at press time the details were still being formulated, with new artists being added all the time, there will be complementary performances onsite, as well as the installation itself. Critchley says visitors will be admitted, one at a time, into the structure. Inside there is a paper shredder and people will be asked to write down their thoughts and then shred them. "I also have souvenirs to pass out to people that come to the structure installation," he adds.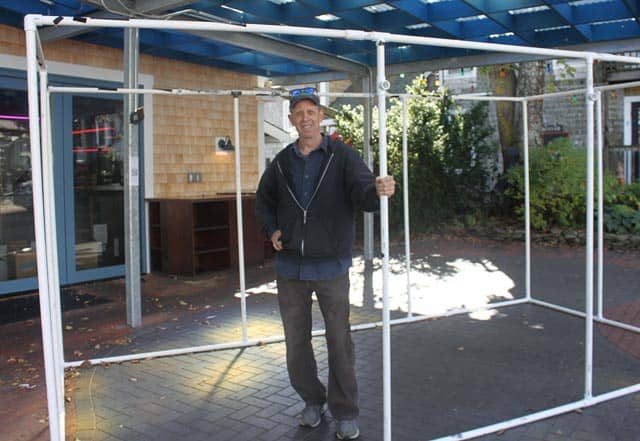 Although obviously, the piece addresses our current political climate, the ongoing reckoning with our country's history of racism and its legacy borne out in the recent high profile murders of Breonna Taylor, George Floyd, Ahmaud Arbery, and too many others to name, it is also particularly relevant in 2020 because it is the 400th anniversary of the Pilgrims' arrival here and the Native American genocide. "This year was supposed to be the year where we were going to talk about indigenous people," Critchley says. So, it's also about that. "The racism begins way back from the beginning," he says.
But in addition to all of that, it is something Critchley is giving to the town at the end of an almost unendurable year. Each day, the installation opens at noon with a bell-ringing ceremony. Critchley says people can download bell ringing sounds on their phones to participate. "It's a way to take a moment to recognize the community, and how people have pulled together here this summer, and honor the essential workers, which —in Provincetown everyone is an essential work. It's a moment to pause," he explains.
As we come out of the shoulder season and move toward the silence and isolation of late fall and then the inevitable winter, Critchley gives us an experience of art in public spaces that he hopes will both acknowledge all of our hard work getting through the season and encourage others to look at the possibilities for more such public art projects in and around Provincetown.
"It's a way for people to see Provincetown as a place of ideas and where there is political awareness. This will be very visible," Critchley says. "I'm hoping to stimulate a dialogue and a revelation of what we're facing as a country right now. Also just to make a statement that art is everywhere and art can be everywhere. And maybe this will help other people that might realize that they have spaces that could support an artist project.
The Whiteness House is open to the public from 12 – 3 p.m. daily, Friday, October 16 through Sunday, October 25 outside Bubala's by the Bay, 183 Commercial St., Provincetown. There will also be a simultaneous exhibition of related items at AMP Gallery, 432 Commercial St. For more information about Jay Critchley's work and the Whiteness House, visit jaycritchley.com .